I am a lover of all that is retro and nostalgic. Being the pop culturist that I am, I find myself paying close detail to everything from set design to costuming and wardrobe when I watch old movies and television programs. I have been an avid fan of AMC's Mad Men since its second season, and haven't missed an episode. For me, it's not only a great cast, but the storyline of a group of men in the 60's working at an advertising firm resonates with my careerist nature. But more than that, I appreciate the realistic look of how career women back then were looked upon versus how it is now amongst working women. Joan Holloway, former office manager, turned silent board partner, gives an interesting view of a woman who wants power and to play in the big leagues, and knows how to play up her assets to get it.
Joan (played by the gorgeous Christina Hendricks), is the quintessential Marilyn Monroe type oozing in sexuality and sassiness. But unlike Marilyn, she refuses to drown in despair about the cards she's be dealt—she won't sit back and let others define her. Joan understands her role and plays it to a tee, letting others think she doesn't know the game when she does. And better yet, she never shows her hand.
Joan's style is amazing and definitely ooh-worthy. I look forward to each season simply to see what Joan will wear. Not a shrinking violet, she displays her curves so tempestuously, stopping just short of being inappropriate attire wise. She's curvy with an amazing womanly figure that make the men in the office take note (and the women too).
I imagine that if I was living during this time, I would be a Joan. Fashion forward but still classically feminine, knowing just the right dress to wear that fits my body like it was made for my dimensions. Joan is always professional, sporting her reddish hair in wispy up-do's and chignons, makeup brutally impeccable. At Sterling, Cooper & Partners, no one upstages Joan. Not even Don Draper.
Here are some of my favorite career wear looks that Joan has sported over the years. These looks are so sixties, but could also be worn now with the right shoes and accessories:
The Sheath Dress
Joan's closet is full of sheath dresses, which compliment her figure while still being professional for the workplace. A long necklace compliments the look—she always adds a trinket but stops short of overdoing it. (photo, Chicago Tribune)
Bold Colors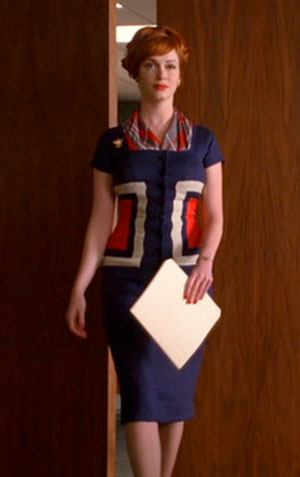 Joan isn't afraid of color, and showcases how you can utilize color and still look polished. And this number could easily go from desk to date, making it a fabulous choice. (photo, Vanity Fair)
Skirting the Issue
Dare I say, Joan's waist is snatched! Again, she is wearing one of her favorite necklaces with a gathered blouse and tweed skirt. The secretarial pool wins with this stylish combo. (photo, AMC)
Purple Pleaser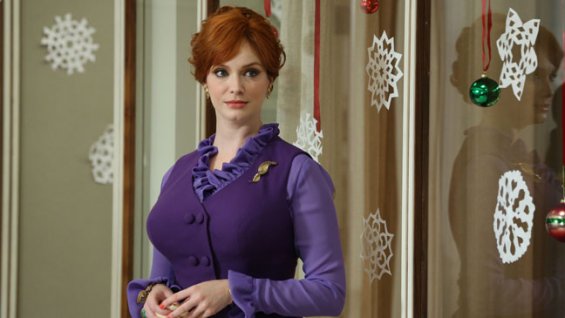 I scoured the Internet looking for a full view of this look and couldn't find one. Joan is once again showing that she is a fan of color with this ruffled blouse and vest combo. I am not sure if this is a dress or skirt, but either way, I am sure it is gorgeous. This look can be duplicated currently with a modern twist with pleated trousers and a nice heel. (photo, The Hollywood Reporter)
Office Party
Holiday party at the end of the day? This dress can do double-duty, giving a career wear angle from 9-5, and giving a festive vibe after work. This dress is form-fitting but still on the professional side. I would love to have this dress, as it still translates to today's looks and styles. (photo, milliegirl.tumblr.com )
Am I Blue?
The only thing not pleasant about this look is the cigarette. Joan is showcasing her amazing style once again with a blue dress with a belt to taper the waist. Once again, she has her favorite necklace on display and also sports a broach, which looks to be another jewelry repeat. Having the right fitting undergarments takes Joan from being what could be okay to classically gorgeous career style. (photo, Luxecrush.com)
The Men All Pause
Joan hasn't met a dress she didn't like—or one that didn't like her. This long-sleeved number is amazingly professional, yet headturning. She's sporting a cowlneck feature and gathering at the waist, something Joan is known for. And what's more, you could wear this dress today and still be on trend. (photo, AMC)
Oh, to be a hanger in Joan's closet. She really knows how to pick out pieces that flatter her while still remaining within the dress code.
You've got to love Joan from Mad Men. Her career wear style is what dreams are made of.
Which pop culture style maven would you like to see in my next Career Wear Curation?