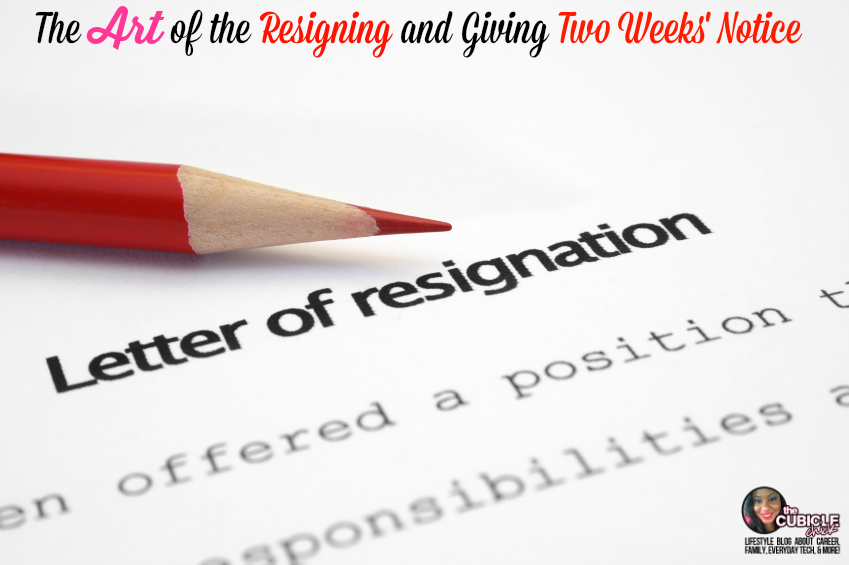 I've written my share of resignation letters over the years. As you grow in your career and are offered different opportunities, it comes a time when one is necessary. And yet, in this day and age, it is a practice that is slowly going away. Employees are opting to be less formal and less courteous to their employers, quitting without any notice at all. Which sometimes, cannot be helped, but oftentimes can. There is an art to resigning and a two weeks' notice, and it is something that we are going to dig into during this post.
Submitting a formal two weeks' notice shouldn't be an "extra", it should be the standard at most workplaces. Even if you verbally notify your team leader, manager, or boss that you are resigning, a paper trail benefits the both of you. So submitting a two weeks' notice should be on your list of things to do should you decide to leave your current employ.
It is a careful song and dance, however. Submitting your resignation letter isn't a time to be indifferent, catty, sarcastic, or unprofessional. It can allow you closure while making sure that your past employer doesn't impede any future employment plans, and it can also help you build bridges should you ever need anything in the future. It is not a time to burn bridges.
Here are some things to consider when resigning and giving two weeks' notice:
In person, please
Your resignation letter should be handed to your direct supervisor or boss directly. This can also be done during a conversation with them announcing that you have decided to leave. Don't take the passive-aggressive route by simply submitting it via email (unless that is the practiced standard in your office and/or industry), or leaving it in his or her inbox on their office door. Handing the letter to your boss along with giving them your personal attention during a face-to-face conversation shows that you aren't ashamed of the decision you've made, and also shows that you respect them. This can bode well for you in the future should you ever have to call on them for a favor. They will remember that you came to them with the news, and they didn't have to hear it from anyone else.
Forget the delusions of grandeur
You don't have to fill your resignation letter with a rundown of things that you've done for the company, shots you've taken for the team, etc. It should be simple and to the point. Don't let your ego write the letter for you, as it could come back and bite you in the back.
Give two weeks' notice always
In my HR call center days, I had employees quit and then walk out thinking that if they put in their two weeks' notice, they would get let go on the spot. Most of the time, that wasn't the case as we needed their seat filled until we could find a replacement. When working in a professional environment, always give a two weeks' notice. It's just the right thing to do.
Resignation letter as a bargaining chip? NO!
No drama queens in the office please. Do not submit a letter or resignation in hopes of getting a raise, promotion, etc. While it could work in some instances, it's a risk that could cost you your job if you are only "playing" like you are going to resign. Go big or go home. If you want to stay at your job but long for more, then have that conversation with the powers that be.
Leave on good terms
Your employment history is just as important as your credit score. It can come to be used to help you move forward in your career, so you never want to leave a bad taste in anyone's mouth. Always make sure you are marked as rehire-able, as this is a question future employers as of past workers. You never know if you will need a letter of recommendation or a favor. Leaving on a positive note can only help you.
Know your exit strategy
Understand your company's exit strategy beforehand. Know about your 401k or IRA and if that can be taken with you to your new place of employment. Are you owed any vacation pay, commissions, or additional salary? Are you required to do an exit interview? Are you bound by a non-compete (more on this later)? This all needs to be taken into account when you are resigning.
Resigning and giving two weeks' notice can be a difficult thing to do, but will always be a positive for you. Go into it with grace, professionalism, and character. Good luck with your new job!