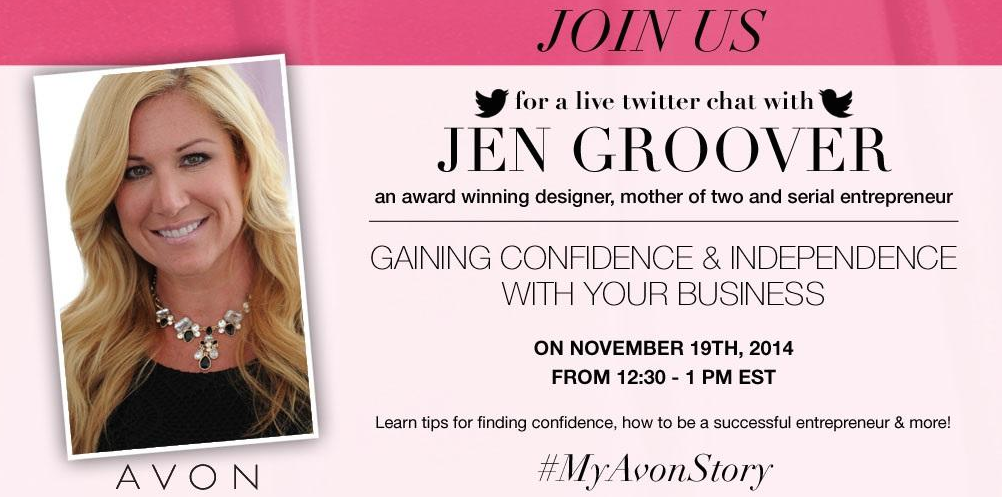 Disclosure: As a paid Blogger Ambassador for Avon, I will be discussing many aspects of Avon's brand; from the entrepreneurial side, to career, to beauty tips, Avon staples, and more in a series of posts. The opinions in these articles are mine and are not indicative of the brand.
Last Wednesday, I participated in the #MyAvonStory Twitter Chat hosted by entrepreneur and QVC host Jen Groover. The discussion was all about Gaining Confidence and Independence with your Business, and was the first of three AVON Twitter Chats in their You Make it Beautiful series.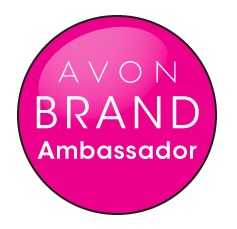 Jen Groover gave so many helpful tips about getting your confidence up when you are starting out on your own in business. I know firsthand how tough it can be trying to launch and run a business of your own—add to that your other responsibilities and it can be a little much. Your confidence and independence can weaken if you aren't prepared. And Jen has some great ingredients to help you develop your secret sauce.
I will share with you my Top 5 Takeaways from the #MyAvonStory Twitter Chat:
Takeaway #1: Value, face fears, lead
To start, here are my 3 key tips for finding confidence w/ your business: value self-respect; face your fears; lead by example #MyAvonStory

— Jen Groover (@jengroover) November 19, 2014
Having self-respect and valuing it can go a long way when you are an entrepreneur. When you add that to facing your fears, it makes you unstoppable. Then you are able to lead my example, being a light for others who also want to shine. It's a synergy that can do wonders for yourself and others.
Takeaway #2: Step out of your comfort zone
A result of low confidence is inaction – when we hesitate, we hold back. Break out of that comfort zone & try something new! #MyAvonStory

— Jen Groover (@jengroover) November 19, 2014
This resonated with me, because all of 2014, I've been playing it safe. And it shows. In 2012 and 2013, I was breaking new ground. This year, I got comfortable. Jen Groover gave me an a-ha moment—you need to break out of your comfort zone in order to grow. It can also help you build your confidence, which I need for my business.
Takeaway #3: Be a leader. Do BOSS things
Great leaders need to know how to build others' confidence as well. They don't tear others down.#MyAvonStory

— Jen Groover (@jengroover) November 19, 2014
Real leaders help others tap into their potential. They aren't mean girls, or unhelpful. Never treat others poorly to make yourself look better. Because you won't ever look better. Real beauty comes from helping others.
Takeaway #4: Ask for help
Never be afraid to ask for advice no matter what stage of your career. Asking for help is a sign of strength, not weakness #MyAvonStory

— Jen Groover (@jengroover) November 19, 2014
This is another one I struggle with. There's nothing wrong with asking for advice or help, no matter where you are in life. Success begets success. Never stop learning or growing, as those are keys for continued success.
Takeaway #5: It's a journey
Entrepreneurship is a journey of self-transformation.

— Jen Groover (@jengroover) November 19, 2014
When Jen dropped this gem, I had an epiphany. I often thought of entrepreneurship as my career. But it's not a static thing. It is constantly moving and evolving, the same way I am. It's a part of me and I am a part of it. It's a journey.
If you missed out on the #MyAvonStory Twitter Chat, I urge you to go through the hashtag and pick out your own takeaways. The conversation was diverse and we were all chiming in, telling our stories.
The next #MyAvonStory Twitter Chat with Jen Groover will take place on 12/18 at 12:30 pm EST. The topic is earning an income on your own terms. I will have more details about the event as it gets closer.
About Jen Groover
Jen Groover is a serial entrepreneur who's gone from guest-hosting spots on QVC to inking deals with some of the industry's biggest heavyweights. Her success began with the creation of the Butler Bag, the world's first compartmentalized handbag, and has evolved into an entire lifestyle brand, which can now be found at several prominent retailers. She's also behind Leader Girlz, which teaches young girls the importance of empowerment through play, and her newest brand, Empowered by Jen Groover. Groover is also an author, speaker and media contributor.