Disclaimer: I was sent this device for my honest review for editorial purposes. This is not a paid nor compensated post, and all opinions expressed above belong to me and are not indicative of the brand and/or companies mentioned.
New York City. Bright lights. Big dreams. Survival of the fittest. I love visiting New York and try to whenever I get the opportunity. I'm hardly new to NYC, but I always love partaking in the tourist wonders that make it such an amazing place to be.
During my last trip there, I had a travel companion with me—the new Samsung Galaxy Note 4 powered by my friends at Verizon. I took the device with me so I could thoroughly test it out and review it while utilizing it is as my primary phone during my trip. In doing so, I fell in love with the camera. It is by far the best camera phone I've never used or tested, hands down. And because I already had it with me, I could still get awesome quality photos without lugging around a second camera.
To show off just how amazing the camera on the Samsung Galaxy Note 4 is, I am showcasing some photos that I took while in The Big Apple. These photos are untouched and have only been edited for size so that it could fit within the confines of my blog. (And I added my logo/watermark)
See for yourself why the Samsung Galaxy Note 4 is the best of all worlds—tablet, phone, and camera.
This photo was taken by a really good friend of mine, Daryl. He managed to capture the essence of Times Square on this rainy Thursday night. So glad he was able to tag along with me during my exploits.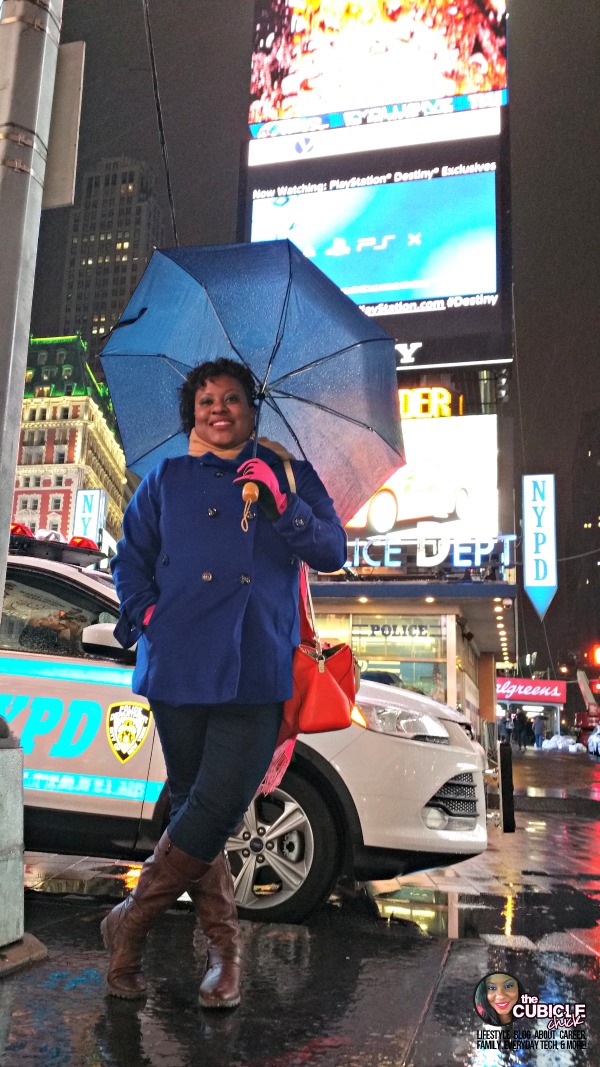 Another one of my favorites, the prerequisite NYPD shot. Came out quite brilliantly, I'd say. The Samsung Galaxy Note 4 makes everything crisp and clear and post-worthy.
I had to visit Junior's, which was right around the corner from my hotel. I walked across the street to snap a photo. No zoom or anything additional. I just snapped and, voila!
Daryl took me to see the Freedom Tower, which is now open for business and has its first tenant operating there. It is a sight to see and behold. I captured this photo without the zoom on an adjacent street so I could get a full view.
Since I am such a classic movie fan and lover of Audrey Hepburn, I wanted to take a photo with this interesting Avatar-like version of Audrey, half old school, half futuristic.  It was on some random building. Notice how the colors POP.
The Rockefeller Center tree was covered, as it wasn't yet unveiled, but the ice skating rink was open and it was beginning to look a lot like Christmas. Love visiting during this time of year.
And of course in Times Square, you have to have a little Naked Cowgirl action. Not sure how she does it. It was about 45 degrees that day. Oy vey!
And the Naked Cowboy, ladies and gentlemen!
I had an amazing time in New York and I hope to visit again soon. I am so glad that I had the Samsung Galaxy Note 4 along to help me take some fabulous photos. For a phone that does it all, this one is it!
Need more Samsung action? Check out photos from my visit to the Samsung Galaxy Studio in Soho on my travel site Around the World in Pink.