New Year's Eve is one of the biggest party nights of the year. Whether you will be dancing at the hottest club or relishing a quiet evening at home, get the New Year off to a fashionable start! Here are some ideas on what to wear as you sing Auld Lang Syne and prepare for an even better year to come.
Check out my latest Style Cue: What to Wear on new Year's Eve:
Evening Gala
Ladies who plan to dance the night away at a New Year's Eve gala need a fancy, show-stopping look. A floor-length gown with gold accents and beading is a classy alternative to the standard black dress. Sequins on your dress or purse will also provide a wow factor. Budget-conscious divas can curate their outfits at resale stores, vintage boutiques, or shops that allow you to rent a gown.
Phase Eight black ball gown / Vero Moda faux fur jacket / Michael antonio sandals / NLY Accessories real leather handbag / Carolee black button earrings / Chanel gold eye shadow
House Party
If you are ringing in the New Year with friends at a house party, you want a look that is festive but not over-the-top. Keep things relatively simple with a shift dress and flats, but turn up the volume with accessories like a statement necklace. Don't be afraid to mix textures or pair unexpected hues like silver and gold, especially if one of your resolutions is to take more fashion risks!
Topshop dress / Sole Society ballet flat / MeDusa evening handbag/ Pieces square bracelet / Sole Society ring / Panacea bib necklace
Nightclub
A popular way to spend New Year's Eve is to savor the appetizers, hit up the open bar, and shimmy to the nonstop tunes at a nightclub. Go for a sexy look with a sparkly, sleeveless top and leather pants. Add a chic faux fur vest and dance floor-ready wedges. Incorporating champagne hues will have you all set for the midnight bubbly toast.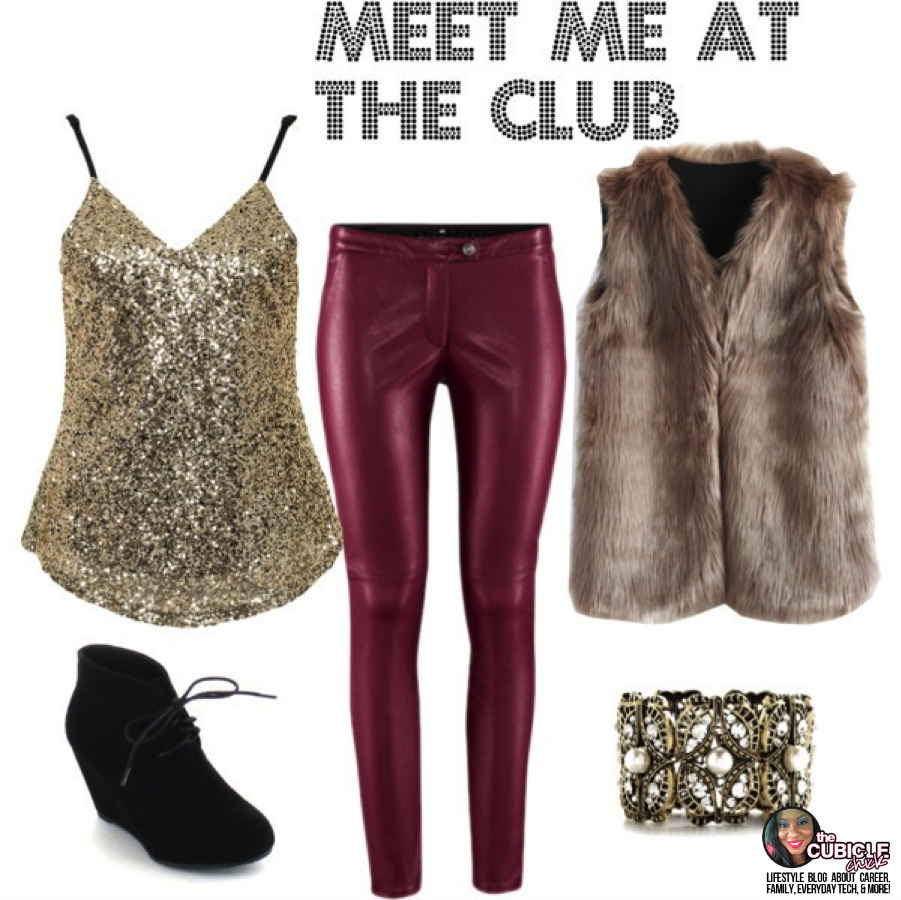 Vneck shirt/ Chicwish fake fur vest / Elastic pants / Faux suede boots / Bridal party jewelry
Sofa Shindig
Going out on New Year's Eve isn't always an option – and even if it is, a sofa shindig is sometimes too relaxing to pass up. To watch the ball drop in Times Square from your couch, comfort is the main outfit objective. Jeans and slippers are a given, and add a celebratory touch with a glammed-up sweatshirt and a New Year's Eve themed hat.
Sequin top / H&M blue jeans,/ Forever 21 ankle socks / H&M Knitted slippers / Hat
What are your NYE plans? Whatever you do,  may you be happy, healthy, and stylish! xoxo
About Carmen:
Carmen Boeser is a freelance fashion writer, thriftaholic, and vintage lover. She chronicles personal style and love for the St. Louis fashion scene on her blog, The Ruby Zipper. When Carmen is not processing merchandise at a resale boutique, she's learning the joys of new parenthood with her husband and baby daughter.