No matter where you are on your career path, you want to make sure you work it when it comes to your wardrobe. That is often easier said than done, however, with the ever-changing definition of "business casual" and the standard skirt suit disappearing from many workplaces. How do you create outfits that are professional without sacrificing personal style? Here are some tips on how to curate looks that show you mean business in four major industries in our Style Cues: What to Wear to Work.
Creative Minds at Work
Working in a creative field, such as design, art, fashion, writing, or film calls for a creative outfit that showcases your personality. Bold colors, crazy patterns, and unconventional silhouettes are not considered risky business in your work environment. The trick is to demonstrate finesse when crafting your look to strike a balance between playful and professional. A fun cropped sweatshirt shows off your free spirit, while a faux leather midi skirt adds sophistication. When in doubt, a structured blazer gives an instant infusion of "yes, I work hard and play hard" to your outfit.
Jaded London crop top / J W Anderson black skirt / Barneys New York lace up boots / H&M drawstring backpack/ Kenneth Jay Lane hoop earrings / Berk – Inner Worlds Journal: Amazon.co.uk
A+ Style for Educators
Teaching the next generation of students is demanding, so figuring out what to wear in the mornings should be as effortless as possible. Either extreme – "hot for teacher" (outfits that are too tight or low-cut) or "school-marm" (garments that are too dull or matronly) – is likely to land you in detention, irritably writing, "I will not wear that outfit again" 100 times. Instead, start with smart, comfortable shoes like oxfords. Next, pair a relaxed chambray shirt with patterned pants. Add a statement necklace and structured bag for important papers, and your style soars to the head of the class!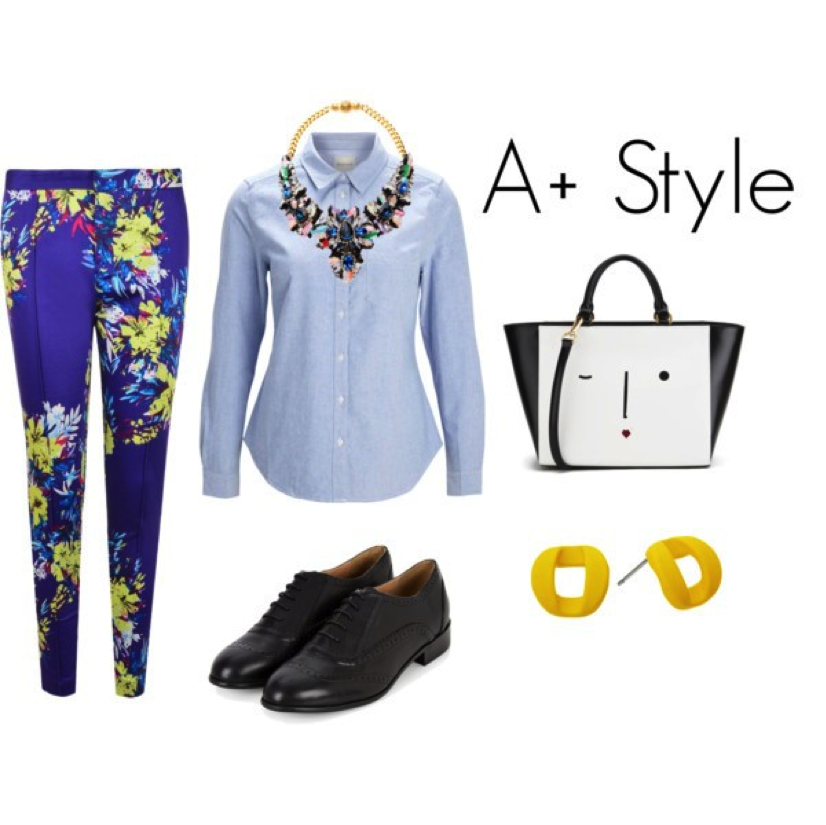 SELECTED long sleeve top/ Darling floral trousers/ Oxford shoes / Lulu Guinness black and white tote bag / SHOUROUK jeweled necklace / MARC BY MARC JACOBS earrings
A Dose of Style for Medical Professionals
Although scrubs are the standard work uniforms for many healthcare professionals, certain positions and settings require more formal attire. Physicians, administrators, mental health practitioners, and pharmacists must cure their own "don't-know-what-to-wear-itis" before they can help others cope with medical concerns. Our prescription? Wear a polished sheath dress with two sparkly earrings and call us in the morning. For a double-style dose, blue is a calming color, which can put patients (and you) at ease amidst the often-stressful medical environment.
Navy short sleeve dress / A2 by Aerosoles dressy shoes / Florian London tan handbag / Michael Kors yellow gold earrings / Accessorize scarf
Corporate Chic
While many professions have loosened their dress codes, a suit is still the apparel of choice for women in corporate fields such as law, business, public relations, and real estate. Slim cut blazers and slacks comprise the modern version of a "power suit." A black suit is not only traditional enough for conservative work environments, the subdued color palette invites you to have a little fun with your accessories. Printed pumps, colorful earrings, a bright structured bag, and even nail polish in an unexpected hue show class and confidence-exactly the qualities you want to project as you climb the corporate ladder.
Somerset by Alice Temperley white blouse / Helmut Lang blazer / Jil Sander black pants / Dolce&Gabbana leather shoes / Michael Kors satchel handbag / Purple earrings / Metallic nail polish
So, what are you going to wear to work? If you work in another industry and want some style advice for it, please let us know!
Oh, and if you are looking for style ideas for Spring, check out our 2015 Spring Style Preview.
About Carmen:
Carmen Boeser is a freelance fashion writer, thriftaholic, and vintage lover. She chronicles personal style and love for the St. Louis fashion scene on her blog, The Ruby Zipper. When Carmen is not processing merchandise at a resale boutique, she's learning the joys of new parenthood with her husband and baby daughter.