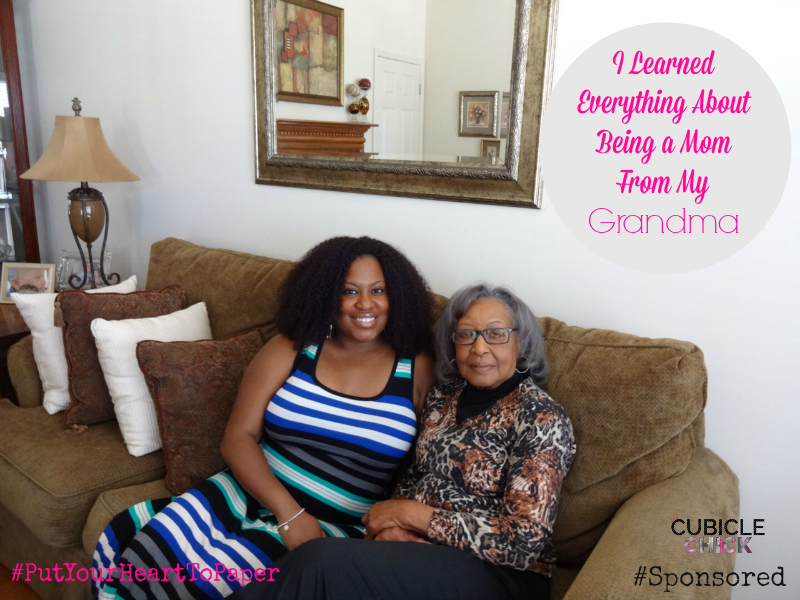 Disclosure: This is a sponsored post written by me on behalf of Hallmark
Being a mom is a tough job, honey. There are days when I feel like I just want to quit, but of course that isn't an option. This is the type of job that you can never take a day off from, and even still, you don't want to. Because being a mother is the toughest job that you or I will ever love; and the reward is priceless.
I learned everything I know about being a mother from the matriarch of my family. My grandmother is a strong woman who raised three kids through a time of economic hardship and adversity. By the time I was born, she was far removed from the tough days being a single mother raising three little ones on her own, but she never lost that tenacity, even when things got easier. So growing up, I saw her fight through many things while always keeping her dignity in tact. And when I think of a strong woman who is also a good mother and grandmother, I think of her.
I've always tried to find ways to go beyond saying "I love you" to my grandmother, but there are really no words in the English language to express my gratitude and appreciation for this woman who has shaped my life so much. With the love she has invested in me, I have planted that love within my children, and they hopefully will also sow the seeds of love and care in their children. We often show love in our family, not with words, but with actions, and it's these actions that help keep our family bond strong.
If I had to sit and actually put my heart to paper, I would tell my grandmother that her beautiful spirit and resilience taught me to be strong and fight the good fight, even when there were so many chips stacked against me. She is the strongest, wisest, most courageous person that I know, and if I am a good mom, it is because of her guidance and unconditional love. If I could be just 1/10th of the mother that she is, I would be doing wonderfully well.
I would tell my grandmother that she has blessed our family in so many ways, and we are beyond lucky to have her as the leader of our family. Her blueprint of a life of love, strength, courage, and wisdom is now etched in my brain forever, and she is the principle architect of my life's design. Grandma, I want to be like you when I grow up!
Hallmark wants to help you put your heart to paper this Mother's Day by expressing how you feel about your mother, grandmother, or mother figure. We say the words "I love you", but expressing our true feelings go beyond those three words. By creating ways for you to share your feelings for Mother's Day, Hallmark wants to make this Mother's Day one to remember.
Visit www.PutYourHeartToPaper.com to learn more about how you can go beyond saying "I love you" to the mothers in your life. You can also follow the #PutYourHeartToPaper hashtag to see how others are expressing their love this Mother's Day.