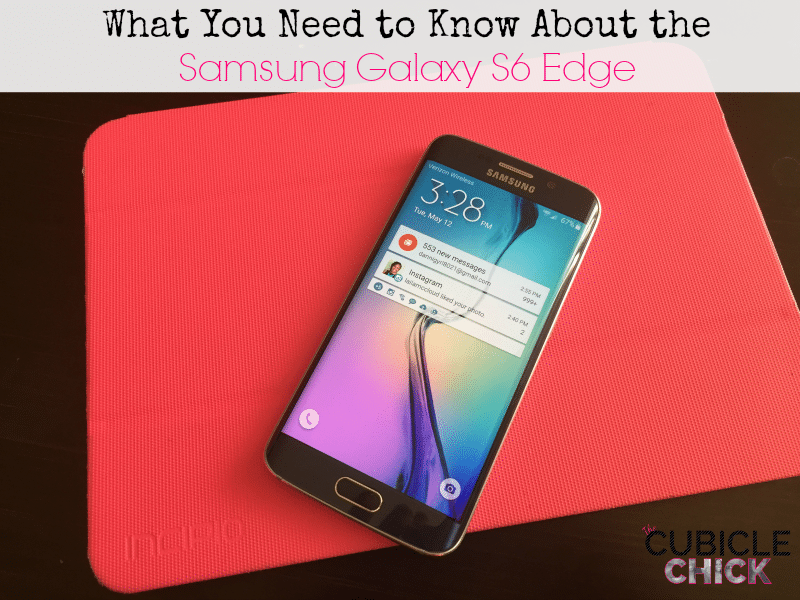 Disclaimer: I was sent this device for my honest review for editorial purposes. This is not a paid nor compensated post, and all opinions expressed above belong to me and are not indicative of the brand and/or companies mentioned.
I've been chomping at the bit to get my hands on the Samsung Galaxy S6 Edge, and I was finally able to procure one from my pals over at Verizon. Being touted as a small phone with a big punch, it boasts a curved screen with dual edge display that is makes for great visuals and design. And if you are an early adopter of all things cool, then the S6 Edge is for you.
I've had the phone for about two weeks now, so I've got some must-know tidbits that you will want to read if you've been eyeing the device.
So without further adieu, let's do this:
The Best Feature
Without a doubt, the best feature on the Samsung Galaxy S6 Edge is the camera. It boasts 16 MP resolution (front camera or selfie resolution is a 5 MP) and has built-in photo editing tools that will make your pictures look professionally wonderful. And to get to the camera, you don't have to swipe through your apps. Simply double tap the home button, and the camera automatically loads quickly and efficiently, so you will never miss a photo op. I'm told the launch time is less than one second and I can say that it is super fast. And Samsung's selfie setting makes your selfies look awesome. It's definitely a phone for those who like to take pictures.
Slicker Than Your Average
The Samsung Galaxy S6 Edge design is pretty badass. The device is sleek and lightweight and fits well into my small hand. The display screen 5.1 inch and features a Quad HD Super AMOLED display that really showcases HD visuals. Everything is super crisp and brilliant, and although it feels a little flimsy, is built to withstand hours of everyday use.
The @SamsungMobile S6 edge is slick 🙂 @Verizon #vzwmidwest #Verizon #Samsung pic.twitter.com/lpnWJGxFUT

— Danyelle Little (@TheCubicleChick) April 29, 2015
Wireless Charging
The Samsung Galaxy S6 Edge works with Samsung's Wireless Charging Pad so you can wirelessly charge your device wherever you are. This is perfect for travel, and cuts the cord so to speak. Just lay the device on the charging pad and viola, it gets its juice on.
Blue Light Special
When your faves call you and your phone is face down, you will see a blue light on the edge of your phone signaling that a VIP is trying to contact you. If you aren't available, you simply place your finger over the flash area next to the right of the camera and they will be notified that you aren't available. How sweet is that?
Edge Contacts
Speaking of your faves, contact them directly on your home screen by swiping the edge of the device. Then a horizontal row of your top 5 will appear and you can tap that contact to send them a message, call, or even email. Love the efficiency.
Advanced Calling HD Audio
On the Verizon network, the Samsung Galaxy S6 Edge has Advanced Calling HD Audio. Just like HD on a television drastically improves the picture quality, HD Audio sounds as if the person you are talking to is standing right next to you. I've tried it on a few calls, and I there is a definite improvement of the call quality. It's clearer, like going from AM to high fidelity sound. If you do a lot of actually voice calling or you use your device for business calling, then the Samsung Galaxy S6 Edge on the Verizon network will take you to the next level.
The takeaway here? Samsung is continuing their Next Best Thing with a device that caters to the tech lover in all of us. If you are looking for a phone that packs a punch but is light and easy to use, then I highly suggest the Samsung Galaxy S6 Edge. You can't miss with this one.
FYI: The Samsung Galaxy S6 Edge doesn't come with an SD card slot like past Samsung phones, and you can now purchase them as follows: 32 GB, 64 GB, and 128 GB.