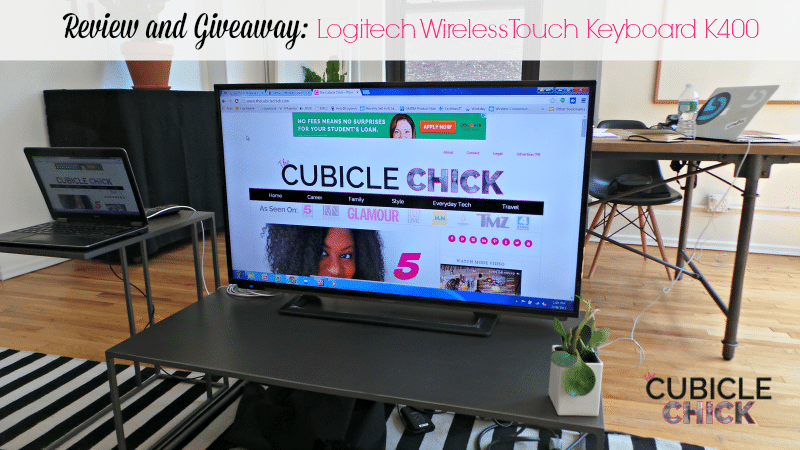 My family is an early adopter of technology, and we are always looking for things that can make our lives easier while giving us some room for fun too. While in New York, I was given the opportunity to demo the Logitech Wireless Touch Keyboard K400. But this isn't just any keyboard, for it turns your television into a multimedia center for the whole family wirelessly. Here's how:
The Logitech Wireless Touch Keyboard K400 works with your laptop. Simply connect the keyboard to it via wireless USB, and then connect your television to the keyboard with a HDMI cord. Then viola! Your television shows whatever your laptop shows. It's like having a smart television at your fingertips.
You can watch Netflix and Hulu or videos on YouTube, and so much more. It brings your computer to life. And forget about having an extra mouse—there's a mousepad right on the keyboard for effortless surfing.
You could hook your laptop up to your TV via an HDMI cord to view, but you are chained to the laptop. In order to surf and watch movies and other programming, your laptop must be nearby. The Logitech Wireless Touch Keyboard K400 gives you a true wireless experience so you can truly enjoy your multimedia experience the way it was intended.
My daughter loves to watch films on Netflix Kids, but now she can do so on the television. It can be a real family night since we can all see it on the big screen.
Here are some other key features for the Wireless Touch Keyboard:
No learning curve: With a familiar keyboard layout that features all the keys you're used to, and an integrated touchpad, you get seamless laid-back control of all your PC-based entertainment. Plus, with this keyboard you can eliminate the hassle and clutter of multiple controllers.
Quick access to media keys: Quickly control your home entertainment with media shortcut keys that give you easy access to volume controls and let you go back to the previous page, return to the homepage, switch between apps or search text.
Long-range reliable wireless: With a wireless range of up to 33 feet, you get a responsive and uninterrupted connection, even in the largest of rooms.
Impressive battery life: With batteries that last up to 18 months**, you can enjoy endless hours of fun and relaxation without interruption.
Designed for laid-back navigation: This compact all-in-one keyboard and mouse solution is designed to hold and use on the couch or your lap, so you can relax with control of your home entertainment at your fingertips.
It's compatible with Windows® 7, 8 and 10, Android™0 or later, and Google Chrome™, and you can connect up to six devices at once to the keyboard.
I am giving away one (1) Logitech Wireless Touch Keyboard K400. To enter, simply complete the Rafflecopter below:
Please note that this giveaway is only open to U.S. residents only, void where prohibited. The item will be shipped directly from Logitech, and I am not responsible for postage or shipping. This giveaway ends on Thursday, September 8th, 2015 at 7pm CST. A winner will be contacted via the email provided and has 48 hours to claim their prize, or an alternate winner will be selected.
Click for more information on the Logitech Wireless Touch Keyboard.
Good luck, everyone!