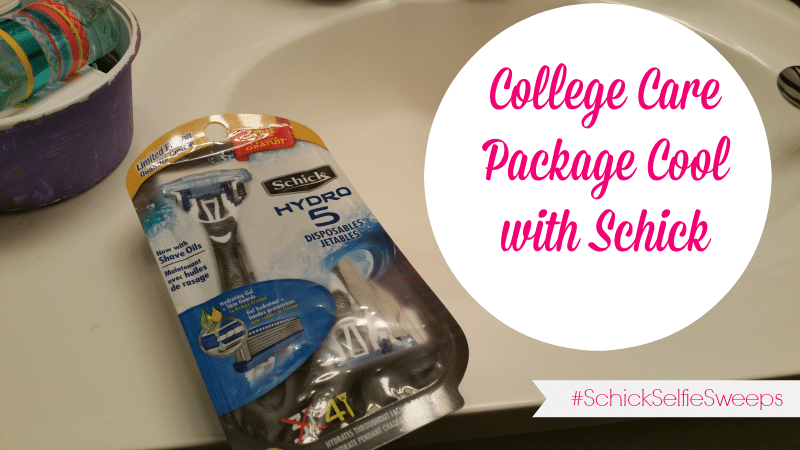 This is a sponsored conversation written by me on behalf of Schick®. The opinions and text are all mine.
Who knew that being a parent to an adult would be fun (and interesting)? Now that my son is twenty-one and living on his own over 3,000 miles away in California, it's taken me a few years to pivot and adjust my parenting style. Now, it is all about me sharing my wisdom while guiding him to hopefully make the right choices for his future. I can't fret and worry over every thing he does—but I can lend a hand when needed and show him that even though he's an adult, he's still my kid and I love him very much.
Sending him care packages helps to strengthen our bond while lending an extra hand (when he doesn't want to ask for help).
My son is currently living in Los Angeles and going to school, so I like to send him care packages full of his favorites when I can in the mail. Because he's living on a tight income, I enjoy sending him things that can help ease his wallet while helping him out. Living the college life in a studio apartment in Hollywood is his current regimen, and it ain't cheap. So every so often, I send him some goodies in the mail that include some of his favorite non-perishable snacks, gift cards, magazines, and toiletry items that include skincare, razors, shower gel, and more.
Included in this month's care package shipment to my son is the Schick Hydro® 5 Disposable Razor. Because he has sensitive skin, it hydrates with each shave with hydrating gel, aloe, and shave oils, and helps deliver a close cut that keep him looking neat and well groomed. This disposable razor also has 5 Ultra Glide® blade with skin guards to help reduce friction.
I must admit that I get a certain joy when I am able to shop for him for his care packages. Even though he is grown and on his own, it feels good to be able to send him a few things from the heart that can help him while also saving him some of his own money.
You can find Schick Hydro® 5 Disposable Razors at a Walmart location nearest you. Walmart makes it easy for for you to get just the right razor for based on your needs (and gives you the power to shop College Care Package Cool with Schick), plus everything else you may have on your shopping list.
Your tween/teen/or adult child can also enter #SchickSelfieSweeps by snapping and sharing a summer selfie (see link for instructions and official contest rules). Grand prizes include $10,000 to use towards a college education, laptops, speakers, and more. I'm sure if your kid is living on their own like mine is, this money can go a long way for their educational needs.
You can learn more, or enter the sweeps here.
This is a sponsored conversation written by me on behalf of Schick®. The opinions and text are all mine.
N/A