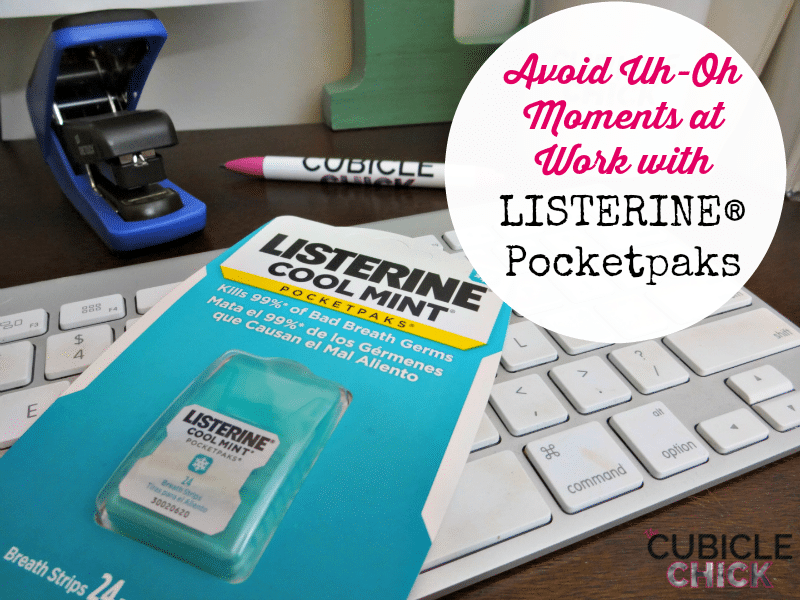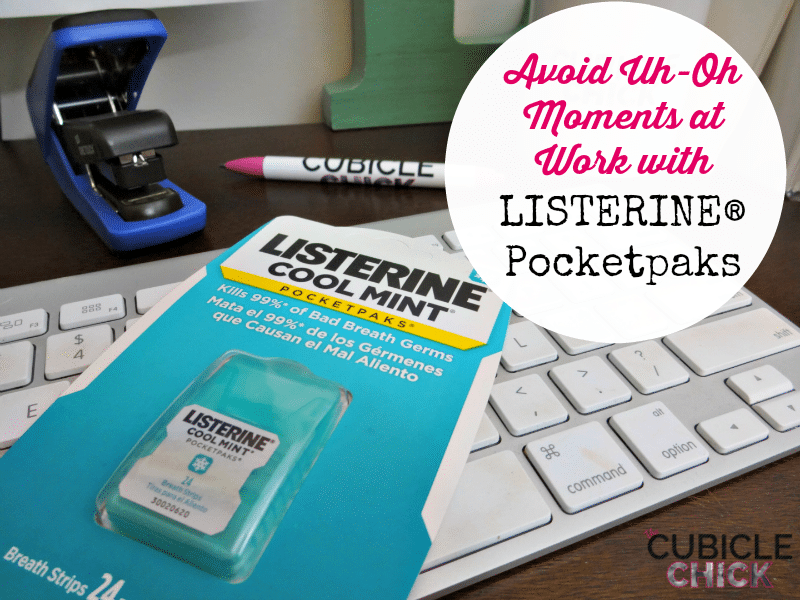 Disclosure: This is a compensated post written by me on behalf of LISTERINE® Pocketpals and Socialstars.
Imagine this—you've been asked by your manager for a very important meeting with a few of the higher ups with the company. They've chosen you as the team lead, and they want to discuss with you one-on-one the details of the tasks as well as give you objectives and goals. This meeting is super impromptu and this is the first time you've heard about the project, but you are anxious to get started because you've been waiting on an opportunity like this for you to show what you've got.
You go into the meeting, notepad in hand and a smile on your face, and then suddenly, it hits you. It's going to be you and three other people in a small office discussing the project—close quarters. And you've just had a hot dog with all of the works for lunch. Suddenly, you aren't feeling your best, and you are now longer thinking about your opportunity to shine, but of your bad post-lunch breath.
Your confidence has sunk and you can't concentrate. Do you panic?
This is just the type of thing that happens when you are working in an office. You never know when you are going to get an opportunity to show and prove, and you want to make sure that you are always ready to rise to the occasion. But having bad breath isn't a part of that plan, and chewing gum in the workplace can seem unprofessional, especially while talking to others in an important business meeting.
If you think you're the only one who feels poor oral care can be a hinderance for your career, you are not alone. More than 7 in 10 Americans believe having an unhealthy mouth can negatively impact one's confidence giving a speech (75%), and more than 6 in 10 believe it can affect a person's willingness to speak in a meeting (64%) and their ability to lead a meeting (61%).
That is where LISTERINE® Pocketpaks Oral Care Strips comes in. They dissolve instantly, freshening your breath by killing 99.9% of bad breath germs, allowing you to put forth your best self.
What's better, LISTERINE® Pocketpaks Oral Care Strips are sold in small pocket sized containers  and are convenient to use anywhere and discreetly. Keep them in your pocket, at your desk, in your purse, in your car—just about anywhere you need them. Place the strip on on your tongue and in seconds, your breath will be fresh and ready for whatever comes at you. And you can use them as needed throughout the day to stay ready and on point.
LISTERINE® Pocketpaks Oral Care Strips are sugar free and available in four (4) flavors: Cool Mint, Arctic Berry, Fresh Burst, and Cool Heat.
You can also keep up your oral health by using LISTERINE® Antiseptic which gets the germs brushing has left behind. Brushing your teeth alone misses 75% of your mouth, leaving germs and yuck behind. It can clean virtually clean 100% of your mouth, helping you have healthier gums, and after four weeks of continuous use, your gums will be nine times healthier.
In your career, you always want to rise to the occasion, while putting your best foot forward—your success and achievement depends on it. Make sure you have the proper tools in your arsenal so that you are never caught off guard, and always ready for whatever the day throws at you. And when it comes to giving you a great smile, healthy gums, and fresh breath so you can go and conquer the world, LISTERINE® Pocketpaks Oral Care Strips and LISTERINE® Antiseptic are the way to go. Now that I am a believer, I don't step into a meeting without them.
Learn more about LISTERINE® Pocketpaks Oral Care Strips by visiting their website. And on their Facebook, Facebook.com/Listerine.
Use only as directed.