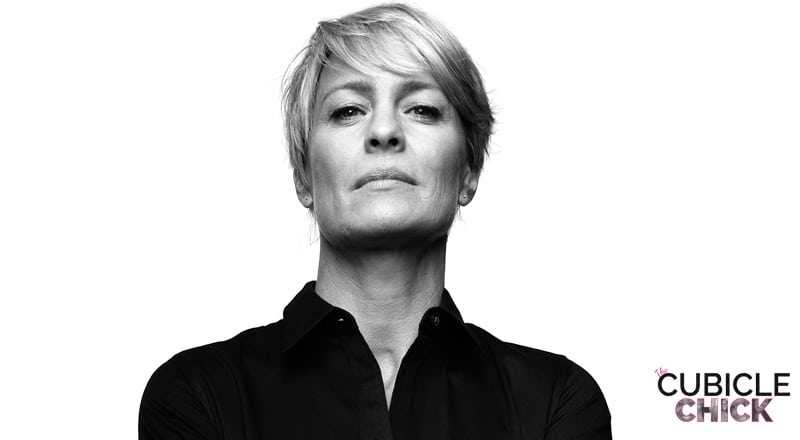 House of Cards' Claire Underwood is a career-woman who doesn't play by the rules.
After becoming addicted to Netflix's House of Cards last year and binge watching on all three seasons to get caught up, I couldn't wait for season four to drop. HOC is such an amazing character study on power, privilege, and politics, and I love to see how they all play their positions. Frank Underwood and his political cast of foes, adversaries, and obsessed team players has taught me a lot about how vindictive and ruthless people can be. But while FU gets much of the shine for being the character we all love to hate, it is his wife Claire Underwood that takes being evil to a whole 'nother level.
Some of you may disagree with me. Just as in real life, Hillary Clinton is being told to smile, stop yelling, and be more "lady-like" on the campaign trail, my outlook comes from not sexual orientation, but a lack of character. Claire gets down and dirty and even coerces her husband to become even darker than he already is. If the sexes were opposite and Claire was Frank and Frank was Claire, I still would say the same thing. Claire's degenerate psyche borderlines on psychopath—and it's not only scary both also pathetic. Claire Underwood would do almost anything to win, and has done it all to ensure her  and her husband's victories.
So I say this: Don't Be a Claire Underwood, ladies. Here's why:
You are enough.
Claire's low self esteem and lack of self worth is the reason why she's so villainous and wicked. Never sure that she actually can get what she wants on her own merits, she often resorts to violence and bad behavior. When you have confidence and know your worth, you allow that to be your calling card—not steamrolling over people so that you get your way. Know that you are enough, and if others don't see it, it's their loss. Claire Underwood doesn't understand this, and it may end up being her downfall.
Career Obsessed.
Many of us want to be successful and have a thriving career that we can be proud of. Claire takes her love of career and has turned it into a obsession that has left dead bodies in her midst. While being a full-fledged professional woman is what many of us strive to be, boundaries are important—and it's clear that Claire has none.
Alienation is a beast.
When you burn bridges and alienate yourself from people who like and respect you, it is sure to come back to you. Over the course of four seasons, Claire has lost relationships with her friends and colleagues. Outside of her power-dom, she doesn't have a social life and that is pretty sad. With alienation comes a price, and Claire will one day have to pay the piper.
With great power comes great responsibility.
No one (wo)man can have all that power, at least that's what Kanye said. And despite Mr. West's recent antics, he is correct. Power is nothing if you don't put into perspective to help others. Claire wants power simply because she wants it—not to help others or to serve, but simply because she's always wanted it. If you have a lot of power but want to use it for your own agendas, then this usually sets you up for failure.
Claire is a winner and always lands on her feet, but if she continues to take her power for granted, there will be no happy ending.
The mighty always fall.
Which brings me to the fall. We've seen the comeuppance of Claire Underwood and President husband, but I am sure that next season, we just may be tuning in to the chickens coming home to roost. You can do so much villainous work and not get what's coming for you—and what comes up, always comes down. And what a fall that is going to be.
Claire is a study on wanting and needing to be in charge to validate and cover up her weaknesses. Career wise, she seems to be the quintessential successful go-getter that we often write about in career think-pieces. But she will never have it all, as the more power she gets, the more she wants. And when you are willing to do anything to stay on top, there's always someone waiting for you to take your spot. I guess we will have to tune in next season to see who that will be.
All four seasons of House of Cards is now available on Netflix. If you've been sleeping on this series, I suggest you wake up and check it out.