Help keep your kids organized and responsible with my favorite Working Parent Hack—Kid's Daily Checklist.
Your cup runneth over—we have that in common. Which is why I am always trying to come up with ways to help make my job as a parent as simple as possible. My daughter is now 12, and she is taking on more and more responsibilities around the house. I count on her to do the basics without much reminding, and we began around the age of seven developing a daily checklist of chores and to-do's. This has helped her develop a daily routine that is now engrained.
With the help of my Kid's Daily Checklist, my daughter has not only become responsible with chores and tasks, but it keeps her organized. This helps when I am traveling on business and she is with her dad. The checklist has been my number one go-to Working Parent Hack, and I am not sure what I would've done without it.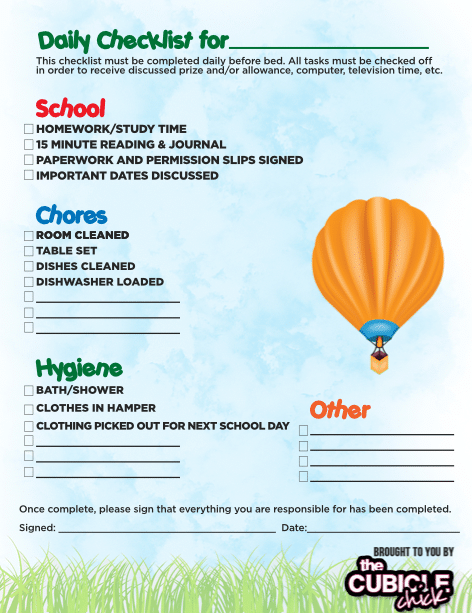 With the Kid's Daily Checklist, your child will be able to do the following:
Be accountable to simple tasks and chores
Have a visual reminder of their responsibilities
Less stress in the evenings and perhaps, more cuddle time
A guide that can help them throughout their childhood
Learn how to complete tasks before being rewarded
All you have to do is print out the checklist and presto, you've got a tool that can help you and your entire family with chores, duties, and accountability.
Download the Daily Kids' Checklist Printable
If you are eco-friendly and don't want to print it out each day, you can laminate one sheet per child and utilize a dry erase marker to fill it out. Just wipe and reuse.
This Working Parent Hack is perfect for kids six and up, and as they get older, they will be able to complete it themselves, then turn it in daily for a weekly allowance or treat. If they are too young to sign the sheet, you can have them use a crayon to make a special "mark" of accomplishment on the signature line.
For kids who are visual, this checklist is key to encouraging them to complete it daily. And there are even empty spaces for you to enter personalized items that are applicable to your child and family.
I love this checklist and it has really helped shape the organization and independence of my tween. I hope it also helps your kiddos, too!
If you are interested in more parenting hacks, click HERE.