In this Chadwicks of Boston sponsored conversation, I am sharing how to wear wool, plaid, and a pencil skirt for a fabulous layered winter outfit.
Fall is just about over, and winter is fast-approaching. I've been going through my closet, shedding my lighter clothing for heavier items that I can wear for the cooler temperatures. When I found a pencil skirt that I've had for a few years, I instantly began plotting on how I was going to use it for the wintertime.
Enter this fabulous wool tunic vest from Chadwicks.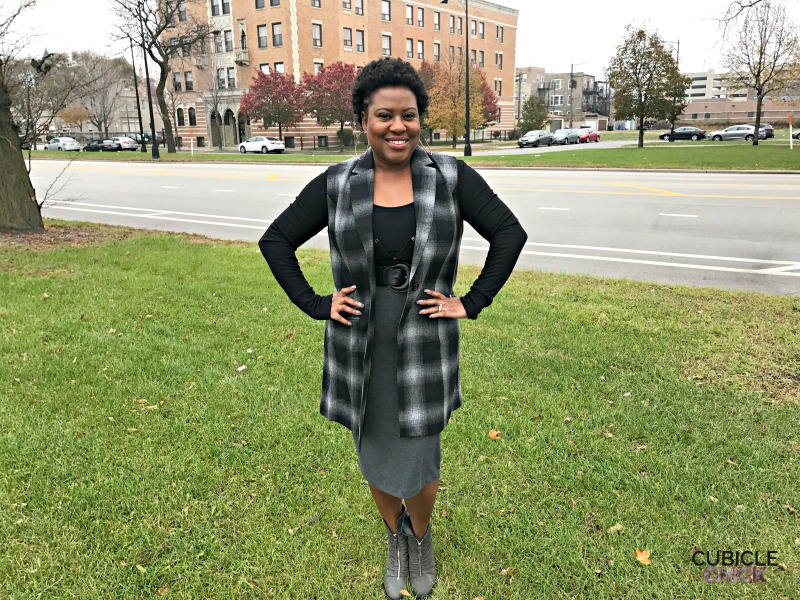 When I saw it online, it had me at hello. There are many style experts that think wool is a material of the past, but when you live in the midwest, wool is a must. The design of the vest with its suit coat feel, classic length, and quality fabric, is a can't miss. I decided to pair it with the aforementioned pencil skirt and gray booties for a look that can be worn at work of for play.
Did I mention, this wool vest is super affordable?
Because the vest is sleeveless, I added a long sleeved ribbed knit bodysuit with it for a warm and layered look.
While I was in Chicago visiting a friend, it was the perfect time to serve up this style. It was 40-ish degrees and overcast, but my outfit was the perfect foe for a chilly day.
Don't be afraid of plaid, or thinking outside of the box when it comes to your own Style Cue.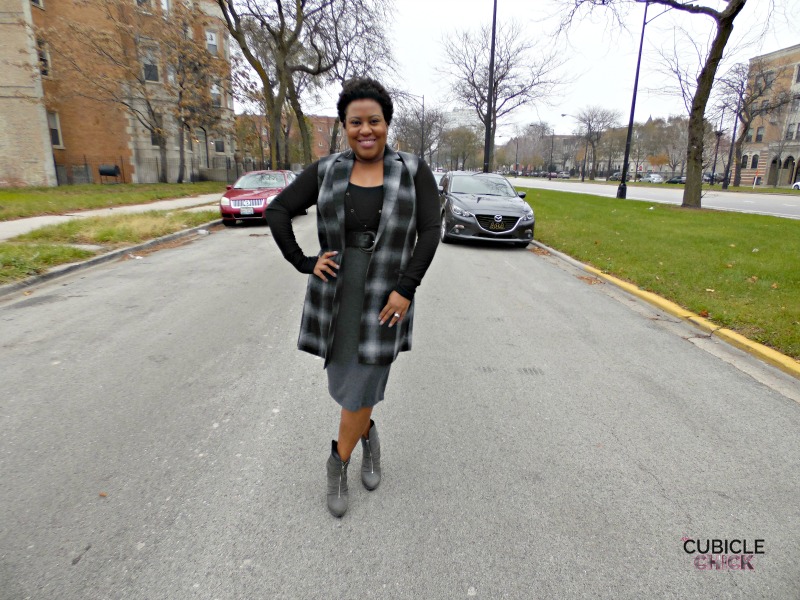 Here are a few tips for how to wear wool, plaid, and a pencil skirt for a winter look:
Pencil Skirts have no age limit
As a 40+ year-old mom on the move, I defy stereotypes and fashion norms. Women at any age can wear them and look fabulous, darling!
Use different lengths
As you can see, my skirt and the wool vest from Chadwicks are different lengths. I did this on purpose to give my look some "edge". Some fashionistas require that the length of your garments in your outfit should be the same, but I disagree. The different lengths of the skirt and vest make me look taller and improve my silhouette, as it breaks up the lines of the outfit.
Booties, please
I selected a pair of gray booties for this outfit to give it a playful advantage over a pair of heels or flats. I also think that the booties give it a classic twist on a modern style.
Add a belt
To polish off your look, don't forget to add a belt. This again breaks up the lines and "lengthens" your look.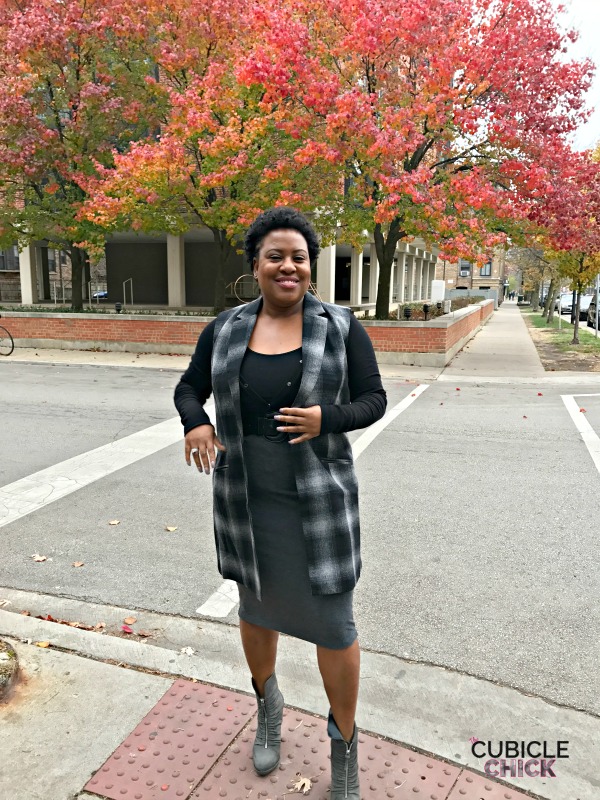 You can also add a pair of tights for added protection against the cold temperatures.
If you are interested in purchasing the wool vest seen in this post, you can click HERE.
My friends at Chadwicks of Boston are offering my Cubes 20% off their order with promo code CH62587 at checkout! Great to use on yourself or to purchase holiday gifts.
What do you think of my wool, plaid, and pencil skirt combo? Would you give this Style Cue a try?
Disclosure: I am participating in a compensated campaign with this brand. The styling and written words are my own.