In a series of posts, I am sharing why we should all be embracing Mondays instead of looking at it negatively. Up next is 10 inspiring quotes that can help working parents get through their Mondays.
Despite the fact that Mondays bring angst and despair, they are inevitable. And because of this, our outlook about the first day of the week can be bleak and melancholy. My job as a working parent advocate is to help you get the most out of your personal and professional lives, and that includes seizing our Mondays.
I am sharing 10 inspirational quotes to help working parents get through Mondays in order to assist in setting up your Mondays for success.
1. May your coffee be strong and your Monday be short.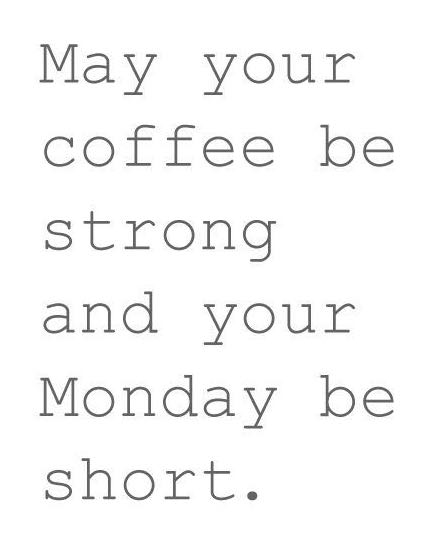 I am not a coffee drinker (I am more of a tea gal), but I know for millions of people, coffee works to help soothe the savage beast.
2. It's Monday. I'm happy. I'm blessed. God is going to do amazing things this week.
If you live to see a Monday, then you've got another chance to get it right. Don't take it for granted.
3. Oh, come on, it's Monday, not doomsday. Make it a good one.
People freak out so about Mondays. It may not be Friday, but it's also not the end of the world. Mondays are what you make them.
4. Be so happy that when others look at you, they become happy too.
Happiness is contagious, even on Mondays. Pass it on.
5. Always believe that something wonderful is about to happen.
This is a great motto to live any day of the week, but especially on Mondays.
6. Be who you are and say what you feel.
Monday Motivation: be your wonderful self!
7. Rise up and attack the day with enthusiasm.
You have the power to make your Mondays great. Act accordingly.
8. Make today beautiful.
Mondays can be beautiful.
9. It's a good day to have a good day.
10. Make Mondays a Money Magnet
Do you believe in the law of attraction? How about self fulfilling prophecy? Whatever you focus on shows in your results (or lack thereof). Focus on making Mondays a money magnet, meaning make them work for you so you can take it all the way to the bank. The work you put in now can bear fruit.
The goal should be to live each day gratefully—even Mondays.
Try to begin each week by referring to these inspirational quotes to help you get through Mondays. Bookmark this page and hey—share it with friends and colleagues.