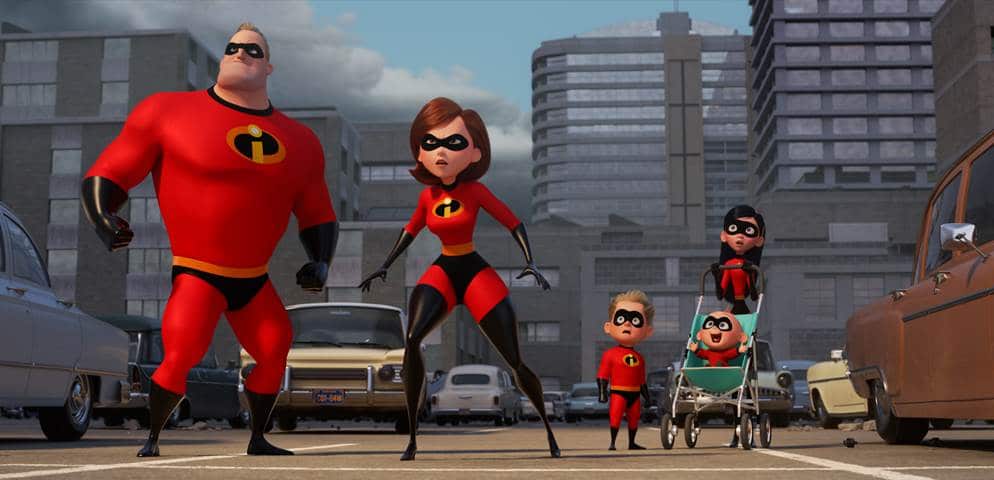 If you are no stranger to my blog, then you know that I love it when art-eh-movies imitate life.
This affection is made even better when it's a Disney/Pixar film that the entire family can enjoy.
I was thrilled when I logged onto social and saw the latest trailer for Incredibles 2 (click HERE). In fact, The Incredibles was the first DVD that we bought my now 14 year old daughter. She was just one year old when it came out, and she loved watching it at home with my son, who was 10 at the time. Now with this new iteration of the film, we get to see what the family's been up to.
Incredibles 2 picks up where the original left off, but adds a modern twist to an issue that millions of working parent families face on a daily basis. The mom heads back to the workforce to help save the world while dad stays at home with the kids and keeps the homestead running while she's at work.
More and more dads are opting to stay at home with the kids while mom becomes the earner for the family. While this is a huge role reversal in our society, it is a welcome change. I love Disney/Pixar for making it a major theme for this highly anticipated film, and I hope it begins a conversation of working parent issues and how we can all pivot and change to meet the needs of our families.
You can watch the latest trailer for Incredibles 2 below (feed and blog subscribers, click HERE to view):
Work life balance, management, career issues, and more are all topics that working parent families face on a daily basis. Kudos to Incredibles 2 for addressing these themes in a fun and entertaining way! June 15th can't get here fast enough. Will you be seeing this movie?
Synopsis:
In "Incredibles 2," Helen (voice of Holly Hunter) is called on to lead a campaign to bring Supers back, while Bob (voice of Craig T. Nelson) navigates the day-to-day heroics of "normal" life at home with Violet (voice of Sarah Vowell), Dash (voice of Huck Milner) and baby Jack-Jack—whose superpowers are about to be discovered. Their mission is derailed, however, when a new villain emerges with a brilliant and dangerous plot that threatens everything. But the Parrs don't shy away from a challenge, especially with Frozone (voice of Samuel L. Jackson) by their side. That's what makes this family so Incredible.
Written and directed by Brad Bird ("Iron Giant," "The Incredibles," "Ratatouille") and produced by John Walker ("The Incredibles," "Tomorrowland") and Nicole Grindle ("Sanjay's Super Team" short, "Toy Story 3" associate producer), Disney•Pixar's "Incredibles 2" busts into theaters on June 15, 2018.