Working mamas, it's Hot Mama Summer, and this means it is time to let our hair down. While we keep it busy with our careers, work life, parenting, relationships, and everything else on our plates. it is important that we tap into the season and get our summer on.
Summer mean all work and no play.
I came up with a list of 20 Things Working Moms Should Do This Summer, and not only do I want you to read it and share with other working mamas in your life, but I want you to DO them. Perhaps, not everything on the list, but try to tackle as much of it as you can.
Here we go.
1. Become a tourist in your own city
Traveling to other cities and foreign places is nice (trust me, I love to travel), but that isn't always necessary. You can be a tourist in your own city and visit new places, or revisit places that you may have neglected to appreciate for some time.
2. Free Card Friday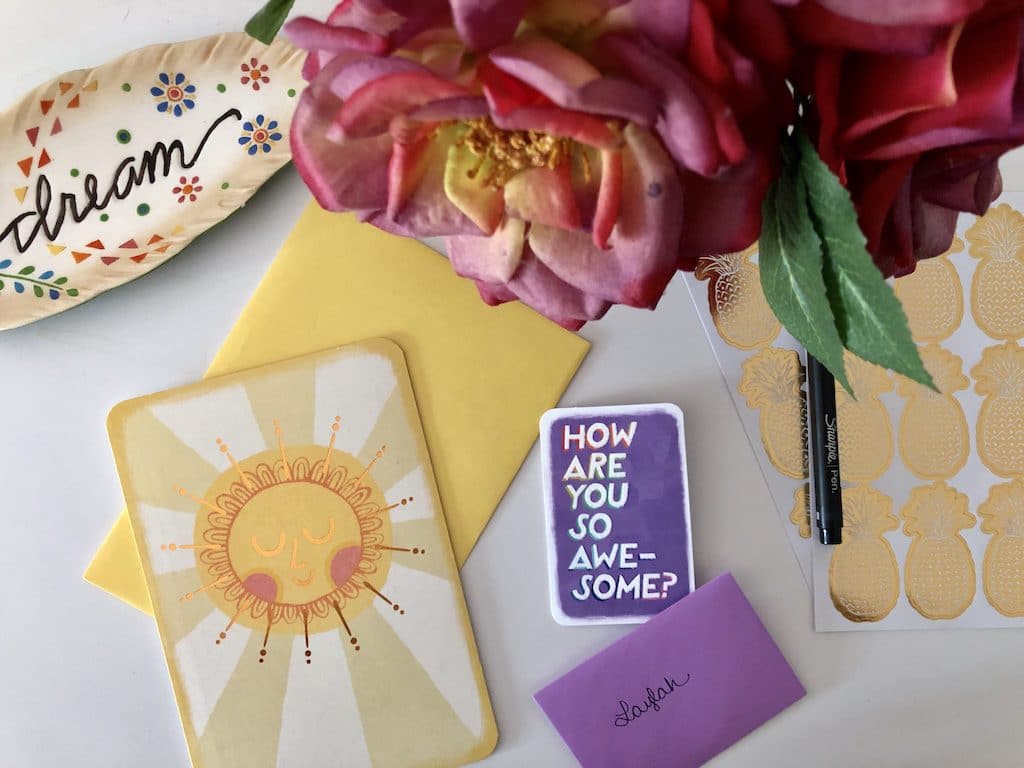 Did you know that Hallmark Gold Crown Stores have Free Card Friday? From now until September 27th, 2019, Hallmark Crown Rewards members can go into their local Hallmark store and get a free card on Fridays. Buy a card to give a paper hug, or buy one for yourself.
3. Date yourself
Go on a date by yourself. Go to your favorite restaurant and order a meal, bring a book, and nosh out. Take yourself to a movie or to a play and enjoy being alone while doing things that you love.
4. Get your makeup done
Have you ever had your makeup done professionally done? There's something very Cinderella about letting someone who knows the trade to do your makeup, and the results are often magical. You deserve a little pampering.
5. Take a solo trip
I do this often, but it is even better to go solo dolo during the summer, because there are so many things to do and see. Traveling by yourself can be fun and exciting, and you can do all of the things you want to do without having to take a majority vote. You can check out a recap of a solo trip I took last year HERE.
6. Fall in love again
Are you divorced or single? It may be time for you to get back into the ring again and allow yourself to be in love and to be loved. Trust me, I am experiencing that right now, and the summertime feels like the perfect season to do it.
7. Grown folk slumber party
How about getting the girls together for an overnight fete? Slumber parties don't have to be just for hormonal teens—mamas can enjoy them, too.
8. Read 2 books (or listen to them)
Between your commute to and from work, traveling to the beach, and indulging in self-care during the summer months, a good book (or three) is always a dope idea, and with Audible, you can listen to them if reading them doesn't fit into your schedule.
I challenge you to read (or listen via audiobooks) to two books this summer, and stay tuned this Fall, as I am starting a Working Mom Book Club. Yup!
9. Have a photo shoot
For the past three summers, I have commissioned a photo shoot, and it has always been a fun treat. I get to dress up, get my makeup done (see #4), and show out in front of the camera.
10. Check your breasts
Feel yourself up. Check out your mammaries. Your hoo-ha's. Your hooters. Your tig ol' bitties—whatever or however you refer to them as, check em out thoroughly. If you are mammogram age and haven't gotten one yet this year, please do so this summer. You can learn how assess your risk HERE.
11. See a therapist
There is nothing wrong with seeing a therapist. Nothing. In fact, we could all use some therapy, and you don't have to feel shamed about it. If you have been putting off seeing one, make sure to book an appointment now. Make this a summer of mental health.
12. Self love
You are beautiful inside and out, damnit! Don't let anyone tell you different, including yourself. Bask in self-love this summer, and love on yourself. Do things that make you happy and spend time with those that make you be your best. Unapologetically.
13. Revisit your hobbies/passions
Has spending time on your hobbies/passions fallen by the wayside? Summertime is the perfect opportunity to renew your interests and begin delving into things that make you happy.
14. Take a cooking class
Even Julia Child took cooking classes every now and then to continue her cooking while evolving her culinary skills. Find a cooking class in your area and spend an afternoon or evening learning how to cook a new meal. Bring along some girlfriends or your mate to make it a Girls Night Out or a Date Night type of affair.
15. Go to a concert
Concerts are awesome, and there are a lot of concerts and tours happening during the summer.
16. Detox
Detox your body for a weekend. No soda, only clean foods—your body will thank you.
17. Fast from technology
A Digital Detox can be just what the doctor ordered to help you recenter your mental, emotional, and physical health.
18. Movie night at home
Who says you need to spend a fortune at the movies to have Movie Night? Pop some popcorn, grab your pillows, and get your Netflix and Chill on.
19. Have a picnic
How long as it been since you've experienced a picnic? Pack up some of your favorite foods, head to the park, and indulge in a picnic with some of your favorite people. Don't forget to bring the portable wireless speaker.
20. Make a Hot Mama Summer Playlist
And speaking of speakers, a Hot Mama Summer Playlist is a must for us working moms. Head over to Apple Music, Spotify, or Tidal and make a summer playlist of some of your favorite tunes that you can listen to over and over again.
I don't know about you, but I am trying to make this a summer I won't forget when I am not in the office. I hope my list of 20 Things Working Moms Should Do This Summer inspires you to create a magical (and memorable) summer.