'Tis the season for entertaining—and for Fall and Winter drinks that are hot in nature.
Around these parts, when the weather begins to dip below the 60's, I instantly break out the hot chocolate and all of its accompaniments. Hot chocolates, toddies, teas, and such are what this type of weather is made for. And because my family does their fair share of entertaining, I love to create a Hot Chocolate Station for guests to enjoy during holiday get-togethers.
The premise of my Hot Chocolate Station is simple: by showcasing this amazing beverage in an inviting and creative way, it allows guests to create their own "mix". Whether they like it full of sweetness, topped with whipped cream, drizzled with chocolate syrup, topped with a cherry, or a combination of it all, they can have it their way.
With the help of a Keurig, it makes having a Hot Chocolate Station a breeze.
Get some inspo here!
Mugs have it
A good mug with a creative saying goes a long way. For your Hot Chocolate Station, make sure to have plenty of mugs on hand that are unique, inspirational, and fun. A medium size mug works best because you don't want to supply mugs that are hard for some guests to hold.
Places like Target and Homegoods always have some of the most creative mugs out there. Mug it out!
All the options
As I mentioned earlier, it's not just about the hot chocolate. You need to have plenty of fixings to go along with it so that people can personalize their hot chocolate experience. Whipped cream, shaved nuts, cinnamon sticks—there are so many options available. I've even seen gummy bears used to top a cup.
For your Hot Chocolate Station, it is important that you provide the extras to make their cups of hot chocolate complete.
Booze it up
For the over-21 crowd at your get-together, you may want to have a little liquor on hand to make them feel especially warm and fuzzy. Stock your Hot Chocolate Station up with red wine, rum, bourbon, whiskey, and Kahlúa. 
You can get a bevy of Boozy Hot Chocolate recipes here at The Kitchn.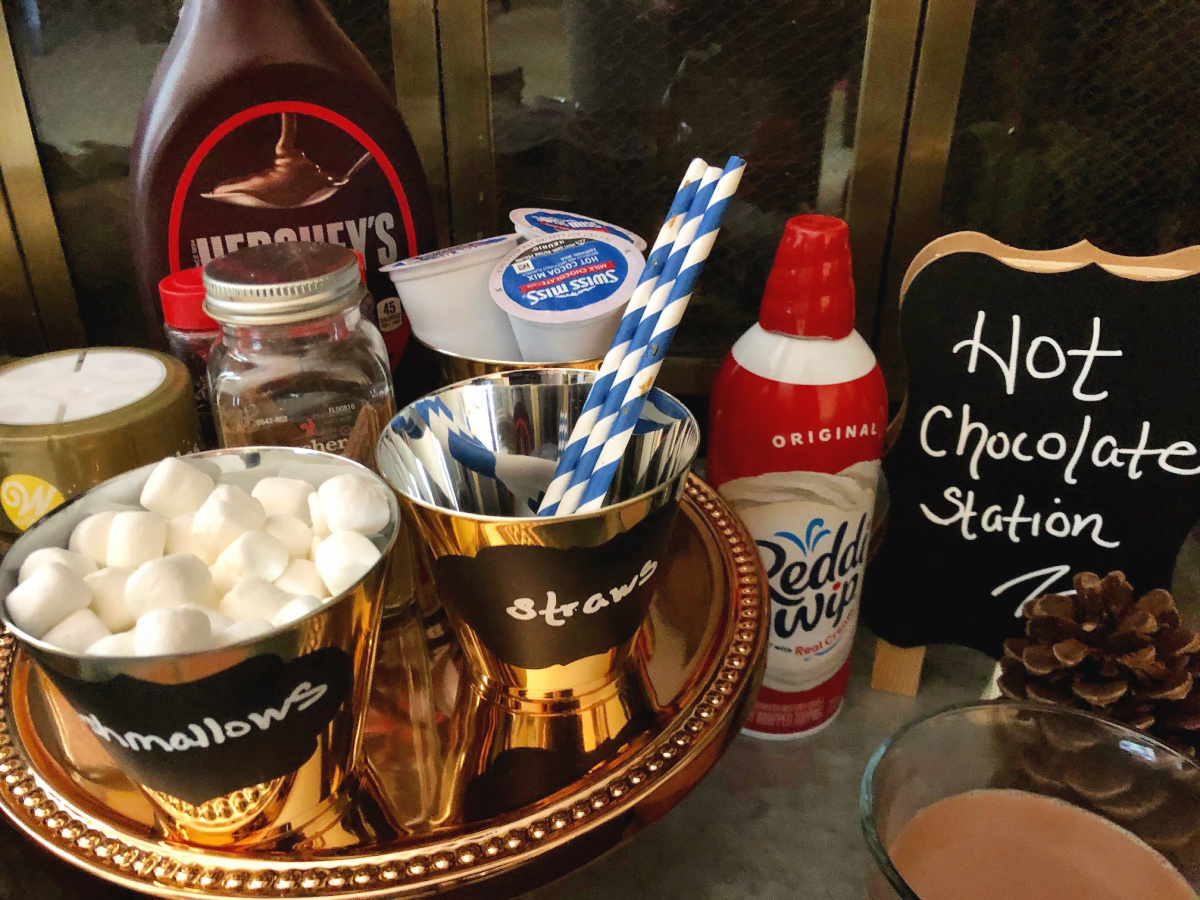 Kids count
You must also think of the littles when stocking up your station. Adding smaller cups or mugs will help distinguish your smaller guests and they can create neat chalkboard name tags to use on their mugs for even more fun. Additional toppings like marshmallows and sprinkles are kid approved, too.
As you can see, my Hot Chocolate Station has something for everyone. Young or old, it is always a hit for party-goers.