Holiday leftovers, anyone?
Shepherd's Pie is an old fashioned dish that needs to make a comeback. Why? Because it is easy and delicious. Do you need any other reasons than those? Shepherd's Pie is a one dish meal you can make in under 30 minutes, and in no time have dinner on the table. The best part about Shepherd's Pie is the rules are fairly loose, so you can add or substitute items as you please.
This Turkey Shepherd's Pie recipe is great because it uses ground turkey (or you can shred turkey from your holiday leftovers to create this dish) instead of beef, making this dish lower in fat and calories. Ready to learn how to make it? Look below at this easy recipe for Turkey Shepherd's Pie, perfect for when you don't want to fuss with a lot of dishes but still get a hearty meal on the table.
Ingredients:
Frozen pie crust
1 pound of ground turkey (or shredded turkey from your holiday leftovers)
1 cup of shredded cheddar cheese (you can use low fat if you wish)
½ cup of peas
½ cup of carrots
1 packet of brown gravy mix
Salt and pepper to taste
2 cups of mashed potatoes
For this recipe we used canned potatoes and even ready made mashed potatoes. Of course you can decide how ambitious you wish to be. These shortcuts do cut your prep time way down and make the dish an easy one to prepare.
Directions:
1. Preheat the oven to 375 degrees and remove the pie crust from the freezer so it has time to thaw.
2. Begin by browning the ground turkey. Drain if needed. Add in the packet of brown gravy and ½ cup of water. Stir until mixed well.
3. Pour the cooked ground turkey into the pie shell. Even it out.

4. Sprinkle the top of the ground turkey with the shredded cheese.
5. Now layer on the carrots and peas. Make an even layer.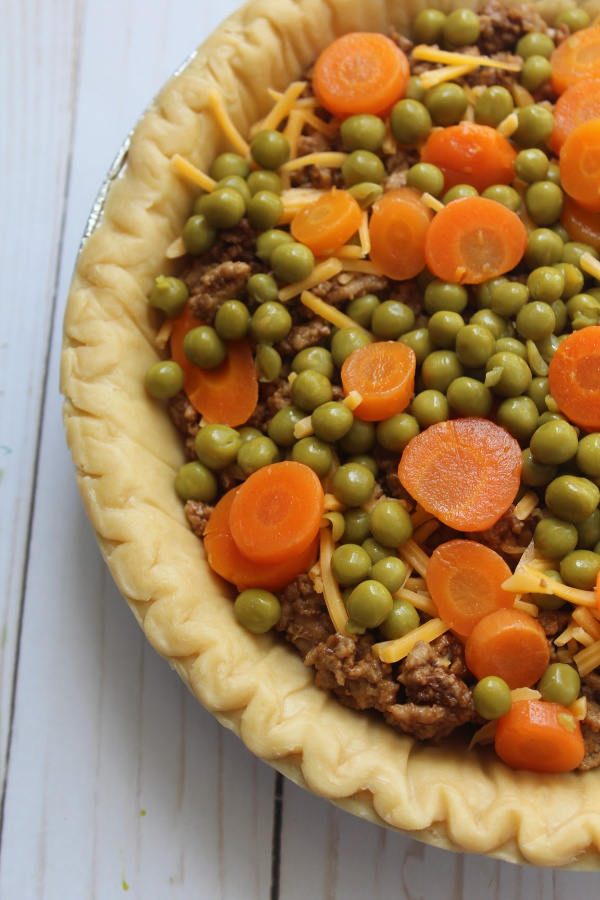 6. Last but not least, add a layer of mashed potatoes. Give the top of the potatoes one last sprinkling of cheese as well as a sprinkle of salt and pepper to taste.
Your Turkey Shepherd's Pie is now ready for the oven. Let it bake at 375 degrees for about 22-25 minutes until the top is lightly browned. You will also notice your crust has taken on a golden brown color. Remove and allow the pie to cool before cutting. Then, just cut into slices and serve. For the perfect meal you can add a salad on the side! Should you not wish to eat it right away, you can allow the pie to cool completely and freeze it. You will find like most casseroles it freezes nicely and will reheat well later on.
See how easy this Turkey Shepherd's Pie recipe is to make? With just a handful of ingredients (some of which are straight from your holiday leftovers), you can have dinner in the oven in no time. This old fashioned recipe may be an oldie, but it is certainly a goodie. Give it a try and see how your family enjoys it!
[amd-zlrecipe-recipe:4]