Martin Luther King, Jr. and his work means so much to us. I've always used his birthday as a day to honor him as well as give back to the community. For the last several years, Martin Luther King Day also means a National Day of Service, and a time where we should all pitch in and do the work to help make us a better society.
I am passionate about Dr. King and his legacy, so I am sharing 50 Ways to Make a Difference on Martin Luther King Day, as a way to inspire you to use the day to remember him with your acts of service and good works.
Please pick at least one thing on this list to participate in on MLK Day, and share this list with your social feeds.
1. Volunteer in your community
The most important thing you can do for your community on MLK Day and any other day is volunteer. There are so many opportunities out there to get involved.
2. Get your children involved
Martin Luther King, Jr. Day is not just a day off of school and work. It is a day to remember the man who stood for equality and justice. Getting your child involved with community events and volunteer opportunities is key.
3. Donate money to an organization
Show your support monetarily by donating funds, no matter how small.
4. Register people to vote
Organize or join a voter registration drive in your area. If you are not registered to vote, then do so.
5. Feed the homeless
Martin Luther King is known for his civil rights campaigns, but also was an advocate for the poor and the homeless. Honor him by donating some of your time to feed the homeless.
6. Share thoughtful quotes
Use your feed to share thoughtful and positive quotes from Dr. King.
7. Pay it forward
Do something nice for someone else. Pay for the coffee for the person behind you, or offer to buy lunch for a friend, colleague, or coworker.
8. Be kind
This goes without saying. A little kindness goes a long way.
9. Check on your elderly neighbors
Check on your elderly neighbors. Offer to run errands for them or bring them some baked goods or a plate of food.
10. Denounce hate and negativity
In these turbulent times, your voice matter. Use it to speak against hate.
11. Watch Selma
Ava DuVernay's Selma is required viewing for everyone. Watch Selma (again), and learn more about the bus boycott.
12. Write a blog post
Do you have a blog? Write a blog post and share information about Dr. King.
13. Share on social
Use your social platform to celebrate and honor Dr. King.
14. Watch the I Have a Dream speech
Watch the I Have a Dream speech–if you have kids, make sure they watch it as well.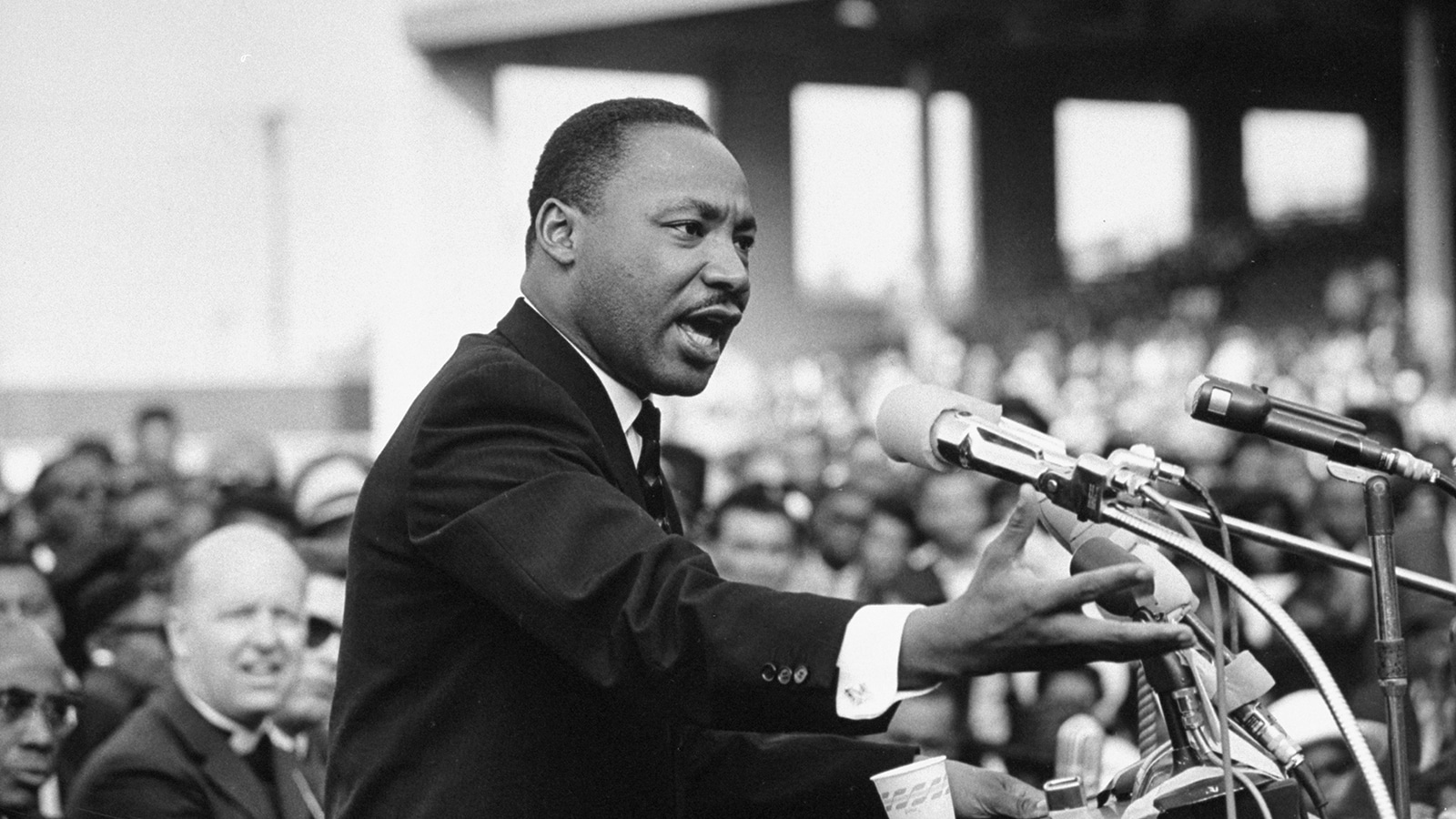 15. March
Are there any marches in your area? Participate and support Dr. King's message, which still resonates today.
16. Visit a MLK statue
Is there a MLK statue in your city or town? Pay it a visit.
17. Pray
Pray for healing for our world.
18. Teach your kids
Educate your kids on the importance of Dr. King and what he stood for.
19. Organize an event
Are you unable to find events in your area for Dr. King's birthday? Organize your own.
20. Start a non-profit
Make a difference and start a non-profit that can help your community, city, state, region, or even the world.
21. Write a letter to your local congressperson/senator
Write to your representatives in Washington and let them know how they can do a better job for their constituents.
22. Donate to MLK
Donate funds to MLK's legacy. You can do so HERE.
23. Love your neighbor
Love thy neighbor is not only a commandment, but a mantra of Dr. King's. Show some love to your neighbor by sharing baked goods with them.
24 Light a candle
Light a candle in honor of Dr. King.
25. Advocate for social change
Work with a local group to advocate for social change.
26. Watch Eyes on the Prize
Eyes on the Prize is a great multi-party documentary that gives a thorough look at the Civil Rights Movement. You can watch it HERE.
27. Share your story
Do you have a story of injustice? Sharing it can help move the needle.
28. Fight injustice
A must in today's times.
29. Watch King in the Wilderness On Demand
This HBO documentary about Dr. King is one of the best ever done. Watch it OnDemand.
30. Visit the Civil Rights Museum in Memphis
Take a trip to Memphis to visit the Civil Rights Museum.
31. Organize a toy and clothing drive for kids
Organize a toy and clothing drive for underprivileged kids and do something to make them smile.
32. Read books to kids at school or library
The kids will love this. And you will too.
33. Donate old clothing and other items to Goodwill or Salvation Army
Get the kids involved. Go through the house and box up old clothing and toys and take it to a donation center.
34. Make hygiene kits for the less fortunate
Hygiene kits are always needed. Items like soap, toothpaste, deodorant, feminine products, and more.
35. Pay school lunch debt accounts
This is another way to pay it forward. You can start with your child's school.
36. Create a MLK arts and crafts project
There are plenty of MLK themed arts and craft ideas online. Click HERE for some inspo.
37. Write a poem
Write a poem about Dr. King.
38. Educate a coworker
Do you have a coworker who isn't woke? Take the time today to educate them.
39. Visit the King Center website
Click HERE to visit.
40. Visit the King Center in Atlanta
Take a trip to Atlanta and see Dr. King's eternal flame.
41. Create a Day of Service Project
Get some ideas HERE.
42. Volunteer to teach adults how to read
Literacy programs are available in most city. Get involved.
43. Write letters to armed forces service members
Send some positive words of encouragement to the heroes serving our country.
44. Create care packages for deployed military
Contact the USO.
45. Plant a garden
Do something for the environment—the planet will thank you.
46. Write an essay
School the masses on Dr. King and what he's meant to you.
47. Support a Black owned business
Buying Black is a way to honor Dr. King, who wanted Blacks to own their own businesses and make a positive living.
48. Honor volunteers
Do something kind for a volunteer.
49. Read to seniors
Contact a retirement community to inquire about their reading programs.
50. Offer mentorship
Be a mentor and help guide others.
I hope this list of 50 Ways to Make a Difference on Martin Luther King Day inspires you to go out and serve. Martin Luther King  Day is Monday, January 20th.