While many of us parents are experiencing a new normal and spending more time indoors than ever before, we may find ourselves looking for recipes that the kiddos will enjoy three times a day. With schools being shutdown and distance learning now a huge thing amongst elementary through high school children, coming up with three meals a day for weeks on end can be a daunting task.
Don't fret, my friends! I have come up with 8 Kid Friendly Meal Ideas When Stuck in the House, which will give you at least one meal idea for a week and a day!
These meals and recipes are fun, and I've made sure to include items for breakfast, lunch, dinner, and dessert. Some of them can even be used as a snack, too!
Checkout my list of 8 Kid Friendly Meal Ideas When Stuck in the House, and get them into your recipe rotation.
Mini Pizza Cups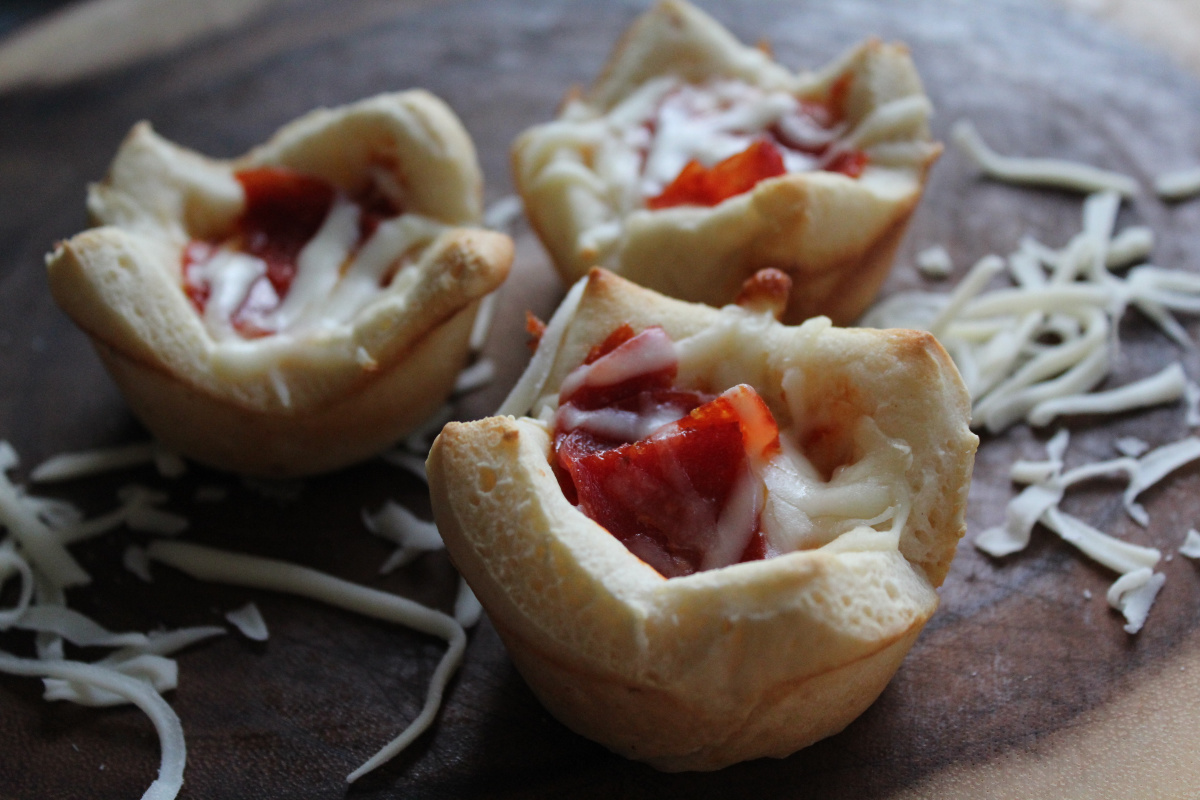 At the end of the day I am tired, but I still love the smell of something cooking in the oven. Let's be honest, pulling dinner out of the oven at the end of a ridiculous day really makes us feel like we have accomplished something, right? That is why I love these Mini Pizza Cups, because they are easy to assemble, bake, and eat. In fact you can make them in under 30 minutes, and in no time have the smell of fresh baked pizza coming from your kitchen.
The best part? No matter how picky your family members are, these can be customized for all tastes. Let kids assemble their own with their favorite ingredients, or create a variety so everyone can experience various tastes. These mini pizza cups offer so much to dinner time, and do it all in under thirty minutes. Are you ready to get started? Here is how to make your own Mini Pizza Cups!
A few things before we get started: You have TONS of flexibility here. You can find seasoned pizza crust as well as plain. Choose from any variety of pizza/pasta sauce. You can enjoy any kind of shredded cheese you wish, and of course your meat and veggie topping selection is endless. Do what works for you and for the tastes of your family.
Ingredients
Refrigerated Pizza Dough (sold by the canned biscuits)
Pizza or marinara sauce of your choice
Toppings of your choice such as shredded mozzarella, pepperoni, crumbled (cooked) sausage, chopped vegetables, even pineapple and ham
Cooking spray
Muffin tin
Instructions
Spray the muffin tin with non stick cooking spray. Preheat the oven to 375 degrees OR the temperature indicated on the dough packaging.
Use a knife to cut the dough into squares. The squares should be large enough to fit over the muffin tin circles.
Press the dough into the muffin tin cups. Gently pull the dough so it covers as much of the inside of the cup as possible.
Bake the dough at the designated temperature for 5-6 minutes. You just want to give it a little head start.
Remove the dough from the oven and add your toppings into each cup. Add some sauce, top with the cheese of your choice, then finish with your meat and veggie selection. Don't worry about overfilling the cups, as long as it is all contained into the cup, you will be fine!
Return the muffin tin to the oven and bake the mini pizza cups for an additional 7-8 minutes or until the dough is golden brown. Again, this baking time may vary according to package directions.
When the crust is golden brown, remove the mini pizza cups from the oven and gently pop them out of the tin with a fork. You will notice how golden gorgeous the sides are and how everything is nicely contained on the inside of the cup. NOTE that the insides of the pizza cups are VERY hot. While you might be tempted to take one straight from the tin and devour it, don't. Allow them a good 5-7 minutes to cool before eating.
https://www.thecubiclechick.com/2020/03/23/kid-friendly-meal-ideas/
I love to add a side salad to these mini pizza cups and call it dinner. In under 30 minutes our kitchen smells like a pizzeria, everyone is happy, and since this is a one pan (or tin!) meal, dishes are a breeze. It really is an ideal midweek meal.
So put your chef's hat on and give these mini pizza cups a try. They are an easy way to enjoy dinner as a family!
No Bake Apple Pie in a Jar
If you love the flavors of apple pie but hate the time it takes to prepare one, this no bake apple pie in a jar is for you. Not only can you make it in minutes, but you don't even need to turn on the oven to do so. It is the perfect dessert, as you can make individual servings for everyone at your dinner table. Here is how to make your own no bake apple pie in a jar, a simple dessert the whole family is sure to love.
Ingredients
Mason jars, cleaned and dry
1 lb. of Apples of your choice, rinsed, dried, and chopped
1 teaspoon each of cinnamon and nutmeg (optional)
1 teaspoon of white sugar (or you may substitute brown sugar if you prefer)
Graham crackers (about 4 whole crackers, any flavor or variety you prefer works fine)
Whipped cream
Instructions
In a bowl, add your chopped apples, your cinnamon, nutmeg, and sugar. Mix well. You will notice almost a syrup will form over the apples. This will glaze them nicely and add a ton of sweet flavor. Set aside.
In a separate bowl, crush your graham crackers. You don't want to crush them into a powder, but better yet large crumbles.
You can prepare to assemble your no bake apple pie now. Begin by adding a layer of graham crackers to the bottom of the jar. Follow with a spoonful of the apple and sugar mixture. Pat flat in between each layer to create nice and clean layers.
Now, add in a layer of whipped cream. Add as little or as much as you wish. It is totally up to you!
Repeat the process, adding in more crushed graham crackers, followed by the apples mixture, then whipped cream until you reach the top of your jar.
Finish the no bake apple pie in a jar with a top off of whipped cream sprinkles with some more graham cracker crumbs and a dash of cinnamon. You can also stick a few apple slices in the top for decoration.
https://www.thecubiclechick.com/2020/03/23/kid-friendly-meal-ideas/
How gorgeous is this dessert? Now just add a spoon and you are ready to serve. Kids will love assembling their own apple pie in a jar, and adults will love finding this dessert at the end of their meal. So the next time you don't feel like firing up the oven, try this no bake apple pie in a jar instead. It is a fresh and fruity dessert perfect for any time of year!
Easy Vegetable Pie
At least one night a week we like to make a meatless dinner. Not only does it save us some money but it is also so much better for our bodies. An easy vegetable pie like this is the perfect midweek meal, and the best part is you can make it all in one pan, leaving little mess behind. Pair it with soup and you have an amazing meatless meal, filled with yummy vegetables and all of the flavors of a savory pie you love. Here is how to make your own easy kid-friendly vegetable pie!
Now, I love easy. Of course you can make your own pie crust, but this is a more convenient option for us. You can find frozen and ready to go pie crusts in your grocer's freezer. Just thaw one out while you are prepping your fillings and it will be ready by the time you are set to fill it. Some people like to brush their shell with a little egg wash (egg yolk and a splash of water) before filling, but in this case I don't think it is necessary.
Ingredients
Pre-made frozen pie crust
1 cup of cooked broccoli
1 cup of cooked cauliflower
½ cup of chopped onion (fresh)
½ cup of chopped green pepper (fresh)
2 eggs
1 cup of biscuit mix/powder
3/4 cup of milk (use 2% for best results)
Salt and pepper to taste
1 cup of shredded cheddar cheese
Instructions
Begin by steaming the broccoli and cauliflower. Preheat your oven to 400 degrees. Chop and add the cooked vegetables to your mixing bowl.
Add in the chopped fresh onion and chopped fresh green pepper. There is no need to pre cook these as they will cook just fine in the pie.
Add in two eggs, the milk, biscuit mix, and your milk. Mix well.
The cheese can be added last. Gently fold into the mixture and save a little for sprinkling on top of the pie before you bake.
Sprinkle the mixture with salt and pepper to taste, and transfer it to the pie crust. Top with the remaining cheese.
Sprinkle the mixture with salt and pepper to taste, and transfer it to the pie crust. Top with the remaining cheese.
Place the vegetable pie into the oven at 400 degrees for 35 minutes. I do like to check on mine halfway through. The top should be looking golden and the kitchen will smell amazing.
After 35 minutes remove and allow to cool before cutting and serving.
https://www.thecubiclechick.com/2020/03/23/kid-friendly-meal-ideas/
When you are ready to cut into your vegetable pie, you will notice the cheese on top acts like a top crust. The inside is the perfect medley of your favorite vegetables, cheese, and a little fluff provided by the biscuit mix and egg. Should you wish to make this ahead of time to bake later you always can, or, you can even make this pie and freeze it for later. It will do well either way and still come out amazing when you are ready to enjoy it.
Have some fun with vegetables. Give this easy vegetable pie recipe a try and see how fun a meatless meal can really be.
Frozen Yogurt Tarts
It can be hard to find ice cream treats that are low in sugar and fat, which is why these frozen yogurt tarts are a great alternative. Easy to make and low in sugar, they are perfect for satisfying your sweet tooth while being stuck inside. You can make a large batch and keep them in the freezer for easy snacking, making them the perfect grab and go treat. Look at how to make your own frozen yogurt tarts, which may soon become your new favorite snack!
A few things you should know: You can use any kind of yogurt for this recipe, but Greek yogurt seems to work best. We chose a low sugar option, and you can use any flavor that interests you. When embellishing your treats, you have two options. You can do natural mint leaves as a garnish, or use a little gel icing to add some color. Kids may enjoy the icing event, while adults may prefer something more natural like the mint leaves.
Ingredients
2 cups of yogurt of your choice
1 cup of fresh chopped fruit, we chose strawberries
Optional: decorative gel icing or mint leaves
Mini paper cupcake cups
Instructions
Spoon the yogurt into the paper cupcake cups (I double lined them) until they are ¾ of the way full.
Smooth over the top of the yogurt so it is nice and even in the cup.
Add the chopped fruit to the top of the yogurt. Allow it to settle in naturally.
If you choose to use mint as your garnish (like we did) you will cut it into small spears and add it at this time.
Place the yogurt cups on a metal cookie sheet and place in the freezer. You want to be sure the tray is even so the yogurt doesn't run or become heavier on one side of the cup.
It will take a good 3 hours for your yogurt to solidify. Once solid you can remove. If you wish to use the gel icing to embellish the frozen yogurt tarts, you can do so at this time.
Your frozen yogurt tarts are now ready to be served! Simply peel them from the wrapper and eat. But eat fast, they do melt quick!
https://www.thecubiclechick.com/2020/03/23/kid-friendly-meal-ideas/
Just think of all the possibilities you have with this recipe! You can use any kind of yogurt you wish, any kind of fruit you wish, and embellish with an assortment of herbs, candy sprinkles, or even flowers.
Head to the kitchen and give these frozen yogurt tarts a try. They are a sweet and healthy way to enjoy a treat!
Open Faced Tuna Melt
When you think of a tuna melt you might not think of anything exceptionally tasty or fancy, but I am here to tell you this open face tuna melt is anything but boring. Using a couple of ingredients you already have on hand you can make this open face tuna melt up too, perfect for a mid week lunch or even a light dinner. Dress this open face tuna melt up or down as you wish, creating a sandwich that is full of flavor and even convenience. Here is how you can make an open face tuna melt of your own.
Ingredients
Sandwich bread, I prefer wheat for this recipe but you can use what type of bread you prefer
1 cup of tuna, drained, seasoned or unseasoned
½ cup of mayonnaise, light or regular
2 stalks of celery, rinsed and chopped
Salt, pepper, garlic powder, onion powder to taste
Provolone cheese or white cheese of your choice
Non stick cooking spray
Instructions
Prepare your tuna mixture first. In a bowl you want to mix the flaky tuna, mayonnaise, and the chopped celery.
Season your mixture according to your tastes. We used just a dash of each the salt, pepper, garlic powder, and onion powder. If you like any of the seasonings more than the other, feel free to add more than a pinch. If you don't care for any of them, feel free to omit.
Mix your tuna mixture well and set aside.
Spray your pan and place two pieces of bread in on a medium heat. There is no need to butter your bread before placing it in the pan.
Spoon the tuna mixture onto the bread.
Slice the provolone cheese up into slices and lay across the top of the mixture. You can do a basket weave design if you are feeling fancy or simply let the lay in rows.
Allow the open face sandwich to sit for 2-3 minutes until warm. You will notice that the cheese will be lightly melted and the bottom of the bread golden brown.
https://www.thecubiclechick.com/2020/03/23/kid-friendly-meal-ideas/
As you can see you have some flexibility with this recipe. If there are ingredients you aren't fond of feel free to swap them out. Not a provolone cheese fan? White cheddar and even mozzarella would work just as well for this recipe. If you want to cut calories, you can always opt for a light or fat free mayo, as well as a reduced fat cheese.
Remove your open face tuna melt from the heat and serve with a side such as pretzels, pickles, or even a fresh salad. Your open face tuna sandwich is best enjoyed warm!
Gather your ingredients and give this simple open face tuna sandwich a try. As you can see, it is anything but boring!
  Citrus and Berry Pops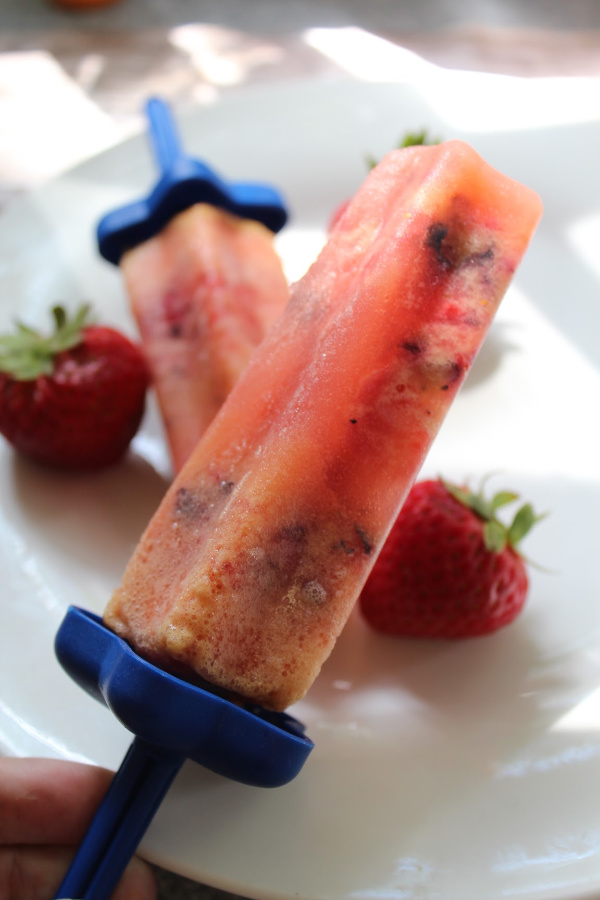 Have you ever looked at the ingredients on a package of ice pops? They are typically full of not just sugar but corn syrup and artificial coloring too. Luckily, you do have healthier options when it comes to ice pops. Making your own ice pops is a cinch, and a great way to cool down during the summer. All you need are a few fresh ingredients, and in just a few hours you have ice pops you can feel good about eating. Check out these Citrus and Berry Ice Pops below, and see if this isn't a recipe you need to try!
Rinse all of your produce well and remove all stems/greenery. We used strawberries and blueberries for this recipe, but you can use other berries of your choice as well. Blackberries, raspberries, and even seedless cherries would all work as well. As far as the ice pop mold goes, you can find these just about anywhere household goods are sold. There are all sorts of varieties on Amazon as well, in various shapes and sizes so you can really get creative if you wish.
Ingredients
2 cups of low sugar natural orange juice
½ cup of chopped strawberries
½ cup of blueberries
ice pop molds
blender
Instructions
In a blender gently pulse the orange juice and fresh fruit. You don't want to completely liquify the mixture as it is nice to have some fruit chunks in these ice pops. Instead, just pulse 2-3 times.
Transfer the mixture to your ice pop molds. Use a spoon to get out the pieces of fruit that may be stuck at the bottom. You want to be sure you add a spoonful or two into the molds.
Fill the ice pop molds about 85% full. The ice pop will expand as it freezes so you want to make sure it has room.
Place the ice pop molds in the freezer for a minimum of 3 hours or until solid.
When solid, remove the ice pops and enjoy! You will find that these citrus and berry ice pops are the perfect combination of tart and sweet!
https://www.thecubiclechick.com/2020/03/23/kid-friendly-meal-ideas/
These citrus and berry ice pops are the ideal snack because they are full of Vitamin C, antioxidants, and other vitamins and nutrients. They are a healthier alternative to sugar filled ice pops, and just as good!
Give this recipe for Citrus and Berry Ice Pops a try and see how sweet snacking can be!
Crispy Tuscan Chicken
If there is one thing I love about chicken it is that you can buy it cheap. You can get quality boneless/skinless cuts at a great sale price and turn it into just about anything. One of my favorite ways to use chicken cutlets is to make this Crispy Tuscan Chicken. It looks fancy but is fast and easy, perfect for a midweek meal even if you are crunched for time. If you are always looking for a new way to prepare chicken, check out how to make your own Crispy Tuscan Chicken like you see here. It is a meal the whole family will rave over!
Ingredients
4 boneless/skinless chicken cutlets
2 cups of panko crumbs (I prefer panko over traditional bread crumbs. More crunch!)
1 teaspoon of each dried oregano and dried basil
2 eggs
A quality olive oil
Salt and pepper
Shredded asiago, parmesan, or cheese of choice
Instructions
Pat the chicken dry and sprinkle generously with salt and pepper.
In a bowl, mix your panko along with the dried Italian seasonings. You can add additional salt and pepper if you wish for even more flavoring.
Create an egg wash for your chicken. Beat the eggs and add in a tablespoon of water. Mix well.
Dip each chicken cutlet into the egg wash. Then, dip in the Panko mix. Be sure to press firmly so the chicken picks up as much of the Panko as possible. You want to be sure each side is covered well.
Heat 2 tablespoons of olive oil on your skillet. Once nice a hot, you can drop the chicken into the pan. Heat the chicken on each side for 2-3 minutes before removing from heat and placing on a paper towel to dry.
Sprinkle the top of the chicken with your shredded cheese. Place on a baking sheet and heat at 350 degrees for an additional 20 minutes.
Are you ready for your kitchen to smell amazing? It will! Remove from the heat and you can top with additional cheese if you wish. For the perfect meal, pair this Crispy Tuscan Chicken with a side salad and some pasta or garlic bread and you are all set! It is even a great recipe to make and freeze or refrigerate to eat later.
https://www.thecubiclechick.com/2020/03/23/kid-friendly-meal-ideas/
People are often times confused when it comes to olive oil. While most people grab extra virgin, what you really want for cooking meat is regular olive oil. Your EVOO is ideal for salads and vegetables where you need a lighter oil, but regular olive oil is best for cooking meat in like this. Just choose a quality brand of olive oil and remember a little goes a long way!
Fruity Kale Breakfast Smoothie
Here is some important advice: tell you kids not to be afraid of kale. You may have heard that kale is a superfood, that it is packed with vitamins and minerals, and that it can do wonders for your health. All of this is true, making kale a food you should add to your menu a few times a week. One of my favorite ways to use kale is in this Fruity Kale Smoothie, a quick and easy smoothie for you and the kiddos.
Look at how to make your own fruity kale smoothie, so you can enjoy all of the health benefits that eating fresh kale have to offer!
Ingredients
1 medium sized apple, any color or variety, chopped
1 medium banana, peeled
½ cup of coconut milk or low sugar fruit juice of your choice (both orange juice and apple juice are great choices, use something that is 100% juice with little to no added sugar)
½ cup of blueberries
3-4 medium kale leaves, washed and dried
Crushed almonds, optional
Instructions
Begin by cleaning and prepping your ingredients. Simply wash and dry all of the produce well. Remove all stems, peels, etc.
Chop your fruits into small chunks. There is no need to chop the kale as you can add it to the smoothie recipe whole.
Place all the ingredients into your blender. Blend until nice and smooth.
If you wish for a thicker smoothie, you can add some crushed ice and continue to blend until consistency is reached.
Some people like to top their fruity kale smoothie recipe with fine chopped almonds or even some protein powder. This is up to you but can add a nice touch.
https://www.thecubiclechick.com/2020/03/23/kid-friendly-meal-ideas/
Let's chat real quick about kale. You can find fresh kale bunches at most grocery stores and farmer's markets. You will find it in the leafy greens section by your lettuce, swiss chard, and cabbage. If you don't care for some of the fruits listed above, you can substitute them with another fruit of similar size.
Your fruity kale smoothie is now ready to be enjoyed. It should be served right away. If you wish to drink it later, you can pour the mixture into ice cube trays. Then, simply remove the cubes and place them back into the blender when you are ready to enjoy your smoothie.
Give this kid-approved fruity kale smoothie a try. It makes the perfect back to school breakfast or is a great way to fuel your weekends if you are a weekend warrior with a huge to do list! Give it a try, and see what the power of kale can do for you!
I hope you've found my 8 Kid Friendly Meal Ideas useful for this new way of life we are having to adapt to. Try them out, and see how much your kiddos enjoy them!