It's beginning to look a lot like autumn! Now that fall is officially official, I wanted to share with you my Black-Owned Business Shopping Guide that can help you step into the new season fabulously. Whether you need health and beauty items, decor, accessories, self-care goodies, or a little libations, you are sure to find it on this list.
As you know, it is important for us to support Black Businesses. Why? Because they need to be able to grow and thrive and be great! Please make sure to get to know these brands and patronize them if you can. I've purchased something from every business on this list.
Take a look at my Fall Black-Owned Business Shopping Guide below:
Black Luxe Candles
You may know by now that I stan hard for Black Luxe Candles. I even featured co-owner Brittany on my blog earlier this year. Their candles and other scented items are amazing. Rich with aroma and delicate enough for your senses to enjoy.
Their new Fall Collection has scents like Vanilla Pumpkin, Cozy Cashmere, and Donuts and Cider. Order some goodness, and tell them I sent you.
Le Fete Rose
Founder Donae Burston wanted a liquor brand that spoke to his community. Le Fete Rose was born, and the rest is history. It translates to "The Rosé Party," and as a customer, I would have to agree. It's a party indeed.
Bottles start at $25.
Kliche
Kliche is not your ordinary brand. They offer cruelty free products that include Herbal Infused Facial Oil, Whipped Body Butter, Creamy Bath Soak, lipgloss, and more.
Tamesha Marie by Tamesha Artistry
I've gotten to know Tamesha Marie on Instagram over the last few months, and I think she's amazing. I have purchased her pins, which are rich in color and texture (seen here), and I can't wait to get more of her goodies. She offers mugs, earrings, totes, and other items which are hand-crafted and beautifully made.
Get your items, HERE.
Sénica Naturals
I've been a fan of Sénica Naturals for years now, and I am a huge fan of her products. Crafted with organic and food-grade ingredients by a trained biochemist, Sénica's founder marries her experience with eczema and dermatitis, her scientific training, and her traditional knowledge of ethnobotany from her Caribbean heritage to craft products with a purpose.
My favorite product currently is the Lemongrass Body Oil. I need to get another bottle!
Vendetta Nail Bar Gel Nail Polish
Vendetta Nail Bar is a Black owned nail salon that also has its own line of nail and gel polish. I've bought two bottles so far and I plan to get more.
The color shown in the photo below is 'Pretty Brown' from their gel collection. You can see all of their nail color offerings on their site. Make sure to purchase a few bottles for the Fall. Shop now!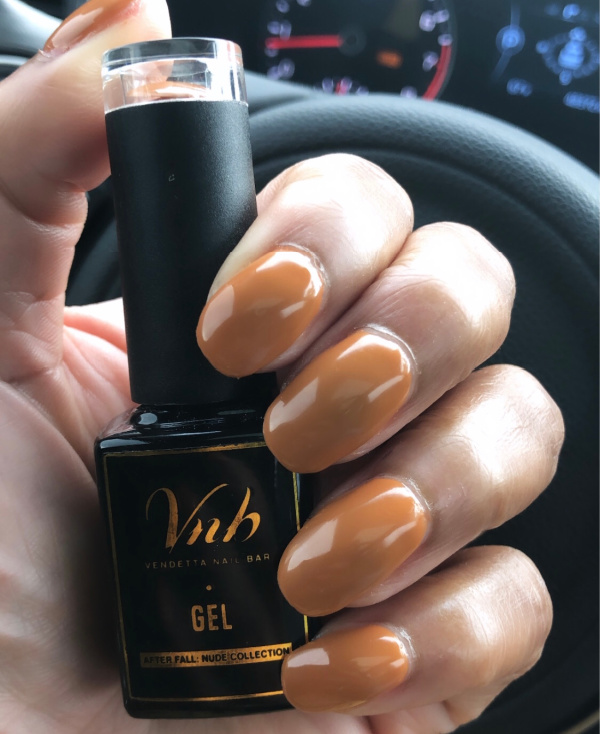 Oh So Paper
I've blogged about Oh So Paper before, and it bears me sharing again. Black woman owned, it's the perfect blend for planner addicts and scrapbookers featuring images and themes that look like us! Learn more at OhSoPaper.com.
Eyeseeme
Eyeseeme is a Black owned bookstore located in St. Louis that features African American books for children. They offer shipping all over the world, so before you cop that book on Amazon or another huge retailer, check Eyeseeme first.
The Perky Company
I was looking for Black-owned stationery companies and came across The Perky Company on Etsy. Shop owner Lauren is based in Buffalo, New York and has stationery and mugs that feature vivid images of Black women. Visit her shop.
Lipmatic
Lipmatic is Nas' daughter Destiny Jones' lip line which is powered by hip-hop and NYC inpsired. Filled with bold and neutral colors of lip gloss, lipstick, lip shines, liquid lipstick, and lip pencils, you are sure to find something that you will love.
Visit Lipmatic.
Unstoppable Planner
The Unstoppable Planner is a bright and user-friendly planner that's undated and ready to use whenever you need it. It is customizable to fit your schedule and lifestyle, and is quirky and unique and unlike any planner that is out on the market currently. It also comes undated, so you can start it any time you wish.
Created by Kesha Brown of Uncommonchick.com, it's my favorite planner to use.
Get yours HERE.
Bri On Brows
"There's nothing better than a beautiful set of brows".
Bri's Liquid Gold Brow Oil is amazing, and has been a part of my nighttime beauty regimen for quite a while now. Touted as a blend of oils and herbs that will help your brows flourish, it helps your brows grow and thrive. I used to get my brows over-threaded and they were so thin for years.
Over the past year, I've been growing them out and with the assisted of her Liquid Gold Brow Oil, they look better than ever. Get more info HERE. (And, her brow oil was just featured in The Oprah Magazine, too!)
Haus of Swag
Haus of Swag's mission has been to create distinctly curated images of self-expression and empowerment for women of color. Founded in 2011, Houston-native, Toni Grant and her brand represent women of color "fashionably" who are often-times marginalized, stereotyped or completely left off the cutting room floor of creative fashion and branding.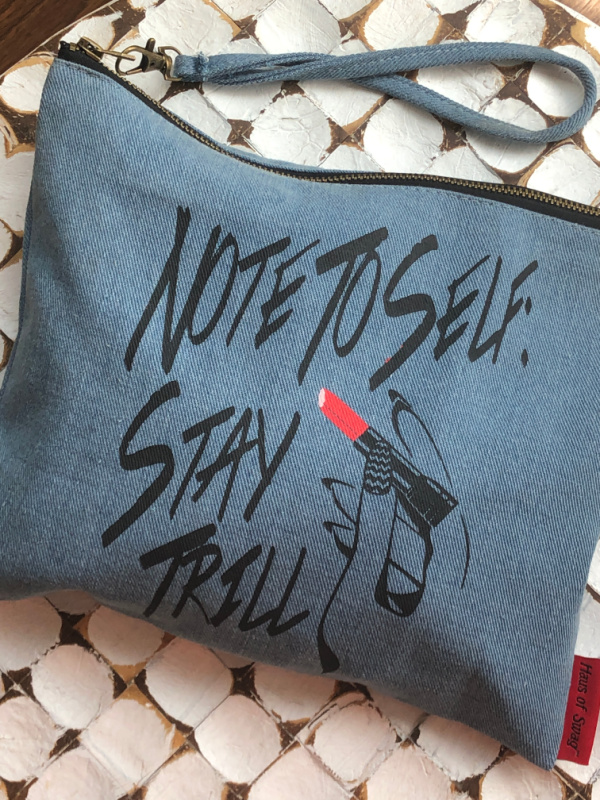 I was gifted a few of their items (via my better half), and I am a huge lover of their dope aesthetic. Learn more about Haus of Swag.
I hope that you support the shoppes that are featured on my Black-Owned Business Shopping Guide. If you have any Black-owned businesses that you support that are not on this list, please feel free to leave them in the comments.