Summertime is calling and I am ready to answer! With last summer being one of self-isolation and virtual activities, I am so ready to make up for lost time–responsibly of course.
I am making a 2021 Summer Bucket List as it were to cover all of the things that I'd like to partake in this year. I'm fully vaccinated (Team Pfizer), and looking forward to making some summer memories. This is my list of 25 Things I Want to Do This Summer.
Here we go!
1. Hit New York
This is number one on my list for many reasons. Out of all of the places I love to visit, The Big Apple is probably my favorite. It's been over a year since I've been there, so I am so looking forward to hopefully spending my birthday weekend underneath the bright lights and big city.
I cannot wait!
2. Patio nights
I've had a two-level patio deck for almost 10 years and never used it much before the pandemic. This summer, I plan on using it on the regular–to read books, entertain, cook, and just hang out.
3. Spa day
Now that it's safe to do so, I am looking forward to spa days–massage, facial, body wrap–I want it all. Now if only my wallet would agree.
4. Girls Night Out
I love spending time with my girls, and over the past year we haven't been able to be together. Now that we are all vaccinated, I know there's a GNO waiting to happen.
5. Winery visit
You may not know this, but Missouri has a lot of wineries and is number two after Napa for wine offerings. I'm not much of a wine drinker, but now I want to make sure to go to one this summer. There's always a yummy lunch or dinner involved and other activities that are festive and fabulous.
6. Get back in the gym
I haven't been to the gym in several months–I cannot believe that I am typing this aloud. Anyway, I've got to get back into share, and going to the gym is the only way that is going to happen.
7. Be a tourist in my own city
St. Louis has so many hidden gems and I want to make sure to explore them. You'll be seeing me a lot around the city showing you the sights and sounds of the Gateway to the West.
8. Disney
Me and my daughter go to WDW every year, sometimes twice. We weren't able to visit at all last year, so this summer we are planning a visit.
9. ATL
My mentee is expecting a daughter and I want to be able to see her and her new addition. She lives in Atlanta and we are both vaccinated, so I am hoping that I can take a quick visit there.
10. Photo shoot
I haven't had a photo shoot since August of 2019–that hopefully will change this summer.
11. Beach is better
This may be the ONE thing I won't get to do this summer. I love the beach so much, but there are so many hours in a day and so many trips I can afford. I would like to see the beach and spend time at my favorite place. Wishful thinking maybe?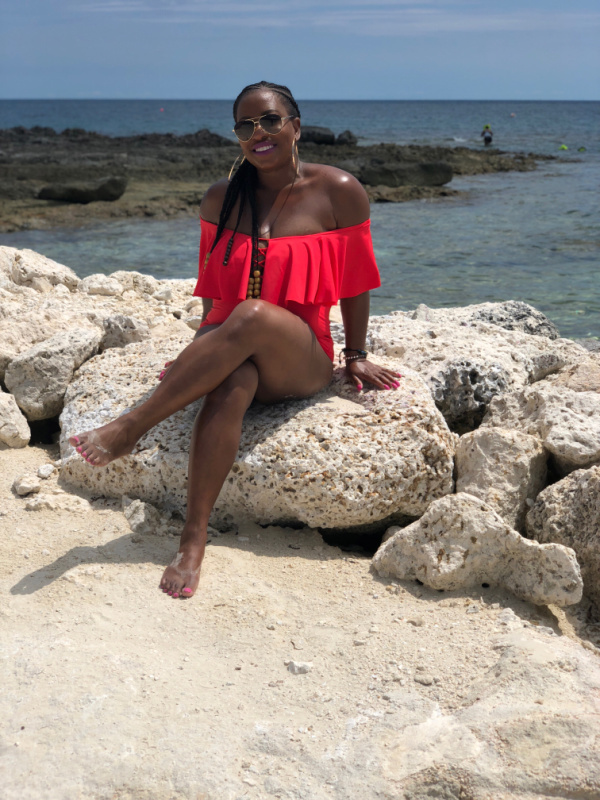 12. See my son
I will be seeing my son very soon because he is having heart surgery, and I have to be there for him. But, I would also like to see him perhaps once again as he heals from this surgery. He will be out of work for three months recovering, and I'd like to visit him as much as I can to help him through this. (if you didn't know, my son lives in Los Angeles)
13. Walk it out
I want to get back to taking my daily walks.
14. Brunch
If you know me, you know that I love a good brunch. I hope there are no shortage of summer brunches this go 'round.
15. Plant something
I became a plant person last year, yet I only have one plant that is still surviving. I want to plant some more, and possibly plant some veggies too on my patio.
16. Get back into photography
I was on a photography kick a few years ago and I'd like to get back to taking photos on an actual camera. I'd like to master portraiture.
17. Shoot more vlogs
Yes I have a YouTube channel and I spent the most of last summer sharing vlogs of my lockdown shenanigans. As much as I loathe seeing myself on video, it was kind of fun making them. I'm shooting for a vlog a month, which is doable I think.
18. Top Golf
It's been a minute since I've been to Top Golf, and I would love to go there and play a few rounds this summer.
19. Have my family over
I haven't had my family over in a year (over a year actually), and we usually convene here at some point in the summer or fall. My patio deck has been redone, and I am looking forward to entertaining them. We have a lot of catching up to do.
20. Staycation
A St. Louis style staycation sounds nice.
21. Take a cooking class
My beau and I wanted to take a cooking class together last year, but alas. Hopefully we can find one to participate in this summer.
22. Park
Take me to the park!
23. Find a new church
Yes, I am looking for a new church home and I am hoping to find it before summer ends.
24. Black owned
I want to continue to support Black owned local businesses and get out to cover them more on my social media and blog.
25. Write more
Nothing much to explain here. Longer days means that if I plan right, I could get more writing done. I have a huge project that I would like to finish this summer.
My goal this year is to make this truly a summer to remember.
What's on your summer bucket list?