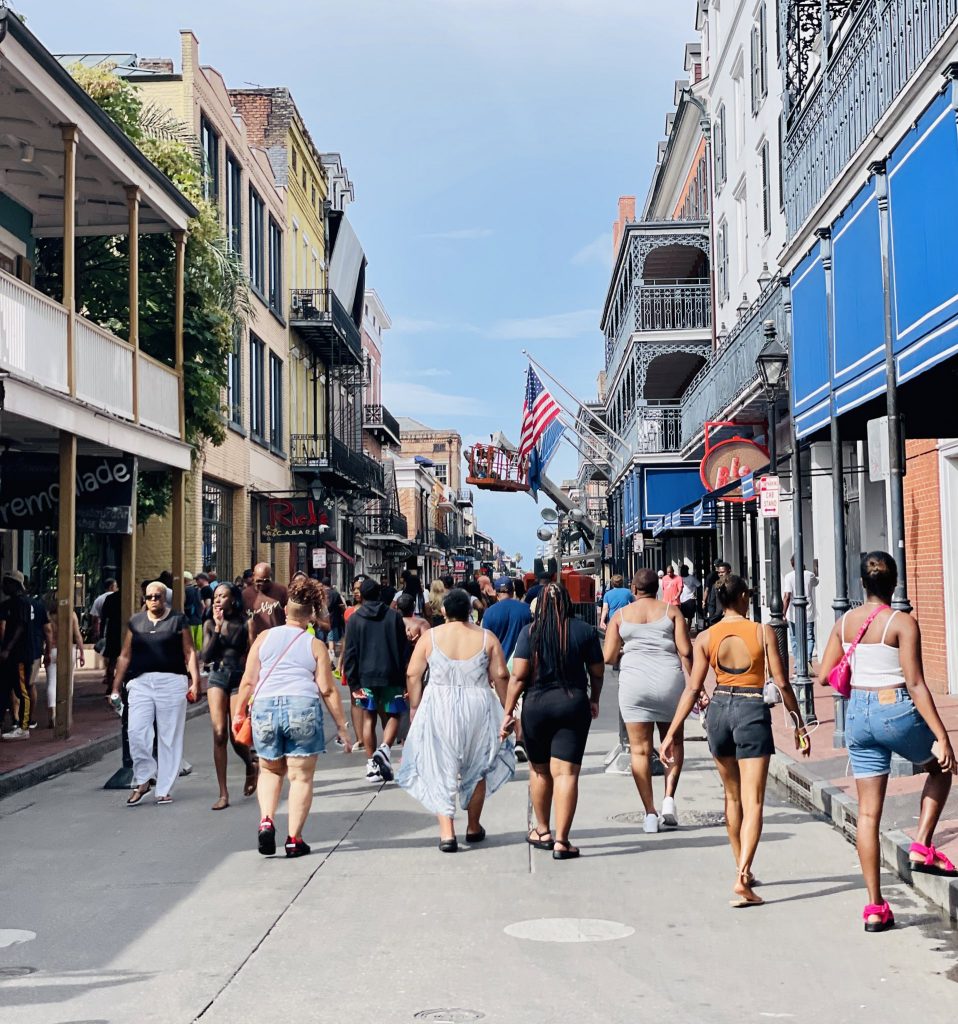 Known as the party with a purpose, the Essence Festival is a must-attend event and one of the largest festivals in the country. Thousands of people come from far and wide to attend the annual fete held in New Orleans, and when it comes to music, fun, celebration, and Black Girl Magic, the Essence Fest is the place to be.
This year, the festival returned after a two-year hiatus, and I was excited to join the collective of folk who make their pilgrimage to the event to get their fix of concerts, celebrities, food, and so much more.
Nola is HOT–in more ways than one, and putting together your look calls for light fabrics that can handle the heat. With record breaking temperatures, it's important to be fabulous yet able withstand the oppressive heat.
I am giving a slight recap of what I wore during the Essence Fest (I wasn't able to take a photo in every outfit)–if you are planning to go next year, get some style inspo below.
Get the maximum in a maxi
I haven't met a maxi dress that I didn't like.
This is especially true with this color blocked number from Tabitha Brown x Target collection. It gives a look and is pretty comfortable to walk around the festival in, and it's definitely summer approved.
I wore this maxi dress on my first full day at the event, and because it was a Tabitha Brown creation, I wasn't the only one wearing it (I saw two other women wearing it that day), but I didn't mind because I love me some Tab.
Skorts are in order
For hot nights out on the town, skorts are a nice option. For this look, I paired a black bodysuit from Rebdolls with denim skorts and a pair of wedges for a cool and comfy look.
Playful patterns
For my last day in New Orleans, I wore yet another bodysuit from Rebdolls with a bright patterned maxi skirt for a summery look that is festive and festival appropriate.
I received a lot of compliments on this particular look, and it may be my favorite from the weekend.
White lights
Unfortunately I didn't get a full photo of this look (we were running late heading to the last night of concerts, so I was unable to get a photo. In any event, I wrote a white linen wrap dress that cut right above the knee. I literally picked it up from TJ Maxx the day before I left on my trip as a secondary option. I am glad that I did!
Here are a few packing tips:
Pack at least two outfits per day. You'll want to have a daytime look for walking around the convention center and a nighttime look for concerts and nights on Bourbon Street.
Avoid heels at all costs if you can. If you need to turn it up for height, opt for wedges. You'll be doing a lot of walking and it's important to choose comfort over everything else.
Bring a portable steamer with you if you can. Not all irons are created equal.
Look at the forecast before packing and make sure to bring extras like an umbrella or jacket.
Don't overpack. A carryon should suffice for your entire trip (This has worked for me).
I hope you've enjoyed my recap of what I wore during Essence Fest 2022. I am already pre-planning for next year.
Did you go to Essence Fest this year? What were your thoughts?