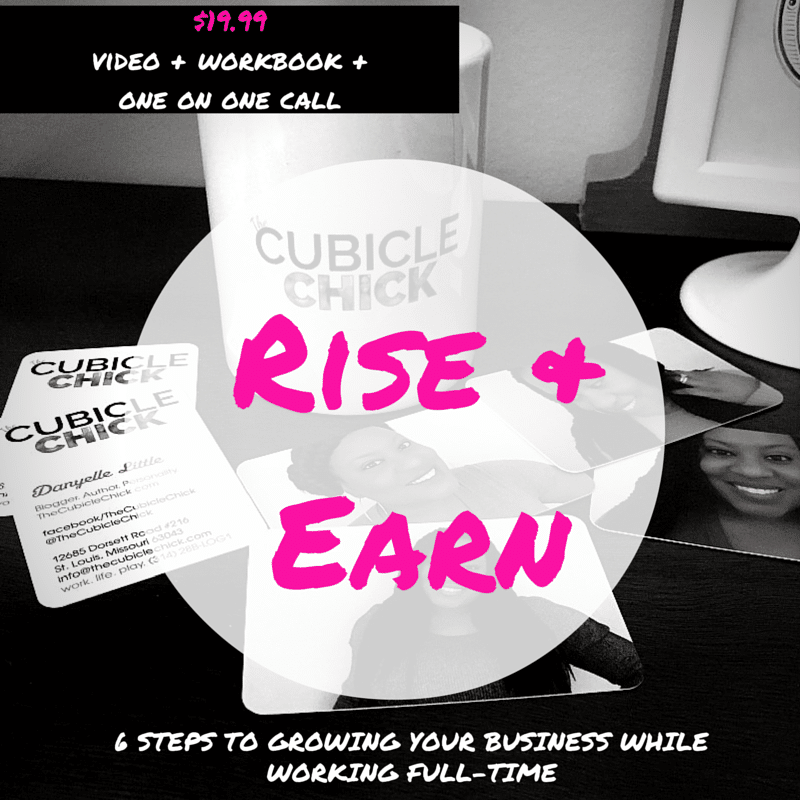 Are you ready to take action towards your goals?
Are you an entrepreneur who is also working full-time?
Are you looking for ways to grow your business while you work your 9 to 5?
Then Part 1 of my Rise + Earn eCourse is for you!
During my webinar, you will learn the six steps that I took to go from being employed to making more money with my business than I did working at a job.
I will teach you the secrets of success that will make all the difference in growing your business while working for someone else.
This On Demand video course can be watched at any time, and contains useful tips and tools that you can put to use right away. With the video, you will also receive a workbook to help you do the work, and you will be enrolled for a free week in my Accountability Axis, which gives you access to me during a 20 minute phone call where you can pick my brain and get one-on-one mentorship.
Rise + Earn: Six Steps to Growing Your Business While Working Full-time eCourse is available right now for $19.99. This is a small investment to pay for guidance and strategies that will pay for itself in mere hours.
For $19.99, you will receive:
21 minute video
Rise + Earn Six Steps to Growing Your Business While Working Full-time Workbook
20 minute Accountability Axis one-on-one phone call with me
To enroll in Rise + Earn: 6 Steps to Creating a Viable Income While Working Full-time eCourse, click HERE to get started.
Once your invoice has been paid, you will receive a download link to the video as well as the workbook for the course. You will also be prompted to scheduled your 20-minute one-on-one phone call via email.
Please note that because of the low price of this eCourse, no refunds will be given.