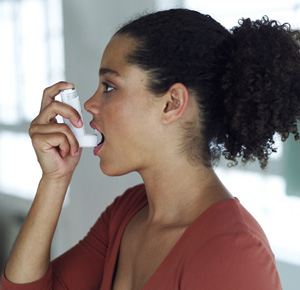 Greetings and salutations readers. I have been MIA during most of the weekend because I was struck Thursday with a cold that turned into a full fledged asthma attack attack on Friday. Most of you who subscribe to my blog or follow me on Twitter, know that I update my website religiously and continuously even during the weekend. I was so out of it health wise, I didn't even turn on my computer yesterday! Suffice to say, I am not 100% but edging my way back to normal slowly but surely.
What is asthma? According to Google Health:
Asthma is an inflammatory disorder of the airways, which causes attacks of wheezing, shortness of breath, chest tightness, and coughing.
Asthma symptoms include coughing, shortness of breath, wheezing, rapid pulse, difficulty breathing, and is worse at night and early in the morning. It is caused by inflammation in the airways, and the tightness of the muscles in this area contract, reducing the amount of air one can breathe. In some severe attacks, asthma can cause death if not treated. It can also cause you to get tired quickly because your lungs are working in a fast manner to help you breathe through the constriction.
I was diagnosed with asthma as a child, and it runs on my dad's side of the family. As I got older, I began to not have as many attacks. The last major attack that I suffered was in 2003 when I was pregnant with my daughter.
I have been engaging in minor activity all weekend, but my daughter had a birthday party planned and I could not cancel. The show had to go on!
Asthma is usually caused by triggers that bring on the disorder. Allergies and dust are big components. Also engaging in activities such as running and fast movement where breathing is quickened. A cold can also bring along asthma like symptoms as well.
Thank you to everyone who tweeted me and sent me words of encouragement and concern. I am blessed that I had the appropriate materials at home through my medication to get through this latest incident. To learn more about prevention of asthma, click HERE.
Other helpful sites, Asthma and Allergy Foundation of America, CDC page on Asthma