TheCubicleChick.com is the definitive destination for topics relating to career, Work/Life management, family, everyday technology, and water-cooler topics. With a heavy readership of both women and men who are interested in workplace information as well as familial subjects, The Cubicle Chick message resonates with a large segment of decision makers who want to get the most out of their professional and personal lives.
TheCubicleChick.com can help leverage your brand message with a target audience that regularly visits the site to read about tips, reviews, and more. As a large influencer for working professionals, TCC is a great platform to share your company message. TCC is available for brand ambassadorships, social media campaigns, digital partnerships, product coverage, press junkets, etc., and can work with most budgets.
TheCubicleChick.com can also help you reach your target audience and get desired results. We are available to create a custom digital brand strategy that can greatly amplify your message.
TheCubicleChick.com is currently booking dates for appearances, hosting opportunities, speaking engagements, and more for 2022. Contact info@thecubiclechick.com for more information.
You can also download The Cubicle Chick Media Kit.
Events/Conferences:
BAM Conference 2015+2016, Blogging While Brown 2010 & 2011, 2015, BlogHer 2011-2015, International Consumer Electronics Show (CES) 2011-2016, Mom 2.0 2012, 2014 & 2015, Niche Parent Conference 2012 & 2014,Type A Philly, Type A Parent Conference 2012, Type A Walt Disney World, Blogalicious 2012 & 2013, Time to Play Toy Showcase 2012 & 2013, Family Forward 2013, SoFabCon 2013, Family Travel Conference 2012, Wanderlust 2012, SITS Blogging Bootcamp 2012, Saint Louis Fashion Week 2010, 2011 & 2013, Show Me the Blog Social Media and Blogging Conference, Propel, Speaker, Mom 2.0 Summit 2016.
Brand Ambassadorships/Campaigns:
Toyota Women's Influencer Network (TWIN), Build-a-Bear Workshop 15 Friends, Verizon Midwest Moms, Verizon Midwest Blogger, Avon Blogger Ambassador, Shot @ Life Champion, Gain, Hershey's, Walmart Fresh Crew, T-mobilizer, Time to Play Parent Panelist, Claritin Mom, Intel #2in1 Smart Squad, Go Red STL Blogger, Johnsonville spokesperson, Vicks Ambassador Network Member 2015+2016, Disney Moms of Color, Fresh Press Media Board Member 2015+2016, Marriott Residence Inn Family Ambassador, Hampton Inn Seekender 2015+2016, Boise Paper Blogging Partner, RoC Skincare Ambassador, #ATTBlogger.
Boise Paper Blog Partner: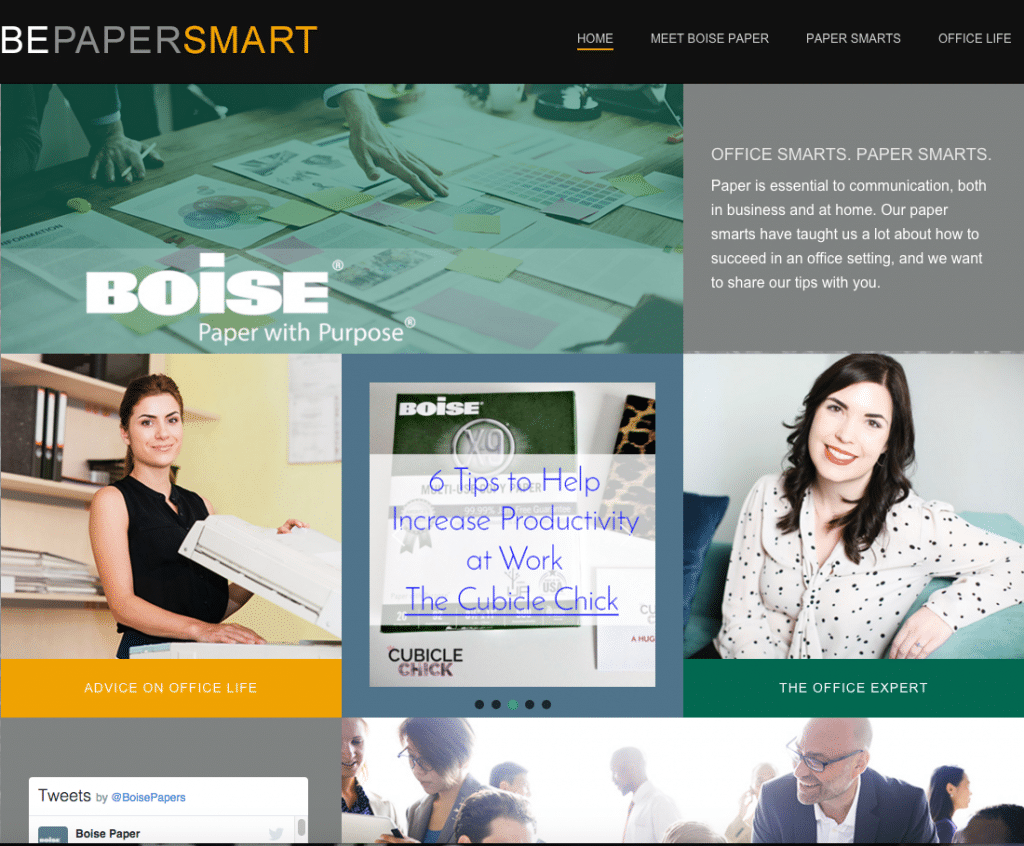 Hampton Inn Seekender Feature:
#ToMyTeen Website and Campaign Feature
Missouri Beef Council Email Invite Feature
Kiyonna Blogger Feature
OGIO What's Fresh Press Page
Currently, we are offering the following advertisement options:
300 x 250 ad space
160 x 600  ad space
728 x 90 ad space
Advertorials
Sponsored posts
Site Takeover/background buyout
To inquire about our pricing, please email us at ads@thecubiclechick.com, and a representative will contact you within 24 to 48 hours.
Advertisements are offered in 30 day, 60 day, and 90 day increments for ads. Sponsored posts and advertorials are charged per post.
Below is TheCubicleChick.com Audience Demographics Per Alexa.com: