Mother's Day is right around the corner. And as you may be scrambling to find the perfect gift for the moms in your life, I want you to take a moment and reflect on the best advice your mom has given you. While most of us cherish the gifts we receive as moms, it is the advice, the wisdom, and the lessons that we've learned from our moms and mom figures that are most priceless. It has shaped us into who we are today.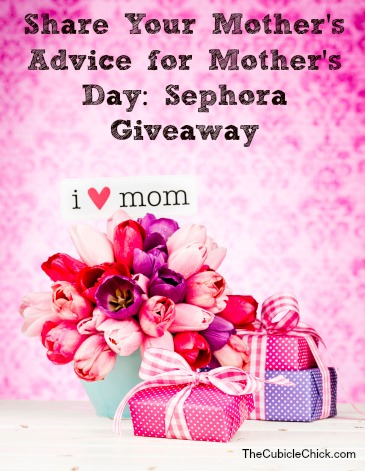 When I was younger, my mother used to tell me to never make a promise that I couldn't deliver. She wanted me to understand that my word was my bond, and if I promised to do something, I better well do it. Years later, I still remember this statement and try to live by it on a daily basis. It has become a mantra for the way that I live, and it is something that I have also shared with my children.
Mother's Day has become a time in my family that not only we celebrate, but we also relish in past memories. Each year, Mother's Day is more important as we see the elder mothers in our family through another year.
To help you remember the fond memories of the advice your mom shared with you, and to celebrate Mother's Day, Coupons.com is giving away a $50 Sephora e-gift card on my site. To enter to win the Sephora e-gift card, simply leave a comment below sharing an example of advice your mother gave to you. You must also 'Like' Coupons.com on Facebook or follow them on Twitter. This giveaway is open to U.S. residents only, void where prohibited. The giveaway ends on Thursday, May 9th, 2013 at 7p, CST. One (1) reader will be selected at random and will be notified via email address given. If the winner does not claim their prize within 48 hours, another winner will be selected.
Being a mother is one of the greatest gifts! And being able to rely on our mother's advice when we need it is an amazing present that keeps on giving. Happy Mother's Day to you and yours!