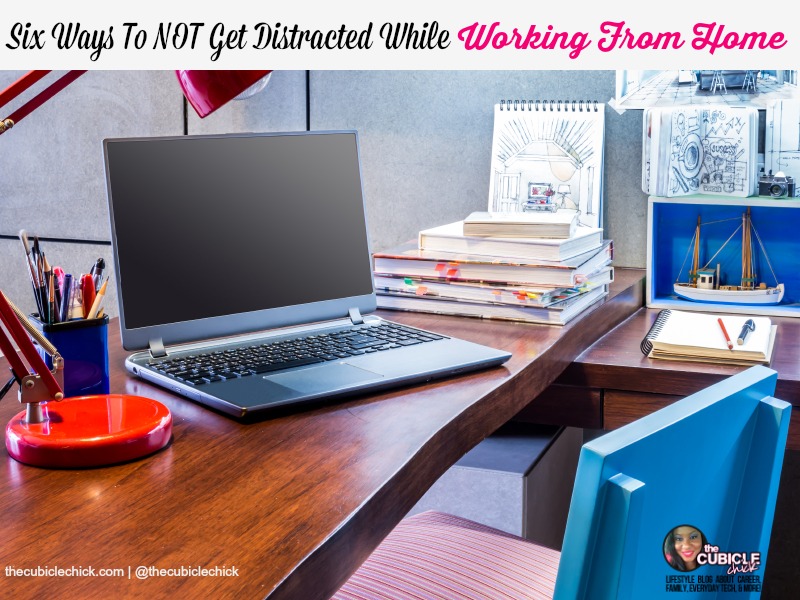 As someone who has been working from home for over three plus years, I've learned a thing or two on how to keep things organized and efficient. During the first few years of being a WAHM, I must admit it was hard for me to feel productive. And even now, I still struggle sometimes with making sure my personal and professional don't mix while working in the same space I live. It is something I discuss a lot with other WAH's, and I've found that while we all try to do our best while working from home, it can be difficult at times. Add to that the goings on of your home life, and it can be a taxing environment to work in. Over my years working from home, I've developed a "groove" that works well for me. And because I get a lot of questions and inquiries regarding working from home, I thought I would share with you my list of things you can do to stay on track while doing the job from home. Check out my list of Six Ways to NOT Get Distracted While Working From Home:
Have a Designated Work Space
If possible, try to have a designated work space within your home that is the area in which you do all of your work. Moving from space to space can hinder your productivity and efficiency. Try to set up a home office in an extra bedroom or space within your home. If you don't have extra space, you can set up a space within a space to be your work center (a bedroom, dining area, etc.). Set up a desk, computer, and other essentials and office from that area daily. It will keep you focused. Trust me. Since getting a dedicated work space in my home last year, I've seen my work and productivity increase positively. It has become an asset for me and my business.
Use Time Management Tools
Time management tools can help you stay on point and on task. Apps like RescueTime work in the background of your computer, phone, tablet, etc. to monitor how much time you are spending on certain tasks, and show you visually where you can potentially be waiting time. How many of us get sucked into the Facebook or Twitter bubble during times when we should be working? Time "sucks" can really hinder work performance and cause us to get off track, so using time management tools can help you use your time wisely.
Leave Phone in Another Room
This is a huge thing for me. Since my phone is set up to notify me with various alerts (emails, notifications, etc.), I often leave it in another room and on vibrate so I am not distracted by it. Every few hours when I take a break, I will walk to the other room and check my phone, then I'll go back into my office and leave it there. There's such a relief when working without constant interruptions from your phone. And, leaving my phone in another room also keeps me active and moving, since it requires me to get up and check it.
Work Hours Only
Having set work hours will help you and your family while you are working from home. My work hours are typically 9am to 5pm and then I take a break, do homework with my daughter, cook dinner, etc., and then after she goes to bed, I may go to the office and spend an hour or two more working. Having set working hours helps my family because they know not to disturb me while I am working. The same would be true if I were working a typical 9-5 outside of my home.
Respect of Work Space
Make sure you and your family respect your workspace. This will bode well with you— if they respect you working from home, then they will allow you to do so without distracting you (at least on purpose). My daughter understands what I do and that my home office is my place of business. She knows when I am in my office conducting business that she isn't to interrupt me unless it is an emergency. She knows to knock and respect my space, and this helps me work in a more efficient matter.
Make Appointments Regularly & Share Calendar
Having a shared calendar that notifies your family of your appointments, this can also help you avoid distractions. Just as I would if I worked in an office outside of my home, I utilize appointments and have a Google calendar which is shared with my family, so they know of important key times in which I am not to be disturbed. This helps cut down on interruptions and impeding my work flow. And also helps me maximize my time off, since I get most of everything done during the work day, I have more time for family.
When your home space is also your work space, you may find yourself easily stressed, but it doesn't have to be. I hope you find my list of six ways to not get distracted while working from home.