If you are seeking fulfillment in both your personal and professional lives, contributor Solange Lopes has 7 tips to help you enjoy your weekend and be productive.
You know that feeling of anticipation when Friday's right around the corner? Whether it's because it's payday, the end of the week, or the beginning of some serious relaxing (or party) time, the arrival of the weekend is most often cause for celebration. After all, who doesn't like a break from work, and some fun times in sight too? Even if it means jumping off the productivity bandwagon for a couple of days, and pay for it dearly as soon as Monday rolls around.
In the race to the weekend, is it even possible to really enjoy our time off without the guilt of not crossing anything off our to-do lists? Or do we just have to get used to the idea that we must choose between fun, adventure-filled weekends, or boring, chore-ridden ones?
For the longest time, I thought so too. I'd plan my weekends to only include fun activities, and then have to catch up on my to-do's during the already jam-packed week. Or I'd fill them with grocery shopping, yard activities, and laundry, only to end up going back to work grumpy as ever. Until I realized I could enjoy my weekends while still making sure we had food in the fridge and some clean underwear to spare.
Looking at other successful women around or on social media, I'd wonder how they found enough time to care for their families, nurture their businesses and careers, and still make it to the gym! The Oprahs, the Michelle Obamas, the Shonda Rhimes of this world, how do they even manage to get it all done?
The answer is, it's not just what they do at work, but outside of work, that separates really successful people, from, well—not so successful people! And yes, it is possible to have fun and be productive, all in the same week-end.
By watching and emulating some of the most successful examples around me, here are the 7 top things I've gradually learnt to include in my weekends, so I could mix in the fun with the useful stuff too:
Wake up early
Before you click away from this article at the thought you can no longer sleep in on Saturdays, just hear me out! As tempting as it may be to snuggle under the covers, taking advantage of the early hours of the day can amp up the productivity factor of your week-ends. And free up some time to enjoy the rest of the week-end too. Besides, waking up at the same time every day, even on week-ends, is proven to help you sleep better.
For instance, journalist Soledad O'brien consistently wakes up at 6am on week-ends, while The Budgetnista founder Tiffany Aliche is up at 7 on Saturdays for yoga and meditation.
Work Out!
While many of us think of the week-end as a time to slack off and let it all hang, the most successful among us seem to know better. Take First Lady Michelle Obama, who works on those lean arms on the weekends too. Keeping in shape requires discipline, and skipping the week-ends can wreak havoc in your routine.
Using the week-end is also a great way to get your workouts in, without the stress of rushing to work or tending to your usual task-filled weekly calendar. Not to mention you get to multiply your energy levels while still getting some "me" time.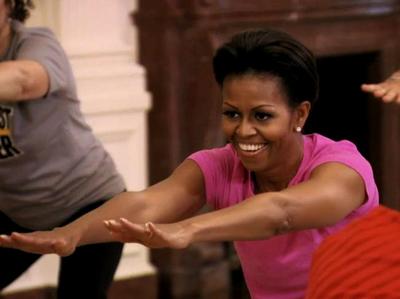 Take some time off!
Unplug, disconnect, and go do something you love! As busy women, we tend to want to fill every free minute with yet another task to cross off our to-do list. Most often, it's at the expense of doing what we really enjoy!
I wake up early on Saturdays to read and write. Not for work, but for my own pleasure. That's my time to do something just for myself, and be off for a bit!
Schedule some time to tend to your own hobbies. Do you like to garden, bake or decorate? Go do that, and watch it make you a much better (and happier) person when you get back to that desk on Monday!
Hang out!
As productive as you may want to be on weekends, you have to admit there's no better time to hang out with family and friends! Without the daily pressure of work and/or business, it's so much easier to enjoy others' company and really be present.
Whether it's spending time playing with the kids, or carving out some romantic time with the hubby, or finally going on that shopping trip with your mom and sisters, being with those we love simply makes us happy. And the happier we are, the more productive and balanced we are.
Do some organizing!
It may sound counter-intuitive to even think about organization on the weekend. Yet, there's something about decluttering your surroundings and cleaning up that gives you a sense of mental peace and clarity.
While I'd rather not embark on a total cleaning expedition on the weekend, I always find it relaxing to do some organizing. Whether it's cleaning my office desk, or putting some order in my inbox, adding a sense of order to my life ends up making me more relaxed and more productive.
Time to reflect!
There's so much to do during the week, that we barely have time to stop and reflect. That's why the weekend is a perfect time to take a breather, and be alone with our thoughts.
Sundays are usually my reflection days, where I take a pause, sit by myself and re-evaluate where I'm at. It's also my time of worship, when I can really nurture my spirit and recharge my batteries. This also helps me plan the following weeks and months ahead more easily.
Whether it's taking a bubble bath, sitting in nature, or listening to your favorite jazz tune, carve out the time you need to spend with yourself and think about just YOU! You'll be amazed how much more clear-headed and productive it makes you.
Volunteer
I know what you're thinking. There's already not enough time as it is, and now we should give it away too.
Did you know some of the most successful people find time to give back, even when it means sacrificing their own free moments? Psychologically, giving has been proven to good for the giver. Not only do we feel better when we give, but it also helps us live longer, healthier lives.
Whether it's mentoring as a Big Sister, or dropping off some unused clothes at the local charity, or even making a meal for a local soup kitchen, giving of your time and resources will never fail to fill you right back up.
What's your favorite thing to do to enjoy your week-end and still remain productive?
Bio:
Solange Lopes is an author, blogger and CPA. She writes about career and lifestyle topics for women at work in her blog The Corporate Sister (www.thecorporatesister.com). She's the author of The Corporate Sister's Guide to Taking Back Control of Your Career: 7 Steps to Reclaiming Your Work.