As a former HR manager, I've seen my share of people in my office that were at wit's end. Sometimes it was because an employee had medical issues that caused them to be distressed at the job, other times there were emotional or mental situations that would cause chaos in their lives. Whatever the case, there were times that the option of taking a stress leave was on the table and needed to be utilized for the betterment of the employee and for the employer.
Stress leave is a part of the Revised Family and Medical Leave Act (FMLA) and entitles the employee to a short-term leave due to the following criteria:
the result of a serious health condition and
that said condition makes the employee unable to perform the functions of his or her job.
These conditions can be items such as illness, injury, impairment, or physical or mental condition that involves inpatient care or continuing treatment by a health care provider.
Proof much be shown by a doctor or physician and must be submitted to the employer for acceptance. Not every case is approved, and it can be difficult for you as an employee to qualify for stress leave.
A stress leave is a temporary leave and can last anywhere from a month to six to eight weeks or longer.
You may want to check with your HR department or an employee law specialist in order to see if you qualify for a stress leave. A condition of the stress leave may be that you must seek treatment from a specialist.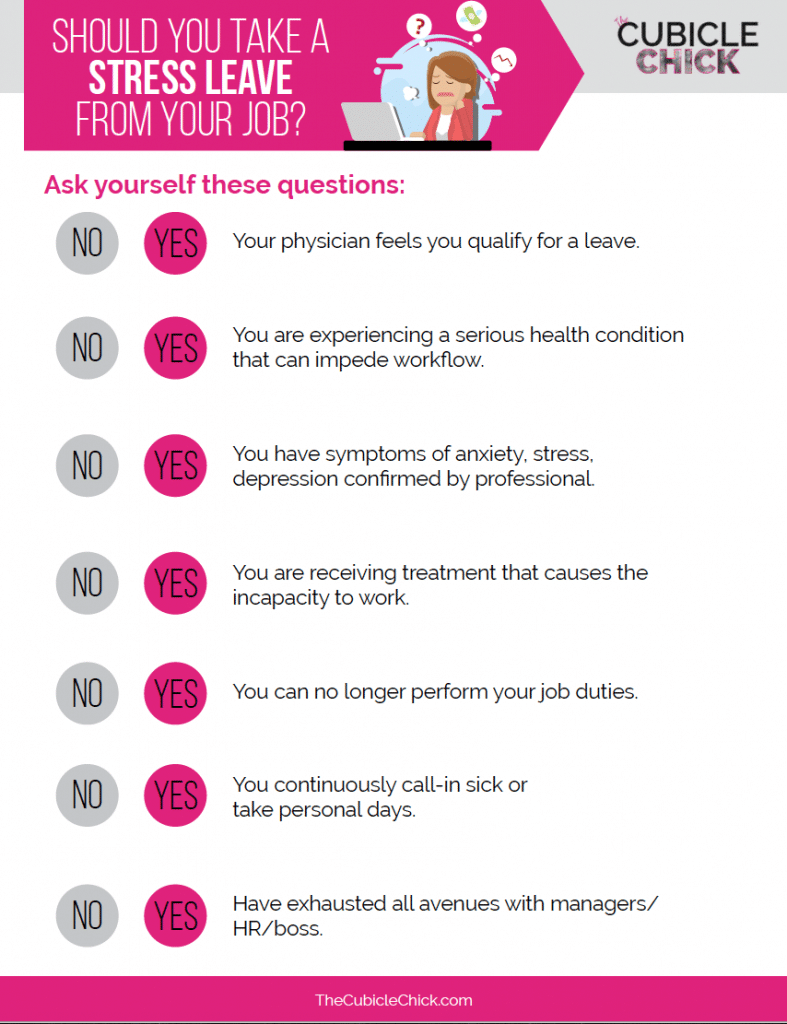 Here are a few reasons that most employees qualify for stress leave:
Your physician feels you qualify for a leave.
You are experiencing a serious health condition that can impede workflow.
You have symptoms of anxiety, stress, depression confirmed by professional.
You are receiving treatment that causes the incapacity to work.
You can no longer perform your job duties.
You continuously call-in sick or take personal days (3 days or more).
Have exhausted all avenues with managers/HR/boss.
You can download my Stress Leave Checklist HERE.
Most jobs won't inform you about the stress leave option, but it is there for those that need to get their mental, emotional, and/or physical well-being together. Stress leave isn't paid, but secures your job while you are on leave. In some instances, you may still be able to utilize benefits.
If you have special insurance though AFLAC, you may be able to receive payment while the stress leave is in place.
There is no shame in taking stress leave—if you need it, meet the criteria, and are able to have it verified by a physician, you should put yourself first and take a step to improve your mental, emotional, and/or physical health.
Photo by Damian Patkowski on Unsplash