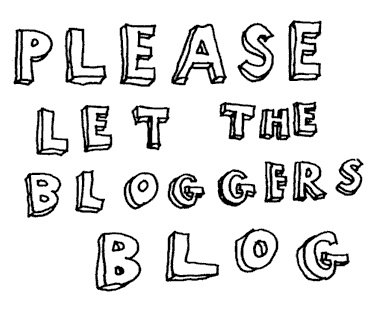 If you are new to my blog, my Blogging 101 series covers my quest for knowledge and information as I consider the art of becoming a full-time blogger. In this segment, I discuss my thoughts regarding my blog as well as things that I have learned along the way during my short blogging career thus far.
This week, I wanted to discuss something that I hear a lot via the Internet and that is the negativity that surrounds the term BLOG or BLOGGING. Since when was it bad to be a blogger, this is what I want to know.
I understand that this term is often associated with gossip bloggers such as Perez Hilton, who blog and spread mistruths about celebrities and whatnot. I think this is what the recent backlash against bloggers has stemmed from. People now see this artform as a way for people to instantly write about items without much fact or research, but of course, you and I know this is not true. Just like there are many magazines out there, it doesn't mean they are all the same. For instance, there is the Enquirer which is a gossip rag, oops mag, and then there is Time Weekly that is not. Both of them are magazines, but they are different genres. The same remains true with blogs. Of course there are different blogs with different topics: food blogs, mommy blogs, fashion blogs, travel blogs, expectant mother blogs, religious blogs, personal blogs, etc. etc.
Blogging is a very large component of the Internet, but it has been given a bad wrap lately. Is it because anyone can start a blog that the profession is frowned upon? Is it because you don't have to be a journalism major and spend a mint going to school to be a writer that some people don't take blogging seriously?
As I have mentioned before, I am first and foremost a writer. One looks at my blog posts and you can tell that this is not a "project". I am a writer who blogs, not a blogger who writes, and I know many of bloggers who feel the same way.
So why the negativity?
I heard one of my blogging friends say that he isn't a blogger, he is a reporter. And I loved him for saying that, but if you looked at his website, you would call it a blog because that is what it is. That doesn't mean that it isn't a good site with good content and wonderful information. But it is a blog. He should just own up to that fact.
A blog is a website that serves as a journal. It has updates according to the bloggers schedule, and it's usually easy to read and formatted for content. It's a great way for people to share information and interact with one another. It can be a bad thing but it can be a good thing as well.
Judge my blog on its merits and its merits alone and not by the term, blog. I am proud to be a blogger and proud of the accomplishments, no matter how small. Anyone who is a blogger but hates the term should really reevaluate their project and what they want to do. In my opinion, if you can't be proud of your work, or don't like the title given, that is your problem, not  anyone else's.
What are your views on this topic? Bloggers and those that read blogs, do you find the term blogger to be a negative one? Comment below and let me know your opinion.