You can go green with your make-up and beauty haul, and I am not talking about the color. Beauty does not have to sacrifice the planet or our animals. Lately, I have been researching for ways to go green and be more environmentally friendly in terms of my lifestyle, and of course a component of this would be my beauty routine.
Below are a few tips you can use to help make your make-up and beauty haul more eco-friendly!
Get Out The Sharpener-  Purchase eyeliner that come in pencil form and can be sharpened. The shavings from sharpened pencils are biodegradable and are less taxing on the earth than buying swivel eyeliners that do not have to be sharpened. The containers on those eyeliners are plastic and cannot be reused.  One of my favorite pencil liners? Cover Girl's Perfect Blend Pencil Crayon in Basic Black.
Purchase handmade & homemade products- Buying handmade and homemade products lessen our dependency on energy and are usually made from natural ingredients. Ingredients such as soy are wonderful alternatives to chemicals in most cosmetics and beauty products. In addition, handmade and homemade products are usually not tested on animals. Check out Shima + Sahai and Lush, who's products are wonderfully green!
Refill Please- Use palettes (eye, blush, lip, foundation, etc) that can be refilled. Buying a refillable product lessens waste. Do you know how many compacts we buy and use each year that are eventually thrown away in the trash and cannot be recycled? Companies like Coastal Scents offer great products and colors, and allow the option of buying items that can be refilled and replaced with little waste.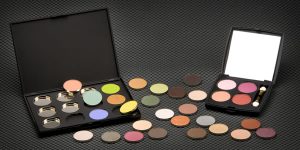 All Natural- Purchase natural sponges and reusable cloths that produce little waste. They can be cleaned, dried, and reused instead of tossed away after each use.
Read the Labels- Label reading is important. Just as you would read the labels on your food for nutritional value and percentages, know what is in your make-up and know what to stay away from. According to eco friendly make-up artist Paige Padgett, chemicals to watch for are parabens (linked to breast cancer) and it's prefixes, ethyl, methyl, butyl, isobutyl, or propyl; Talc (contains a chemical similar to asbestos and can increase your chance for ovarian cancer); Fragrance including  phthalates.  You can check SafeCosmetics.org to get the chemical list for your favorite cosmetics.
Show Love- Purchase a make-up or beauty bag that is made out of recycled material. Here are some cute pouches from Uncommon Goods.
Source- TreeHugger