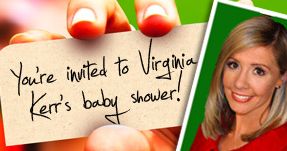 As you know, I love a good party. And when the opportunity presented itself for me to help host a "virtual baby shower" for St. Louis's own KMOV anchor Virginia Kerr, I was elated!
Join myself as well as several other mom bloggers to celebrate 'A Mom Is Born'! The online event will take place on this Wed., August 25  from 11am to 1pm CST. This virtual shower for Virgina Kerr will help benefit the March of Dimes. A Ustream of the event will be shown on my page in order for everyone to participate and wish Virginia well as she prepares for birth. There will be many prizes on hand and giveaways, so it's a great opportunity to win some free schwag, help an organization, and have fun!
Hang out with us and Virginia in real time via the live chat room during the online broadcast. The focus of the shower is celebrating and honoring the transition of a woman to motherhood and how her friends and loved ones can support her during this exciting time. But any mom will enjoy the event because the two-hour broadcast will feature great parenting tips and products.
This virtual shower is in partnership with KMOV Channel 4 and the wonderful ladies over at MyMommyManual.com!
The virtual baby shower will be streaming live right HERE as well as on the other mom blogger partners sites. There will be announcements and other items on the stream leading up to the event this week, so bookmark this site and check back often.
For more info on this event, click HERE! And to donate to the March of Dimes on behalf of A Mom Is Born, you may do so below. I would love for my readers and supporters to donate money to the cause. Let's show the March of Dimes that we care and want to help! Thanks so much for your support!
Will you be participating in A Mom Is Born: The Virtual Baby Shower Celebrating a Woman's Journey into Motherhood?