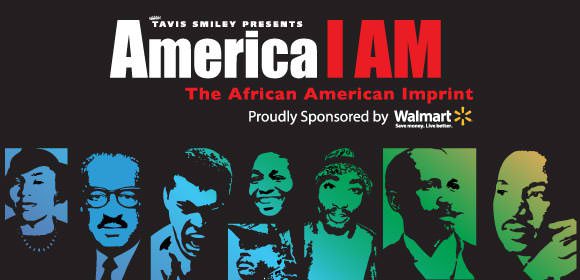 Living in St. Louis and having the opportunity to see fabulous and wonderful art and history at the Missouri History Museum in Forest Park is something I often take for granted. I was recently contacted by Walmart about a new exhibit they are sponsoring at the museum called American I Am: The African American Imprint, which opened here on May 28th. The event is presented by national pundit and author Tavis Smiley, and "celebrates the African American contributions to the United States". The exhibit will be at the Missouri History Museum in Forest Park until September 25th.
According to the press release:
America I AM is a 12,000 square-foot presentation of pivotal moments in
courage, conviction and creativity that celebrate the undeniable imprint of African
Americans on our nation and around the world. Through more than 200 rare
historic objects, documents, photos and multimedia elements, visitors can
explore how African Americans have contributed to and shaped American culture
across four core areas: economic, socio-political, cultural and spiritual. The
exhibition relates important events and people from the beginnings of the nation
up through the present-day inauguration of the first African American president.
"From the arrival of the first Africans in Jamestown, to the election of President
Barack Obama, America I AM explores and celebrates the trials and triumphs
that illustrate the unique journey of African Americans," said Tavis Smiley,
presenter of the exhibition. "This exhibition serves as a powerful reminder of the
diverse contributions that African Americans have made to the American mosaic
while underscoring that each of us as human beings can leave an imprint."
————————————————
In the exhibit, you will see Rosa Parks' fingerprint card from 1955 arrest in Montgomery, Alabama, Malcolm X's personal journal and Koran, Alex Haley's typewriter he used to write Roots, and much, much more.
If you are in the St. Louis area or surrounding cities, this is a must see historical piece that features interactive materials that range from slavery to our first African American President.
Walmart has given me the following to giveaway:
4 tickets to giveaway to the American I Am: The African American Imprint Exhibit at the Missouri History Museum in Forest Park
America I Am: Black Facts book (a timeline of African-American History)
America I Am: Pass it Down cookbook to a lucky reader who wants to see the exhibit.
To enter, you must do the following:
Subscribe to my blog by feeder or email
Comment below and let me know you did as instructed
This giveaway is available to U.S. residents only, who are in the St. Louis area or will be visiting St. Louis before September 25th. Void where prohibited. Winners will be announced on 6/17 after 6pm CST, and will have 24 hours to respond or another winner will be selected.
Good luck! And stay tuned to a review post of American I Am: The African American Imprint!
Disclosure: I, The Cubicle Chick, received free tickets to this exhibit from Walmart.