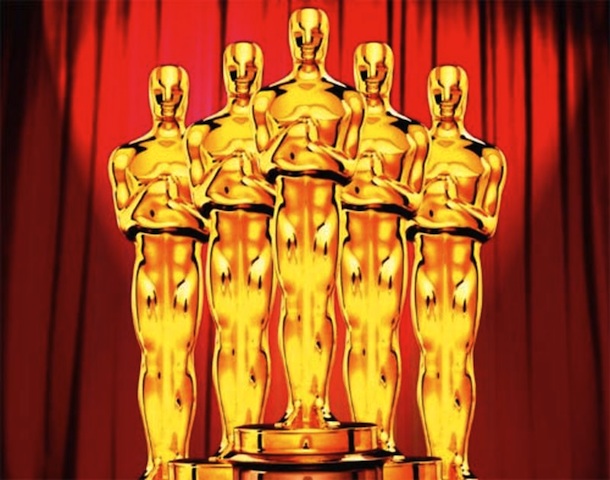 The 84th Annual Academy Awards take place on Sunday, February 26th, and all of Hollywood is abuzz about the biggest awards ceremony of the year. Yours truly will be in the air during the awards coming back from a trip (womp womp), but I will be glued to the inflight Internet to see the list of winners and get all of the tea. In the past, I have had Oscar themed parties in my home to celebrate a night of fab fashion and amazing talent. Red carpets are kind of my thing, and the Oscars are the epitome of glamour—having a party in your home to celebrate as well as watch the Oscars can be a fun event for you and your friends.
In 1998 (the year of the film, Titanic), I had an Oscar celebration complete with cupcakes with platinum and gold frosting. We also had our own "Oscars" in which we voted on our favorite movies in each category, and I used envelopes with gold embossed seals to open the results. We took pictures with a makeshift Oscar I bought at a toy store and we all dressed up in our fanciest for the occasion.
In 2005, I was invited to an Oscar event at a friend's house, and she had a red carpet laid out for us as we entered her home. There are so many fun and fabulous things you can do to bring your own Oscar party to life!
Having some fun drinks on hand is another way to make your Oscar party rock. And the fact that they are truly Academy Award inspired is another reason to add them to your Oscar party or event.
Here are a few Oscar Themed 'Skinny' Cocktail Drinks:
Crystal Cosmo (an ode to this year's host Billy Crystal)
1 1⁄2 oz Voli Lyte 1 oz fresh lemon juice 2 oz Cranberry Juice 1⁄2 oz Agave Nectar Top with Prosecco (OPTIONAL) Garnish: Lemon twist In a mixing tin, add ice, Voli Lyte, lemon juice, agave and shake. Stain into a martini glass and top with Prosecco
APPROX CALORIES: 150 Calories WITHOUT PROSECCO: 140 CALORIES
Golden Drop
2 oz Voli Lemon 1 oz fresh lemon juice 1⁄2 packet sweetener Shake and strain
APPROX CALORIES: 110

Sweet Revenge (inspired by "The Girl With the Dragon Tattoo")
2 oz Raspberry Cocoa 2 Raspberries 2 Blackberries 1 oz apple cider
1⁄4 oz maple syrup Muddle berries and maple syrup. Add all ingredients then shake and strain Glass: Martini Garnish: Raspberries
APPROX CALORIES: 150
The Golden Era (inspired by "Midnight in Paris")
1 1⁄2 oz Voli Orange Vanilla 2 oz Lemonade 1⁄2 oz agave nectar 1⁄2 pineapple juice Garnish: Orange Wheel
In a mixing tin, add ice, Voli Orange Vanilla, lemonade, agave nectar, pineapple juice and shake. Strain into a martini glass
APPROX CALORIES: 144
All of the cocktails listed were furnished to me by Voli Light Vodkas.You must be of legal age to drink. Drink responsibly!
The 84th Annual Academy Awards air live on Sunday, February 26th at 8pm/7pm CST on ABC.
Are you planning an Oscar themed fete? Will you be tuned into the 84th Academy Awards?