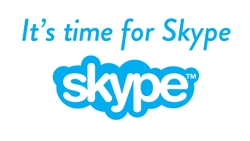 Having the ability to connect with people virtually is one of the things I love most about the Internet. Distance and location no longer matter when you want to connect with people for business or for personal reasons, and you can develop and foster these relationships by utilizing a plethora of tools that are available. Skype is one of these tools that keeps me plugged in with my loved ones as well as business connections.
Skype is a web and mobile application that allows you to connect via video seamlessly and in real time. Skype also has a Group Video Calling feature that gives you the option to video chat with more than one person at the same time, with everyone being able to see and hear one another and be actively engaged. This is perfect for group meetings for business where connecting in person is not feasible.
I first began using Skype in 2009 for having chatting sessions with other bloggers. With Skype, we would share information, bounce ideas off of each other, and get to know one another better. As my site and business grew, I began utilizing Skype more for business meetings and chats as well as doing consults with other people who want to blog. Being a Work at Home Mom who travels quite frequently can be a lot to handle, but by using Skype, I can stay on top of things, making sure my business is running like a well oiled machine.
I now also use Skype to chat with relatives who live in different states than I do. it really comes in handy with relatives who are older and want to see me and my family and how we have grown and changed. It's a perfect to tool to reconnect with family that I've lost touch with. I also use it to chat with my kids when I am out of town on business. Talking to them on the phone is great when I am away, but seeing them and actively engaging them while using Skype is so much better!
So, when it comes to keeping the connections personal, live, and engaged, Skype is where it's at. I use it often and I am not sure what I would do without it.
How do you use Skype?
It's time to say more and stay human.  It's time for Skype.
Disclosure: Compensation was provided by Skype via Glam Media.  The opinions expressed herein are those of the author and are not indicative of the opinions or positions of Skype.