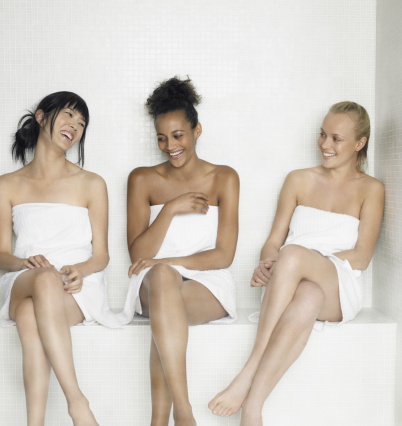 I am a girl that LOVES pampering. Going to the spa is something that I really enjoy, and whenever I can afford it and time allows, I make it a point to visit the spa. I get a kick out of going to spas in different cities and hotels when I am traveling, but I have wonderful spa experiences right here in my hometown of St. Louis, Missouri. So I thought I would share with you my picks of The Best Day Spas in St. Louis.
Here are my 5 selections based on specific categories:
Best Facial-
The Face and the Body Day Spa and Medical Spa, Chesterfield, MO
The Face and the Body's European Facial is luxe and amazing! I recently experienced this facial at the Chesterfield location, and I am hooked! It's a 90 minute facial that includes a mask, massage, extractions if needed, and a personalized survey of your skin. My face never felt as good as after this facial. I highly recommend it.
Best Massage-
Pure Harmony Day Spa, Des Peres, MO
I indulged in a Hot Stone and Aromatherapy Massage at Pure Harmony Day Spa a few months ago and it was hands down the best massage I've ever had—and trust me, I've had many, many massages over the years. The hot stones were warm, not scalding, and felt so good on my back. And the aromatherapy added to the entire experience. An hour and a half of bliss!
Best Hair Removal-
St. Louis Laser and Vein Center, O'Fallon, MO*
Last September, I was given a laser hair removal treatment pro bono (in exchange for a review post on my site) at St. Louis Laser and Vein Center. I had both my legs and underarms done, and only had one treatment. Let me tell you that it has almost been a year, and I still have hardly any hair on my legs, and very little hair under my arms. With only one treatment, I know this is atypical. I can only imagine if I would've received the recommended amount of treatments, I would have none. The experience was virtually painless and well worth the couple of hours I spent there. Great service!
Best Pedicure-
Go Spa!, Des Peres, MO*
I've blogged ALOT about Go Spa! over the years, but when I say their pedicures are ridiculously amazing, I mean it. From the scented massaging neck roll to the bowl of balls floating in foamy water, their pedicures are the best in town. Make sure you ask for Wonder, who is my go-to person for pedis at Go Spa!
Best Manicure-
Four Seasons Spa, St. Louis, MO
I was treated to a luxurious manicure at Four Seasons Spa last year and it was epic. I still remember it (and hope to go back soon)! The lush robes, indoor steam and sauna, and wonderful setting and accommodations, it was a fabulous spa experience. And my manicure was pretty fab too!
This list and my reviews are my true thoughts on my spa experiences the past year here in St. Louis. This is not a paid nor sponsored post, but some of the treatments I received were in exchange for a review (where * indicated).
I hope this is a helpful list! And if you haven't been to the spa in awhile, go ahead and splurge. You deserve it!
What are your favorite spas?