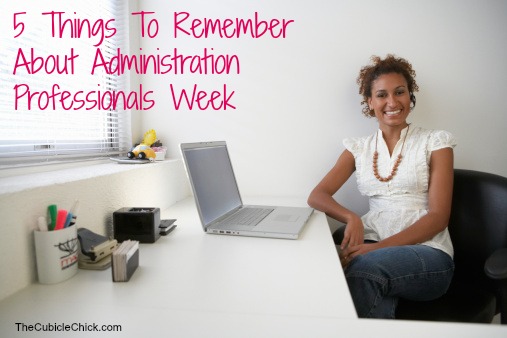 Administrative professionals are the backbone of most businesses and corporations. A company is only as strong as its parts, which is why Administrative Professionals Week is important, and should be recognized at work. For many years, I worked as an admin professional in an office in a cubicle, and I can honestly say that most of that time, I felt undervalued and overworked. Recognizing your employees and making them feel important and valued is one of the best things a boss can do. So I put together a list of 5 things bosses should remember about Administrative Professionals Week.
Here we go…
Without Us, There Is No You:
The manager, the boss, the CEO, etc. gets all of the glory when things go well. And when things don't go well, guess who loses their jobs? Not the upper management folk, that is for sure. So when you are dealing with your employees, remember that there is no us "you" without your administrative personnel. They are the ones that do all of the ground work and put forth company initiatives so that you can end the year in the black. Before you degrade or disrespect your employee, remember that.
We Don't Hate You, We May Not Like You:
There is always a love/hate relationship between the admin professionals and their bosses. But just because we aren't singing your praises doesn't mean we loathe you. We just may not like you, there's a difference. Don't take it personal.
Listen Before You Speak:
As with anything you want to be successful at doing, listening is a very important piece of the puzzle. Make sure to listen to your employees and make time to do so. By listening, you are gaining an ally, and that will be remembered when you want your employees to go beyond the call of duty.
Don't Be Cheap on Administrative Professionals Day:
Do not, in any uncertain terms, step into the office without something for your employees on Administrative Professionals Day, which happens to be on April 24th this year. For a list of gift ideas that would make fabulous Admin Professionals Day gifts, click HERE.
Acknowledge & Appreciate No Matter The Time of Year:
Good bosses and managers understand that in order to foster loyal employees, they need to acknowledge and be appreciative. Administrative Professionals Week (April 22-28th) may happen once a year, but doesn't stop you from showing your appreciation during the other 11 months.
A happy employee makes a happy office. Don't you agree?