It is no secret that I am a fan of Urban Decay, and most notably, their eye shadows and pigments. UD's colors always give a wow factor no matter if they are subdued (Naked Collection), Fun (Box of Shadows), or totally wicked (Vice Palette). Urban Decay makes an impressive line of makeup products that are fab to use and can be worn for work or for play. So when it comes to them introducing new products, I am always going to make sure I purchase them—they can do no wrong.
A few weeks ago, Urban Decay released their ELECTRIC Pressed Pigment Palette–10 colors, 8 of which are brand new hues that UD released for this line. It's a bevy of brightness and boldness for those who aren't afraid to use color when making a statement. With this palette, UD utilizes a Pigment Infusion System that "delivers soft, creamy, and blendable color that lasts". The palette comes with a double-ended brush that makes for easy application.
The colors in the Urban Decay ELECTRIC Pressed Pigment Palette are:
Revolt/ "bright metallic silver shimmer with silver glitter."
Gonzo/ "bright turquoise matte with floating tonal pearl."
Slowburn/ "bright red-orange matte with floating pearl."
Savage/ "bright hot pink matte."
Fringe/ "bright metallic teal."
Chaos/ "bright blue matte with floating tonal pearl."
Jilted/ "bright metallic fuchsia with blue shift."
Urban/ "bright metallic purple."
Freak/ "bright green with gold shift."
Thrash/ "bright lime green matte with floating gold pearl."
My Look
I created a funky and vibrant look earlier this week using Jilted on my lower lid, Urban in my crease, and Gonzo on the corners. I wanted something that would showcase the colors and my look, but without going too far for daytime use. Not for the office, these colors are more for date than desk, but depending on your office environment, could work in some instances.
I found the colors to be easy to blend and use. With colors this high-pigmented, I thought there would be a lot of fallout on the surface (where I applied it), but I didn't see much. It's neat and not messy at all.
And the packaging is awesome and would work for travel, as it isn't that big. I will be taking this palette with me on my next trip to create a nighttime look. I will also be bringing Naked (the original) with me for more of a muted, daytime look.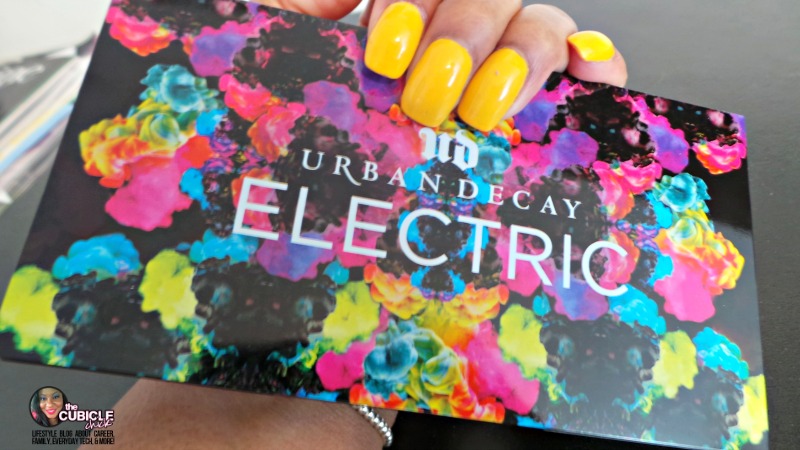 In my opinion, the Urban Decay ELECTRIC Pressed Palette is a great option to create a dramatic, eye-catching look without relying on the standby smoky/smoldering eye look. For color enthusiasts, this palette is a must-have.
Visit Urban Decay for more information, or to purchase. $49.99 + shipping and handling.
Disclaimer: I purchased the item in this review on my own. This was not a press sample.