How many times have you wanted to see what was going on in your home when you weren't there? Perhaps your kids are home alone after school and you want to make sure they are doing their homework like they said they were. Or you left your dog at home to run an errand and you wanted to take a peek to make sure he or she was doing okay. That is all now possible with the Belkin Netcam HD Wifi Camera. It lets you be there to check in on things when you can't actually be there.
Let me come right out and say that this is an awesome gadget. And, you don't have to be a rocket scientist to set it up (believe me, I am pretty remedial when it comes to installations and set-ups and this one was simple for me). All you have to do is turn on the camera, download the app to your phone or device, follow the instructions, and voila! It's good to go. It took me about five and a half minutes for complete setup.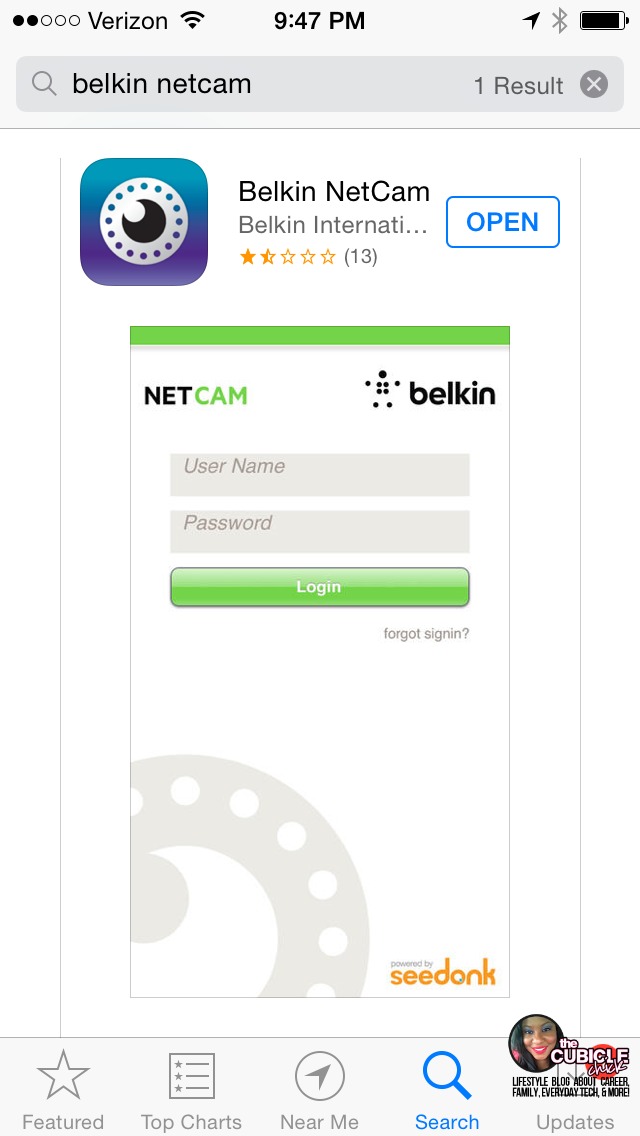 Once you have the camera operating and the app is working, you can set up an account and begin setting up "room" names for the different spaces you will be using the camera. The camera will even send a message to you via email if it senses motion, which can be an added safety tool.
The video quality is pretty good (720p HD quality), although it can be a little laggy at times if there is a lot of movement. The camera works via your wifi connection, so of course, the better connection, the better the Belkin Netcam HD Wifi Camera will perform.
This device is perfect for those of you who are working parents and leave your little ones with a sitter or nanny during the day. With this, you can check in on your child anytime you want. The camera is light and pretty stylish, which allows it to fit in many areas of your home without being bulky or intrusive. Use it in your living room, kitchen, bedroom areas—pretty much all over the house. There's even a cloud storage option that will allow you to save video so you can view it anytime you want.
Verizon currently has the Belkin Netcam HD Wifi Camera available for $129.98 online (as of August 7th, 2014).
For your busy Digital Lifestyle, I highly recommend this camera.
Please note that the Belkin Netcam HD Wifi Camera is compatible with iOS 5.0 or higher and Androids with version 2.3 or higher. iPad,, iPod, and iPhone compatible. I use my iPhone 5S to view live video from the camera.
I can't say enough good things about this device. Perfect for Back to School and keeping an eye on your kids when you aren't there.
Disclaimer: I was sent this device for my honest review for editorial purposes. This is not a paid nor compensated post, and all opinions expressed above belong to me and are not indicative of the brand and/or companies mentioned.