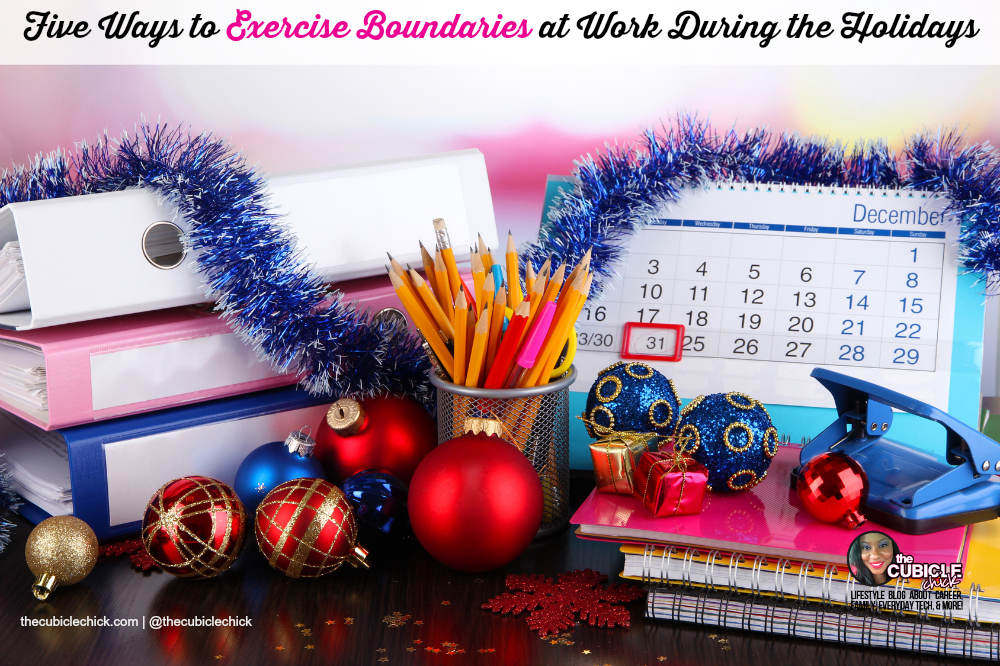 Utilizing boundaries at work is very important, and during the holiday season, it is definitely vital. With all of the hustle and bustle of this time of year, plus year-end goals, meetings, and other duties at work, it can be a bit much. I've always been a proponent of boundaries and balance throughout the entire year, but during November and December especially, they are a must. And, because Work Life Management is my thing, I've for five ways you can exercise boundaries at work during the holidays.
Here we go…
Be realistic
You can only do so much. And who has time to be boggled down during the holidays with extra work? Be realistic about what it is you can do. Don't take on any extra duties or responsibilities if you want to be able to enjoy your time away from work. Know your workload and be able to give up control when you need to for a peace of mind. Creating boundaries is something that is done proactively. Once set, people will begin to follow your lead.
Be ready and willing to say no
We all want to please the higher ups at work, but this time of year may not be the time to do it. Especially if your goal is to get the most of out the holiday season personally. So, now that you've done #1, it's time to do #2—that is, saying the NO word. This is something you've seen me preach in my eBook, SHINE: 10 Tips for Effective Work Life Balance, and it is definitely a must when it comes to exercising balance and boundaries. You can't do it all (even if you want to), nor should you. This is the time of year where it is even more important to spend time with family and loved ones. So saying no may be required. It's okay. And as I always say, they will deal. And so will you.
The D word
And after you mastered #2, then you can delegate. Unless you are on the low end of the totem pole at work, there are duties and work that you can perhaps delegate to others. Don't do all of the work when there are others being paid to help you out. Utilize your assistants and administrative personnel and interns if you can—pass some of the tasks to them to complete so you can clear more off of your work plate. Which leads to…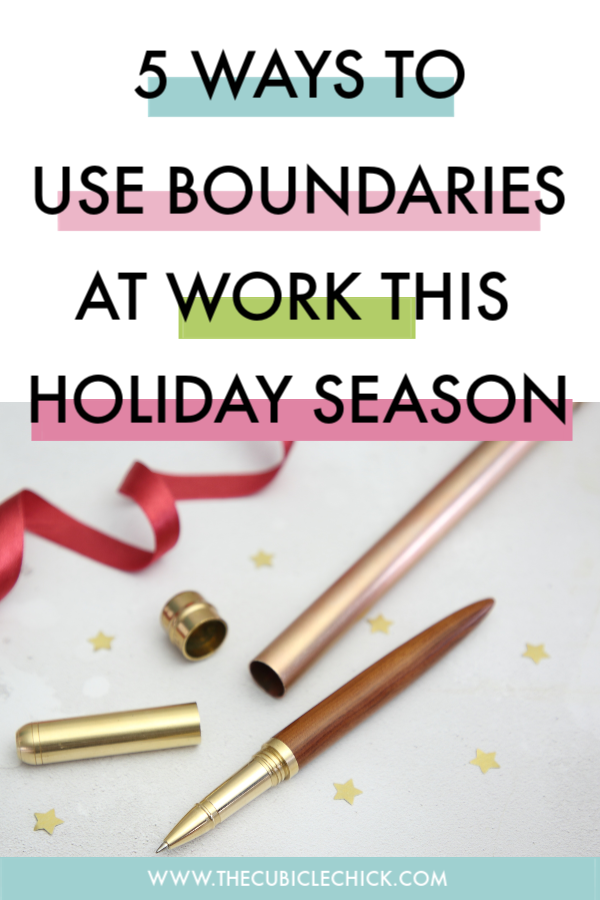 Cut off work at work
I am not a fan of bringing work home with you (although I know there are times when this can't be avoided). The time to avoid it, though, is during the holiday season. You should be spending time with those you love, bonding, cementing traditions and creating others. So exercise boundaries by leaving your work at work—so you can enjoy this special time of the year.
No emails on off days
On your off days during the holidays, be completely off and tuned in to your personal life and those around you. That means no reading or answering emails or taking work phone calls unless you are on-call or it's an emergency. If this is super hard for you to do, you can temporarily take off the email option on your phone and not have your emails coming to you. Or better yet, turn your phone off and be fully engaged. This is perhaps the best way to not be tempted.
The holiday season is a time that should be spent with those whom you love. Balance and boundaries are uber important during this time of the year. I hope these tips help you get the most out of your holiday season.