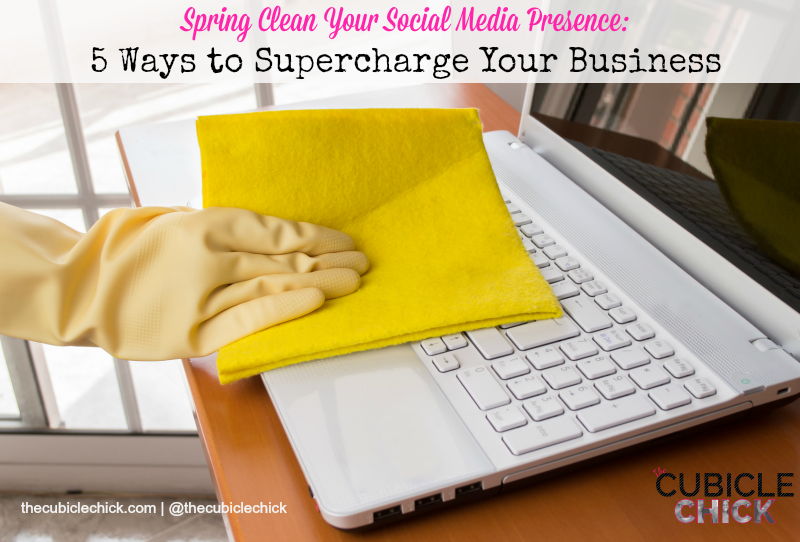 Spring cleaning isn't only for your physical home. As women who also run businesses, we owe it to our virtual homes or social media accounts to give them a good clean as well.
That's right.
Let's talk about how to spring clean your social media presence to help your and your business do better than ever:
1. Change your profile photos
When was the last time you updated your profile photo in either of the social networks that you hang out? If the photo the same one that you popped up when you created your profile?
Now's a good time to take a nice clear headshot and add it to all your social media profiles.
Bonus Tip: Use the same photo across networks. It helps increase recognition. Also, update the cover images, for networks like Facebook, Twitter and G+, while you're at it.
2. Update your profile description
Just the way you updated your profile photos, it's time to update your profile description too.
Update it to reflect what you're currently working on and known for.
If you've changed your business name, niche, offerings, now is the time to update all of that.
3. Check links in the bio
Whether you're on Twitter, Facebook, Linkedin, Pinterest or Instagram, make sure the links in your bio are working and not broken or dead links.
Bonus Tip: Set up a dedicated "welcome" page for your social media followers and pop that link into your profile. Use that page to craft a personalized message complete with links to other profiles and some of your best content and most importantly, an email opt-in form for them to sign up!
4. Declutter networks that aren't working for you
Spring cleaning isn't only about freshening up the digs but also about cutting clutter out.
Which networks aren't working for you? How do you find out? You check your analytics to see where you're getting the most traffic from. Also, you do a health check to see where you're getting the most engagement from easily and effectively.
Networks that aren't sending you traffic or engagement need to go. Yes, it will hurt but do it.
5. Create a fresh storehouse of evergreen content to share
Finally, it's time to make sure you have an abundant supply of cookies content to share with the new friends who'd be following you after seeing that spruced up, shiny profile or page.
Have a good mix of content- engagement updates, quotes, blog post links, behind-the-scenes stuff and more. You can do this yourself in a Word or Excel file or you can get something, like The Social Spread that has 600+ customizable, ready-to-use updates for you.
How will YOU be spring cleaning YOUR social media presence this month?
About Prerna:
Prerna Malik is the owner of The Mom Writes, a site that offers smart solutions to work-at-home moms. When she isn't blogging for a living or running a social media agency with her husband, she's baking cupcakes with her daughter or organizing a closet in her home.  Download her free eBooks on organizing and productivity for busy mom entrepreneurs today!