Change.
It's that scary five letter word that comes through your life and seemingly shakes everything up at the very moment when you think you have a stable routine.  I've always considered myself to be a flexible individual so imagine my surprise when moving across the country threw me for a complete loop.  While I may not have always embraced change as it was happening, I am so grateful for the wisdom I've gained as a result.  As working women, mothers, and business owner we must learn how to gracefully embrace change.
Whether it be sending a child off to college for the first time, for ending a relationship, moving to a new city, starting a business, or dealing with a difficult loss, change looks different for each of us.
Here's why you should embrace change to get out of your comfort zone:
Change Brings Opportunity
Sometimes we view change as an inconvenience, meanwhile change often appears to redirect our course in life.  If we never change, we remain stagnate inside of our comfort zones and greatness is always achieved outside of our comfort zone.  If you only do what you've always done, you'll only experience what you've grown accustomed to.  Can we say BORING?
via GIPHY
Take Taraji P. Henderson for example, she desired to be an actress.  In order to become a successful actress, she knew that she was going to have to change her location, so she packed up her young son and moved from D.C. to Los Angeles.  Because she was open to change, Taraji gained new perspectives and experiences in life.
Adapt or Get Left Behind
Our world is ever evolving.  Fashions, thought patterns, and technology continue to change at lightning speed.  If you don't keep up, you will surely get left behind.  While you don't necessarily have to jump on every single trend, you do need to maintain a certain awareness and willingness to experiment with new things. In fact, you can create new trending products from existing ones when you're creative and adaptive to changes. What new skills, certifications, or techniques do you need to acquire?
This is especially important with business owners.  Just take a look at the downfall of Blockbuster Video and Toys-R-Us, these business behemoths failed to innovate which ultimately led to demise of their brands.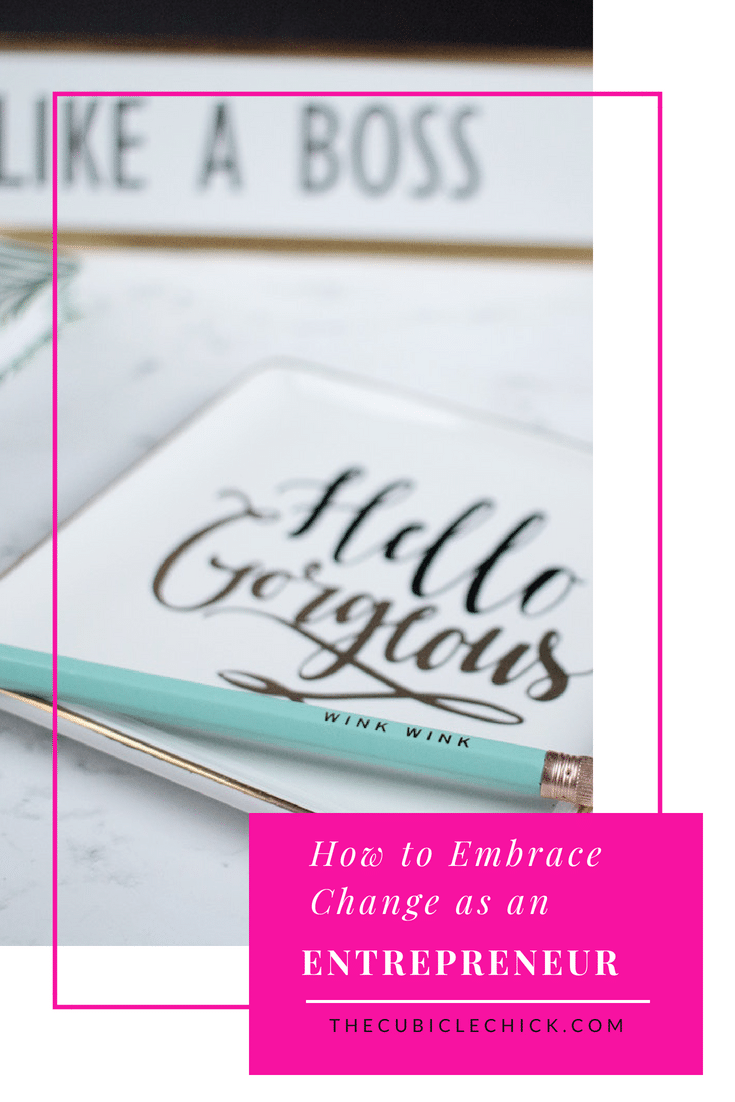 A Season for Everything
Your purpose might be seasonal.  Sure everyone loves to scream "Find your purpose!", however, the thing that you felt called to do 5 years ago, might not be your purpose today.  As time passes our interests, calling, and priorities may change.  Changing your vocation, business, residence, or relationship is totally OK.  A wise friend once told me, "Never apologize for growth".
Here's The Bottom Line
Change sharpens you! While change is typically greeted with question, hesitation, and frustration, change is often served on a hot platter with a generous side of growth.  There is no way to stretch yourself into the greatest version of you without change.  Just remember to take one step at a time.
It's so tempting to want to know every single destination on your path, but it simply doesn't happen that way.  Let's say you were interstate driving from St. Louis to New York City, you may have a general understanding of where you are headed, however, you will only see a little bit of the road at a time as you need it. It's the same way with your life, your next steps are only revealed to you one step at a time along the way.
KEEP GOING!  You don't need to have everything figured out all at once! The more action that you take, the greater the clarity you will receive. Remaining humble to change keeps you in a flexible state of mine and welcome to life's abundant possibilities.
About Brandy Butler:
"With over 15 years as an IT Engineer working at major Fortune 500 companies, Brandy Butler is passionate about providing effective technical solutions to businesses.   She helps successful career women to reignite joy in their lives by reinventing their career paths to start and grow new businesses.  Brandy's clients learn to create influential brands which attract a steady stream of clients, media, and speaking opportunities.  She is a professional speaker, published author, and marketing strategist.  Her books "Girl Just Quit" and "Cubicle Exodus" have helped women to build their businesses on the side while they work their jobs.  Brandy has been featured in places like Success.com, Black Enterprise, Huffington Post, Blogging While Brown, BlogHer, The Black Life Coaches Summit, and Podcast Movement.  Her goal is to help you to own your worth, create a strong sense of well-being, and impact the world in a positive way."
Photo by Ross Findon on Unsplash