Get a heaping dose of inspiration with my DIY Daily Affirmations Board Tutorial
Some women like to shop for clothes and shoes and such.
Me? My vice is Michaels.
Every time I visit that store, I often leave with more than I planned on, and it's because I like to create things, especially items that can bring some happiness and inspiration into my spaces. When I saw a board attached with string and clips, I began thinking of the things I could do with it. And then it hit me—-I could create a Daily Affirmations Board to give me both zen and encouragement while I am working.
This DIY Daily Affirmations Tutorial is easy to do, and in fact, the board, pins, and string are already assembled (click HERE to see the board and/or to purchase, it was $12.99 in store, but out of stock online). You could also make your own, but if you are pressed with time (like most of us are) buying one will do. If you can't find an already assembled board, you can use a corkboard (also available at Michaels).
After you've secured your board, all you have to do is add daily quotes, affirmations, etc to the board.
Since it is a Daily Affirmations Board, I used 7 pins and tiered them with 3, 2, and 2 for uniformity (the board I bought came with 9 clips).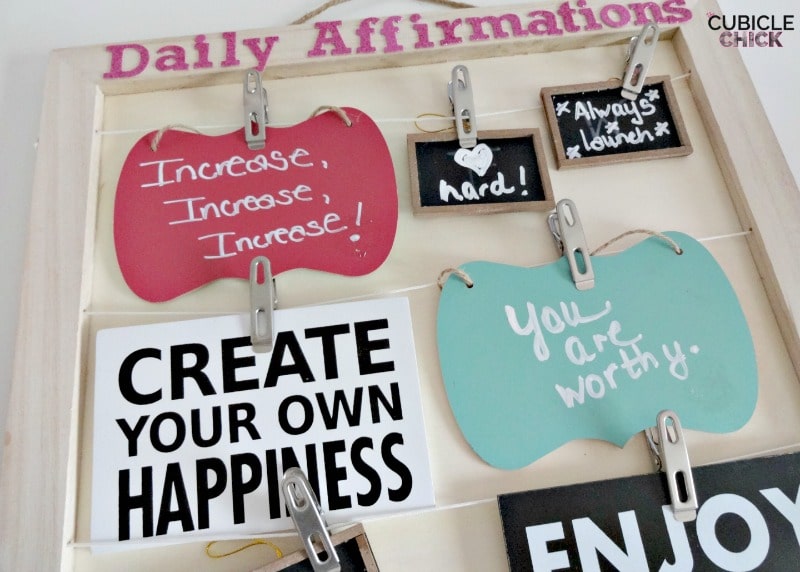 For your board, you will need adhesive letters to name or title it. I selected some glittery letters found in the scrapbooking department for $3.99 each. I bought three of them because I had several letters that were going to be used more than once, and I wanted to make sure I had enough to go around.
I found already made quotes and sayings at Michaels as well and paired them with ones I wrote on my own using Chalkboard signs, also at Michaels. The only other additional item that I needed was a chalkboard marker, which I also had in my stash.
Once you have your board titled, you can affix your affirmations any way you like them.
And because they are pinned on string, you can remove them and change them weekly to fit your needs. The possibilities with this DIY Daily Affirmations Board are endless.
You can also use photos, magazine cutouts, pretty much anything you can hang on the string. Even a DIY or crafter beginner can create this in no time!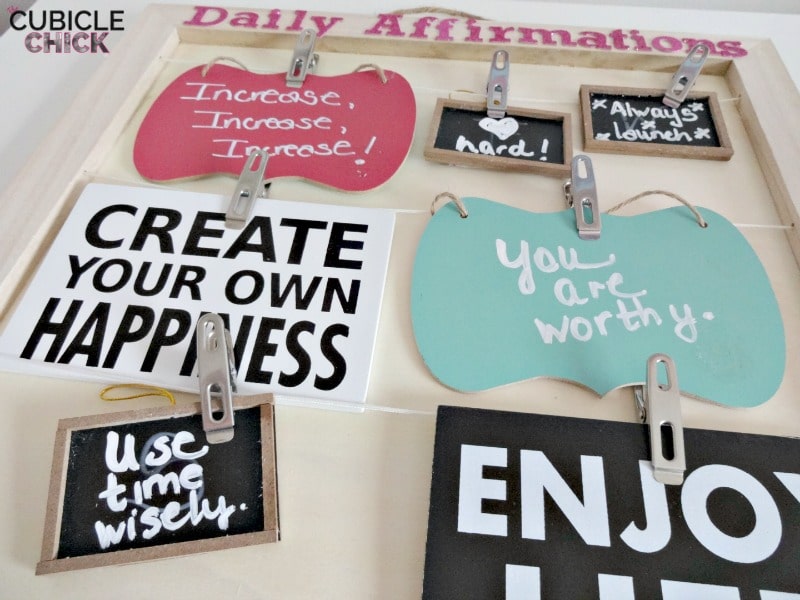 This total project cost about $25.00 (the board was the most expensive part of the DIY), and took about 35 minutes to complete from start to finish.
You can use my board as a model for your own creation. It doesn't have to look like mine, but rather created with your own personality and style.
Hang in your office, workspace, cubicle, etc. and viola! Instant inspiration on demand.