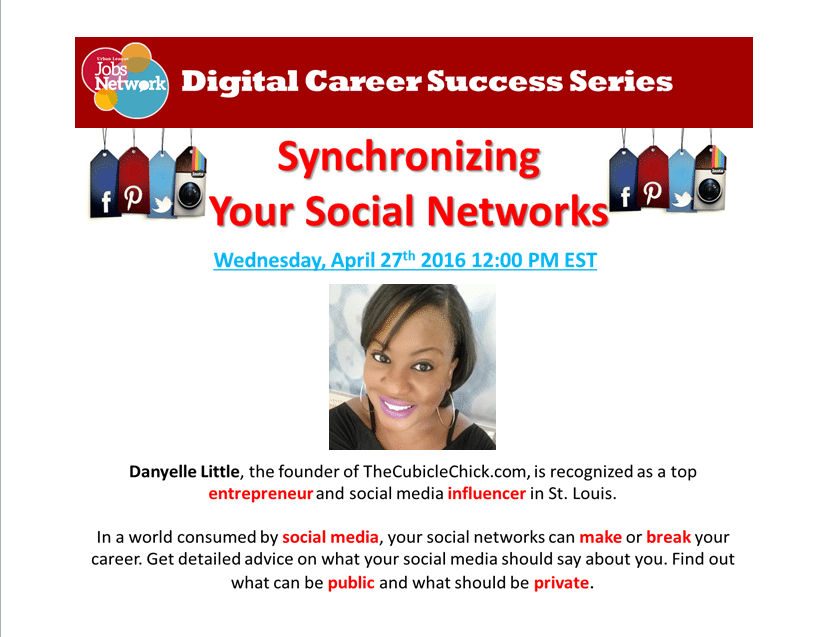 RSVP for this important webinar as a part of the National Urban League's Digital Career Success Series.
Are you a professional navigating the murky waters of social media?
Are you currently looking for a new job or position utilizing social media?
Are you a student graduating who is looking to enter the workforce?
If you answered yes to any of the above questions, then you need to tune in to the webinar that I am facilitating. I've partnered with the National Urban League to conduct an online workshop called Synchronizing Your Social Networks taking place on Wednesday, April 27th, 2016 at 12:00pm EST/11:00am CST.
During this social media age, lines can get blurred when it comes to what and what not to share on your platforms. More and more hiring managers are looking at candidates' social media profiles in order to gauge if they are a good fit or not. You don't want to miss out on an opportunity of a lifetime because of something on your Facebook or Twitter profiles.
As a former Human Resource Manager, I can share with you tips, tools, and best practices for handling your social media platforms so that you snag the job that you want (and keep the job that you have).
During the webinar, you will learn:
What hiring managers look for on your social media
What turns hiring managers off when it comes to your social profiles
How to "professionalize" your social channels
How to create an online portfolio that can help you land the job
and much more!
This Synchronizing Your Social Networks webinar is scheduled to be an hour long and will also have a Q&A segment in which you can ask me questions.
To register for the event, click HERE. You have to register in order to participate.
I am looking forward to sharing with you my gems and practical social media advice, so I hope to see you there!
Special thanks to the National Urban League and to Jodi Brockington for the opportunity.