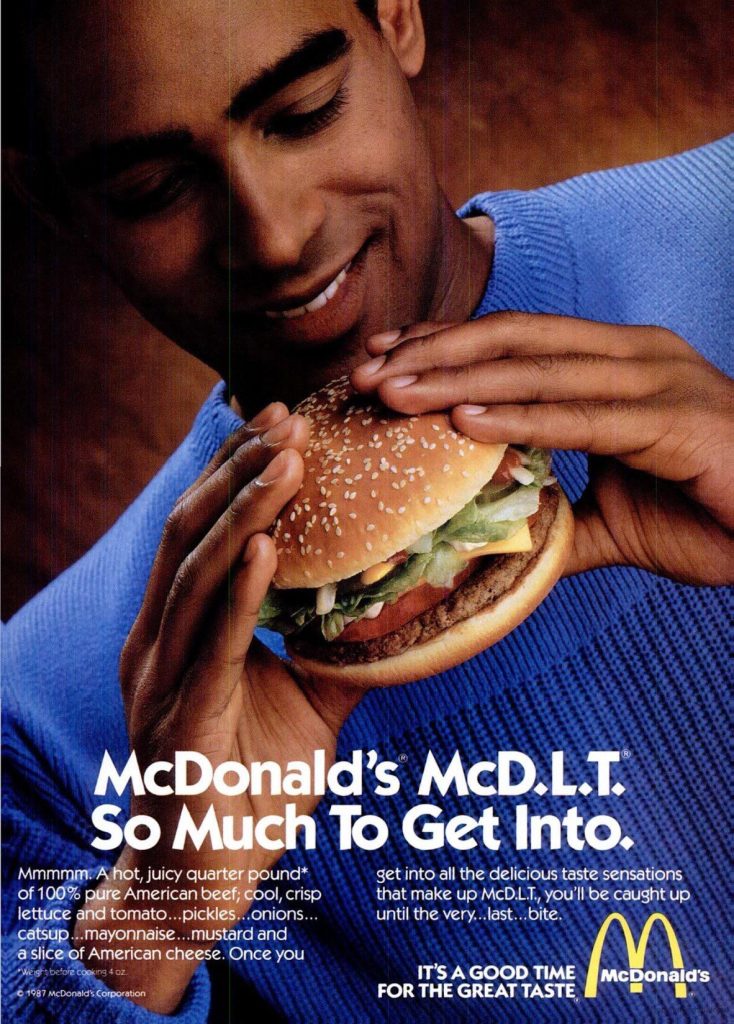 The 80s were full of glitz, glamour, over-the-topness, and excess. Those qualities remained true when it came to the fast food wars and the offerings by some of America's top food chains. It was all about creating fast food options that were "more thoughtful" with concepts that spoke to the yuppie crowd. Americans were making more money and spending more of it on leisure, and the industry wanted to make sure that they tapped into their palates and their wallets.
Creativity was on display as chains like Taco Bell, Kentucky Fried Chicken, and Mcdonald's began to offer eatable fare that catered to the trickle-down economy. The result was menu items that were a step above your normal fast food menu.
Pizza Hut Priazzo
Did you know that back in the day when I was growing up, Pizza Hut was known as a sit-down restaurant? In 1985, the pizza chain introduced the Priazzo. A step above their original pan pizza, the Priazzo was more like what we now call "deep dish" Chicago-style pizza. Priazzo was known for its deep-dish crust, which was thick, buttery, and crispy. The crust was made with layers of dough, creating a sturdy base to hold the generous toppings.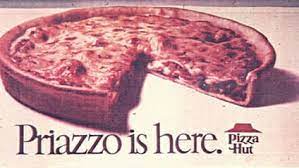 The Priazzo pizzas were loaded with a variety of toppings, including Italian sausage, pepperoni, mushrooms, onions, green peppers, and black olives. Its toppings were layered between two crusts, creating a hearty and indulgent pizza experience. pizzas offered a choice of two cheese varieties – the "Romano's Original" with mozzarella and cheddar cheese, and the "Florentine" with mozzarella, cheddar, and ricotta cheese. The blend of cheeses added richness and flavor to the pizza.
Pizza Hut offered different versions of Priazzo over the years, including the Priazzo Milano (with ham, pepperoni, and beef), Priazzo Florentine (with spinach), and Priazzo Roma (with Italian sausage, pepperoni, mushrooms, and green peppers–this one was my favorite).
Despite its initial popularity, Priazzo pizzas were eventually discontinued from the Pizza Hut menu. The exact reasons for the discontinuation are unclear, but changing consumer preferences and a shift towards thinner-crust pizzas might have played a role. The Priazzo also took an average of 30-40 minutes to make and bake per pizza, twice as long as a regular pizza.
While Pizza Hut Priazzo is no longer available today, its legacy lives on as a fondly remembered part of Pizza Hut's history. It represented a departure from the traditional pan and thin-crust pizzas, offering customers a taste of the deep-dish pizza trend of the time. There's even a Facebook group devoted to bringing the Priazzo back.
McDLT, McDonald's
McDonald's had a stronghold on fast food in the 80s. The McDLT was a hamburger introduced by McDonald's in 1984 and was available until the early 1990s. It was known for its unique packaging and concept. The name "McDLT" stands for "McDonald's Lettuce and Tomato." It emphasized the freshness of the ingredients, as the lettuce and tomato were kept separate from the hot beef patty until the moment of consumption.
The McDLT came in a two-compartment styrofoam container that kept the cool ingredients separate from the hot ones. The bottom half held the beef patty, cheese, and bottom bun, while the top half contained the lettuce, tomato, mayonnaise, pickles, and top bun. The concept behind the McDLT was to ensure that the hot ingredients stayed hot and the cold ingredients stayed cold until the customer assembled the burger.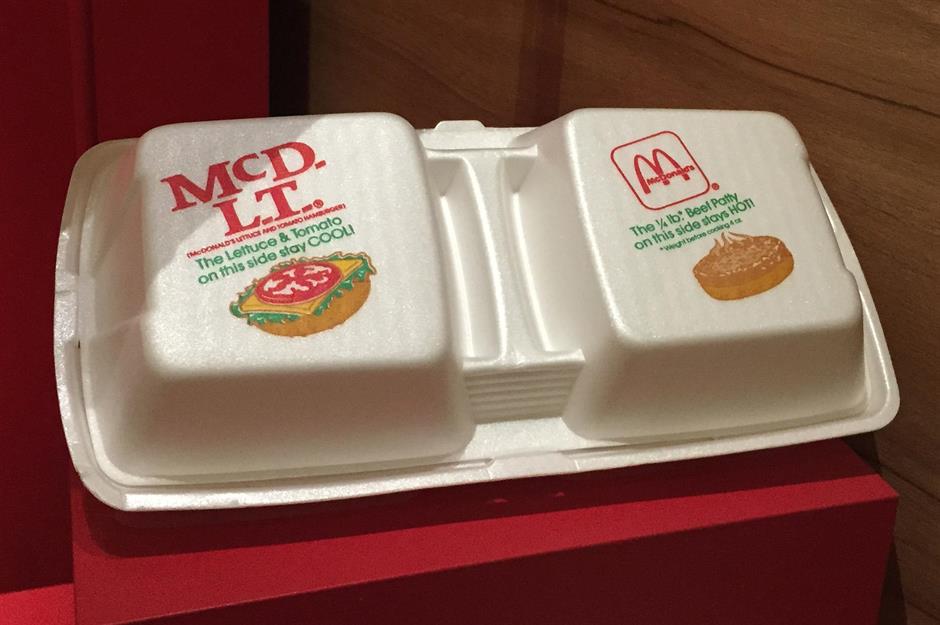 The McDLT was promoted through a memorable advertising campaign featuring actor Jason Alexander, best known for his role as George Costanza in the sitcom Seinfeld. The commercials emphasized the unique packaging and the "hot side hot, cool side cool" concept.
Despite its initial popularity, the McDLT faced criticism for its environmentally unfriendly styrofoam packaging, which was not biodegradable and contributed to pollution. This eventually led to its discontinuation.
While the McDLT is no longer available, it remains a notable part of McDonald's history and is remembered for its innovative packaging design and fresh ingredient concept.
Superbar at Wendy's
For many food enthusiasts, the mere mention of Wendy's Superbar evokes a sense of nostalgia and culinary excitement. This legendary self-serve buffet, which gained popularity in the late 1980s and early 1990s, was an innovative concept that revolutionized fast-food dining.
Growing up, Wendy's Superbar was a treat. I would tag along with my next-door neighbor and her family to the nearest Wendy's to partake in the Superbar salad bar every other Saturday.
The Superbar was an all-you-can-eat extravaganza, featuring an array of delectable options that catered to various taste preferences. Diners could create their own custom salads, loaded with fresh greens, crisp vegetables, and an assortment of toppings. The salad bar alone was a haven for those seeking healthier choices or looking to personalize their meals.
But the Superbar didn't stop at salads. It also boasted a Mexican Fiesta section, where diners could indulge in tacos, burritos, and nachos loaded with tangy salsa, guacamole, and shredded cheese. The irresistible aroma of sizzling Tex-Mex flavors permeated the air, enticing customers to explore the diverse range of flavors on offer.
For those craving classic American comfort food, the Superbar delivered with its selection of hearty soups, chili, and baked potatoes with an array of toppings. Whether you preferred a classic baked potato with sour cream and chives or a warm bowl of chili topped with cheese and onions, the Superbar had something to satisfy every craving.
The Superbar quickly became an iconic feature of Wendy's restaurants, attracting both regular customers and curious newcomers. It became a gathering spot for families, friends, and coworkers, fostering a sense of community and shared enjoyment. The vibrant atmosphere and the chance to explore a variety of flavors made dining at Wendy's an experience to remember.
As the culinary landscape evolved and consumer preferences shifted, fast food chains adapted their menus to keep pace with changing tastes. The Superbar, once a defining characteristic of Wendy's, eventually faded away. However, its legacy remains deeply ingrained in the hearts of those who fondly remember the Superbar's heyday.
Dinner in the Box, Jack in the Box
Out of all of the discontinued 80s fast food items on this list, I miss this one most of all. Jack in the Box's Dinner in the Box didn't last long, but I have fond (and tasty) memories of this short-lived menu offering.
Jack in the Box, a prominent player in the fast food industry, introduced an intriguing offering known as the "Dinner in the Box." This novel concept aimed to provide customers with a complete and satisfying meal within a single boxed package. Unlike other fast food meals, which typically consisted of a sandwich, fries, and a drink, Dinner in the Box included a main entrée, a side dish, a dessert, and even a soft drink. This all-in-one approach appealed to customers seeking a more substantial and varied dining experience.
Jack in the Box's Dinner in the Box menu boasted a range of options to cater to different tastes and preferences. it was sold from 4 pm to 10 pm and there were three entrees to choose from: chicken, shrimp, and steak. Dinner in the Box meals were all served with garden salad, garlic bread, and wedge fries.
Dinner in the Box was created to appeal to an affluent and well-heeled crowd, giving customers a sit-down meal for a fast food price.
While Dinner in the Box eventually phased out of Jack in the Box's menu offerings, its influence on the fast food landscape cannot be denied. It served as an early example of the industry's ongoing quest to innovate and provide customers with unique dining experiences. The concept of packaged meals has since evolved, with various fast food chains offering combo meals or value boxes that bear a resemblance to the Dinner in the Box concept.
Burger King Shots
In the early 1980s, Burger King introduced an exciting concept that would captivate burger lovers across the nation: Burger King Shots. These bite-sized burgers were small, round, and designed to pack a punch in terms of flavor. They were served in a distinctive cylindrical container, making them an instant visual sensation.
Burger King Shots offered a unique twist on the classic burger experience. Each shot featured a juicy, flame-grilled beef patty topped with a slice of cheese, a dollop of tangy sauce, and nestled within a soft, fresh bun. These mini burgers were perfect for those seeking a quick and flavorful snack or as a complement to a larger meal.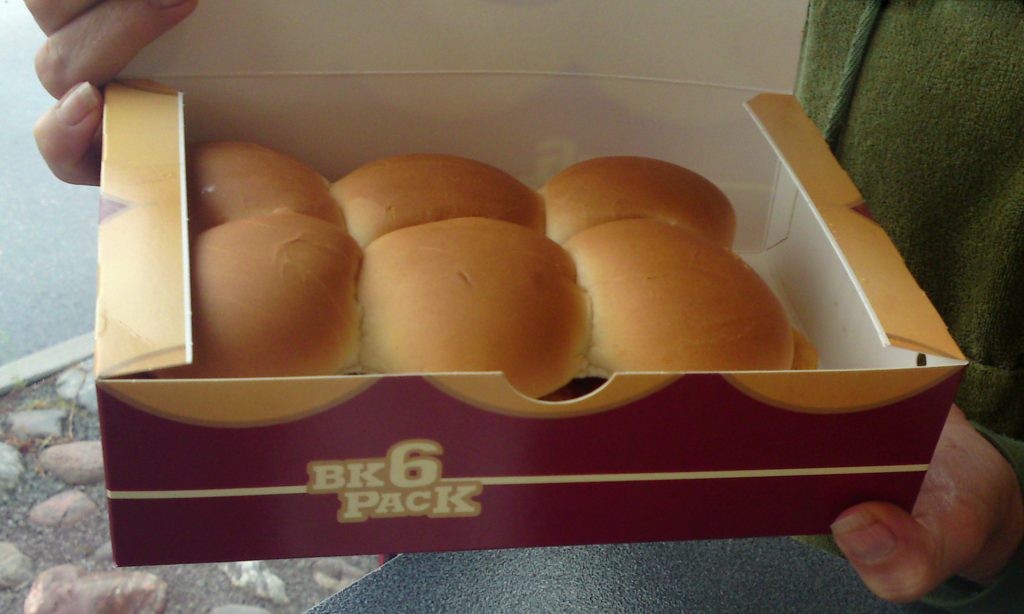 For many who grew up during the 80s, Burger King Shots evoke a sense of nostalgia. They remind us of carefree days spent with friends and family, enjoying the unique flavors and experiences offered by fast-food establishments. The Shots became a symbol of the era's fun-loving spirit and continue to hold a special place in the hearts of those who experienced them.
The 80s were a time when Fast Food menus were aplenty–what a time!
Do you remember any of these discontinued 80s Fast Food items?