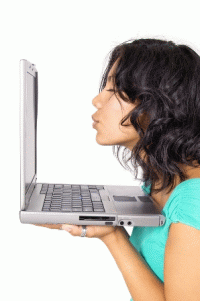 There is one thing you can count on at the beginning of the year: a slew of commercials aimed at starting out anew including weight loss commercials and online dating. The other day, I counted at least 5 eHarmony commercials and 2 Match.com during primetime. It got me to thinking, what is the actual success rate of online dating?
Let me preface this conversation by saying that I met my husband online in 1998. I actually met him in a chat room (remember those?) and we struck up a cyberfriendship because we both happened to be from St. Louis. At that time he was living in Ohio and I was living in Florida and we thought it was neat that we would meet online and be from the same hometown.
At that time, we were not searching for love and the Internet was still a pretty "safe" place. We started chatting more and more online and began emailing one another and in 2000, we finally met face to face and the rest was history. We did not go in search for love online, it just happened that way.
But I know of many people who go online to search for that perfect someone. I have had my share of horror stories as well when it comes to dating online. I've never used a dating site, though, but I know of several of my friends who have went on dates via an online dating service. Most of the time, these experiences did not end too well.
The Internet is a scary place. People can be who they want to be online and not give it a second thought. The shy violet in the corner becomes a barracuda, so on so forth. There are times even myself that I can find myself saying something on Facebook or Twitter and look back at it like, wow was that me? How does one determine the real from the fake in dating situations which begin online?
I would like to start an ongoing series about this subject, especially since it is so prevalent in our society these days. If you have an online dating story that you do not mind telling me or me blogging about, please email me at mail@thecubiclechick.com. Your real name does not have to be used. Email me or comment below. I am anxious to get started!