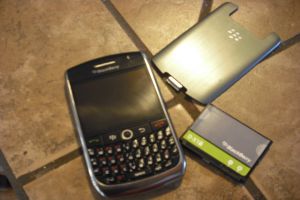 I am an ambassador when it comes to Blackberry products. I have been a loyal user since 2006, and I have upgraded each time a new series of phones come out. When I woke up yesterday morning, I had no idea that before I went to bed, my love for Blackberry 8900 would be challenged.
It was right before I was going to take my daughter to PM kindergarten when I happened to look at my phone and noticed that instead of my pink theme, there was a white screen of blankness instead. I didn't think much of it at the time, and simply did a battery pull which I thought would solve the problem.
Still white screen. No hourglass. Nothing.
I pulled the battery again and did this several times and womp womp. Nothing. Zero. Zilch.
After dropping my 5 yr old at school, I promptly went to T-Mobile so they could replace my phone. After doing some research, I was told that I couldn't get a replacement because I didn't purchase the phone from them (it was a gift) and my insurance wouldn't cover it.
But my phone miraculously started working and I left the store pretty satisfied. That was until after dinner when my phone once again went white.
So I Googled some info and found out that by reinstalling the operating system, it may restore itself.
After having problems with the Blackberry Desktop software and the phone, I finally got the new OS on the phone. But it still has a white screen.
My phone has died a painful death.
So I guess I will have to shell out more dough for another Blackberry. I've only had it for six months or so but such is life. One thing I learned is that I will always purchase the phone from T Mobile, and if its a gift, I will make sure it comes with a warranty of some sort.
Right now, I am rocking my Blackberry Pearl which has been with me through thick and thin. I plan on purchasing another phone ASAP, but in the meantime, a girls got to do what a girls got to do, right? Being as how I am not eligible for an upgrade until December, I will have to pay full price for the gadget. 🙁
If there are any businesses that want to gift me a Blackberry for a review, please contact me! As a loyal RIM customer, I would be a perfect candidate to review the new Bold 9700.
Help a Cubicle Chick out! 🙂