I love supporting causes and programs that can help lives and touch others. I recently was made aware of a new campaign for National Breast Cancer month entitled, 'Hello, My Name Is Hope'. There are so many people who's lives are touched in some way by breast cancer—we all have a friend or family member or colleague who has been touched in some way by this disease. Quill.com's, 'Hello, My Name Is Hope' program wants to give a voice to everyone who supports breast cancer awareness or has been affected by it.
'Hello, My Name Is Hope' is spearheaded by Quill.com (a leading business-to-business online and direct marketer of office products) and is Facebook based. Quill.com is urging everyone on Facebook to, " post and personalize virtual "Hello My Name is Hope" stickers on their profiles to honor both survivors and victims of the disease. The familiar "Hello My Name Is" stickers take on new meaning with personalized messages of hope and support shared across the Facebook community. For every sticker shared, Quill.com will donate $1 – up to $20,000 – to City of Hope, a National Cancer Institute-designated comprehensive cancer center dedicated to research, treatment and education".
How awesome is that? And since most of us are already on Facebook updating our statuses or playing Farmville, what's a few minutes participating in a campaign that can help lives?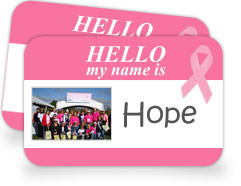 All month long, all of the stickers created will be displayed on the Quill.com, Facebook page, representing those who support breast cancer awareness.
Log on today and participate in the 'Hello, My Name Is Hope' campaign!